The 4 Best Credit Cards for Anyone Who Loves to Travel
praetorianphoto/e+/getty images
Sifting through the bazillion come-ons for various credit cards, in short, sucks. What does a person have to do, if all you want is to A) spend money on things and B) see more of the world than your ride to work every day?
We've got you covered with a really simple list of four of the best travel credit cards. We'll lay out what they're good for, and why you'd want them. While the writer (me) is being paid a moderate sum, there is no affiliate link chicanery putting a thumb on any travel rewards scale. Where possible, I'm recommending the credit cards I actually use, because they flat-out help me travel.
With any luck, you'll be sitting on a pile of points in no time; or rather, you'll have a lot of points and be sitting on an airplane seat you didn't pay for, because sitting on a point sounds painful.
The best credit cards for international travel
Two credit cards stand out if you plan to leave the country even one or two times per year: The Chase Sapphire Reserve, and the American Express Platinum Card. You can get pretty deep into the weeds with these cards (oh, and we will, just get ready), but it's worth doing so in part to see what services the cards replace that you might already be buying elsewhere. Also, they offer such a breadth of features, they almost act as a survey of what you can hope to find when shopping for any sort of credit card.
The Chase Sapphire Reserve
Let's start with the gold standard, which is actually the sapphire standard. The Sapphire Reserve has an A380's worth of benefits -- and with them, a hefty $450 annual fee. Don't allow that upfront cost to dissuade you.
Travel credits
Off the top, the card comes with a $300 annual travel credit, good for things like hotels, plane tickets, or taxis. So now we're at $150 net annual fee. In addition, it comes with a $100 Global Entry/TSA PreCheck credit (hint: just do Global Entry) that lets you bypass long lines at security and immigration for five years. Now we're at a $50 effective cost, and that's before we get into all the good stuff.
No foreign transaction fees
Say goodbye to forking over an extra 3% every time you swipe while on vacation.
Luggage and trip delay insurance
If your flight is delayed because of an airline screw-up, the airline owes you cold, hard cash. But if it's because of weather, you're SOL. Not so with the Sapphire Reserve. If your bags are delayed six hours or more, you're entitled to $100 per day, for up to five days. If your trip is delayed six hours or longer, or overnight, you and your family are covered up to $500 per ticket, which includes meals and lodging. No more sleeping on the airport floor! Unless you love the feel of industrial carpeting.
Worldwide lounge access
A Priority Pass Select Membership lets you relax in a comfortable chair with free snacks and drinks, in dozens of domestic and international airports. Suddenly, the experience of being at the airport isn't the worst part of traveling. You even get to bring guests. Maybe you'll miss spending $20 at Hudson News for trail mix and a Snapple. But probably not.
Rental car insurance
Insurance is boring. It's also expensive. If you book a rental car with the Sapphire Reserve, you'll get primary rental insurance up to $75,000 for theft and collision damage. For example: A Mercedes-Benz GLA costs $45 a day in Miami through a major rental car agency. Loss Damage Waiver and Personal Accident Protection cost a combined $38.48. That's almost half your bill! You'll still need to buy liability insurance -- or provide your own policy -- but on a week-long rental, you've still saved almost $275.
Accelerated points earning
The Sapphire Reserve earns 3x points on dining and travel. Whether you're buying a daily cup of coffee or booking a cruise, think of it this way: you're getting 3% of that spending back, and that adds up over time. You'll also earn bonus points using Chase's shopping portal and through its retail partners.
Valuable point transfer partners
This is where you really make hay -- unless you're a farmer, in which case, you should stick to feeding livestock hay, and not credit card points. For everyone else, skip over Chase's offer of a 50% bonus on redeeming Ultimate Rewards points when you book through Chase's travel portal. Just transfer straight to airline partners, which include British Airways, KLM/Air France, Korean Air, Singapore Airlines, Southwest Airlines, United Airlines, and Virgin Atlantic. Some of the most lucrative travel redemptions out there come from partner transfers. On Singapore Airlines, 120,000 points gets you a one-way flight in a private suite to Asia, or a family of four in economy from LAX to Hawaii for 100,000 points.
Oh, and if you spend $4,000 in the first three months after signing up, you'll get a 50,000-point bonus, putting you well on your way to zipping off somewhere exotic. Whipping out that blue metal card every time you swipe just adds to the experience.
And about that AmEx Platinum...
The American Express Platinum Card comes with an even more staggering annual fee of $550. But like the Chase Sapphire Reserve, a whole host of benefits offset the upfront cost. And if you realllllllly want to give the exclusive card membership a whirl, and can't cough up the fee, there's an Ameriprise Financial version that waives the fee for the first year. But let's focus on the benefits:
Credits galore!
Each calendar year, you'll get a $200 credit for the airline of your choice. Let's say you get the card in July. You choose American Airlines. That means you'll have $200 to spend on ancillary costs, like baggage fees and drinks, through the end of December. Come January 1, you can switch to Delta Air Lines, and you'll have another $200 to spend on Delta through the end of the following December. Should you choose to not re-up in July, though, you'll effectively get $400 to play around with for one full year. And if you do a little online sleuthing, you'll find out that in some cases, you'll get reimbursed when you buy airline gift cards (but be forewarned, your mileage may vary).
In addition, you'll get a $15 Uber credit every month, with a bonus $20 credit in December, for a total of $200 in Uber credits annually. So if you're flying enough, and using Uber, suddenly, $400 of that $550 is already back in your pocket.
No foreign transaction fees
A wise man once said, "Say goodbye to forking over an extra 3% every time you swipe while on vacation."
Exclusive lounge membership
Like the Sapphire Reserve, the Platinum Card offers you Priority Pass Select membership for you and a guest. But it one-ups the Sapphire Reserve by giving you Delta Sky Club access when you fly Delta. Then it two-ups the Sapphire Reserve by offering the rest of the American Express Global Lounge Collection, an exclusive set of lounges throughout the world. And while most lounges are basically the airport equivalent of a hotel lobby with a continental breakfast, American Express' own Centurion Lounge network are some of the best you'll find in the US. and around the world. You'll find them in popular hubs in Dallas, Hong Kong, Houston, Las Vegas, Miami, New York, Philadelphia, San Francisco, and Seattle. You need a stiff drink every time you fly out of LaGuardia, and luckily, AmEx hands you one for free.
If meals designed by celebrated chefs, bespoke cocktails, and Wi-Fi that doesn't make you pine for your local Starbucks aren't enough, some Centurion Lounges even offer complimentary spa services; I got a chair massage while my girlfriend got a manicure in Dallas during a layover. Consider it an incentive to actually get to the airport early.
5x points on flights and hotels
Whether you book directly with an airline or hotel, or use American Express' travel portal, you'll earn 5x Membership Rewards points on your travel purchases. That adds up quick. You'll earn points on other purchases, of course, but those 5x categories, combined with a 60,000-point bonus when you spend $5,000 in your first three months, means you'll be able to stockpile for a trip of a lifetime in no time.
Primary rental car insurance
AmEx offers a flat-rate primary rental insurance when you use your card for car rentals. For example, I rented a 2017 Camaro last year and paid $19.95 for the entirety of my trip. If I'd have bought insurance through the rental agency, I'd have spent that per day. AmEx's flat-rate insurance lasts up to 42 consecutive days, and for $24.95, you can even insure a car worth up to $100,000. Just don't forget to get liability, too, as that's not included.
Incredible partner redemptions
American Express' currency, Membership Rewards, offer more flexibility than traditional airline miles, like Chase's Ultimate Rewards program. Those partners include Aeromexico; Air Canada; Air France KLM; Alitalia; All Nippon Airways (ANA); Asia Miles; British Airways; Delta Air Lines; El Al Israel Airlines; Emirates; Etihad Airways; Hawaiian Airlines; Iberia Plus; JetBlue Airways, Singapore Airlines; and Virgin Atlantic. Needless to say, you're spoiled with choice.
Asian and Middle Eastern airlines not only rank highest in service rankings every year, but they also offer some of the best reward redemptions out there. For example: In 2016, I transferred 85,000 Membership Rewards points to ANA, and flew round trip in business class from New York to Tokyo for just $87.50 in taxes. I probably had $87 worth of Champagne on the flight there, and suffice it to say, I was glad I had a lie-flat seat when I woke up and realized I still had another eight hours of flying ahead of me.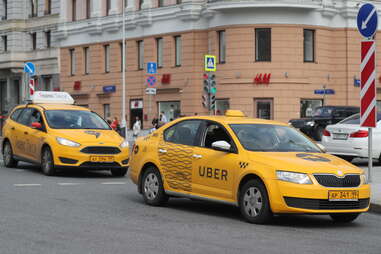 The best travel credit cards with no annual fee
Some people simply won't pay to use a credit card. That's cool. There are oodles of no-fee credit cards out there, but most just offer cash back, like the Chase Freedom or the Citi Double Cash. For travel, though, you're looking for a few perks: no foreign transaction fees, and healthy earning and redeeming on travel. A couple of cards fit that bill.
Uber Visa Card
While Uber had a rough 2017 in the headlines, don't let that fool you. The company is still a mammoth and introduced its own credit card to capitalize. Highlights include no annual fee; no foreign transaction fee; 4% back on dining; 3% back on hotels and airfare; 2% back on all online purchases; 1% back on everything else. You'll also get cell phone insurance at no extra charge if you pay your bill with this card -- that'd save me almost $150 a year, given that I'm a dope and pay for it out of pocket.
Bank of America Travel Rewards Credit Card
It might be a mouthful, but it's also a pocketful of cash; the Bank of America Travel Rewards Credit Card earns 1.5 points for every $1 you spend. If you're also a BoA checking or savings customer, they toss in an additional 10%, meaning you get 1.65 points for every $1 you spend.
The big earnings, though, come from BoA's Preferred Rewards program; you can earn up to a 75% bonus on your spending if you're at its Platinum Honors Preferred Rewards level -- meaning you've got $100,000 in the bank -- but you'll earn 2.625 points for every $1 you spend. You'll be able to redeem all those points for statement credits to offset travel costs, and if you spend $1,000 in the first three months, you'll get 20,000 points (or the equivalent of $200) as a bonus.
Sign up here for our daily Thrillist email and subscribe here for our YouTube channel to get your fix of the best in food/drink/fun.
Ryan Craggs is a former content king and current content emperor living in Brooklyn. He writes mostly about travel and personal finance. Follow him @ryanrcraggs.