These Credit and Debit Cards Will Save You Money When Traveling
And maybe even make you money, too.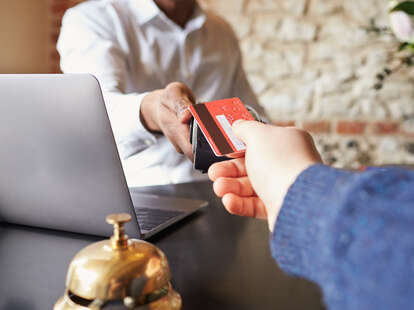 You could be saving so much more than you realize.

| Monkey Business Images/Shutterstock
You could be saving so much more than you realize.

| Monkey Business Images/Shutterstock
Racking up points and miles has become as much of a sport as earning platinum frequent-flier status. Whether you're road tripping around America or castle hopping across Europe, you can save on transaction and ATM fees—or earn cash-back and points rewards—simply by choosing (and using) your plastic wisely.
Navigating the fine print is the last thing most of us want to think about when planning a vacation, but once you realize how those rewards could lead to free flights, hotels, or credits to cover checked bags (or even lost ones), you'll see why these cards are worth the (sometimes steep) investment. But how to tell if what you're getting into is actually a good deal? We did some research to help break down the pros and cons so you can spend less time studying the nitty-gritty details and more time plotting that mountainside getaway or seaside escape that's been long overdue.
Rebates on all your foreign ATM fees
The easiest, most cost-effective way to get cash in a foreign currency will often be at an ATM when you're traveling abroad. Just say no to currency exchange kiosks at the airport—they're never a good deal.
Many large US banks charge a fee when you use a foreign ATM; for example, Bank of America charges a $5 flat fee just for using the ATM, then tacks on an extra 3% to the amount you withdraw. That means if you're like most people, and you don't withdraw exactly the right amount of cash the first time you visit an ATM in a different country (and then walk around with a stupidly fat wad of cash), you're going to have to eat those charges again the next time you hit an ATM. It's a punch in the wallet before you even spend your money.
This is why it's worth banking with someone who doesn't charge foreign ATM fees. A popular, reliable choice in the US is Charles Schwab Bank's High Yield Investor Checking Account, which is actually a misnomer. You do not, in fact, have to be a "high-yield investor" to take advantage of its sweet, sweet benefits (unlimited fee rebates from any ATM worldwide, no foreign transaction fees, no monthly service fees, no minimum balance).
Honorable mentions for reimbursing foreign ATM fees include Capital One 360 accounts (this applies to Capital One's online-only bank accounts—not if you use its brick-and-mortar branches) and HSBC Premier Checking accounts (bonus points since HSBC is an international bank and has ATMs around the globe). All of these bank accounts have the added benefit of reimbursing you for domestic ATM fees, too, so you won't have to navigate out of your way to find your bank's ATM when you need cash.
Credit cards that know you want to travel—and want to help you do that
Now for the credit cards for US-based travelers. These are more fun, since this is where you soak up rewards. When you compare notes among fellow globetrotters, you start to see the same no-foreign-transaction-fee credit cards mentioned again and again.
The hot ticket for young, well-heeled travelers at the moment is the rewards-laden Chase Sapphire Reserve, whose $550 annual fee may make you do a double-take, but this actually seems reasonable when you consider all the perks: a $300 annual travel credit; up to $100 reimbursement to cover TSA PreCheck (valued at $85) or Global Entry ($100 value) enrollment every five years; access to Priority Pass airport lounges (of which there are 1,300 worldwide); and rapid accruement of rewards points. (Side note: If you've ever been busted for drugs—pot included—you can pretty much kiss your chance at TSA PreCheck buh-bye.)
Put off by that $550 annual fee or not impressed by all the hype? Don't blame you. Chase also offers the less-daunting Sapphire Preferred card, which includes an impressive range of cardholder benefits (including decent travel insurance!) for an annual $95 fee.
One of the easiest credit cards for redeeming travel rewards is Capital One's Venture Rewards card ($95 annually), which allows you to redeem miles on 15+ partner airlines and hotel programs, and includes two lounge passes per year, rental car coverage, and travel accidental insurance. This is the no-brainer pick for anyone who has better things to do at night than study rewards policies—and there's even a pared-down, totally annual fee-free option, VentureOne Rewards.
Of course, the key to all these sweet credit cards is having a killer credit rating, so if you can't make minimum payments or you're always late, pull yourself together before anything else. But if your credit is on solid ground, the opportunities are pretty endless for cashing in on card travel rewards—especially if you're uncompromisingly loyal to a particular airline or hotel chain. If you want to get truly obsessive over gaming the system, you can always open up a handful of various rewards credit cards to cash in on their sign-up bonuses, then cancel before ever having to pay an annual fee. (Personally, I'd say leave this to the pros—too much trouble!)
Once you do settle on these largely one-time decisions for the debit and credit cards that are right for your lifestyle (and budget), you'll thank yourself. Because really, what you're left with is more money for actual traveling—and who can argue with that?
Hannah Bae is a freelance journalist based in Brooklyn. She has worked for organizations such as CNNMoney, Newsday, and the US Embassy in Seoul, South Korea. Follow her on Twitter and check out her Korean food project on Instagram.