Zoos used to be kind of depressing places: animals that once roamed free were trapped in small metal cages, causing some of the more sympathetic/daring/insane among us to try to break them out. But that's not really the case anymore. In a lot of zoos, cages have been replaced by natural habitats and sprawling eco-parks, and now catching a glimpse of an animal at the zoo often requires patience and a very keen eye (I think it moved behind that rock way over there. Maybe? Nope, nope, that's just a tree stump.)

We all know about the great zoos in San Diego and New York, Seattle and St. Louis. And many other large cities like Indianapolis, Pittsburgh, and Washington DC boast impressive parks well worth a visit if you're there for the weekend. But across the country, some unexpected cities have zoos that are equally as interactive and intriguing, if not more so; most of us just don't know about them. Here are eight that stand out.
Recommended Video
This Hawaiian Island Has More Aloha Than The Rest
Anchorage, AK
Alaska Zoo
Even though cruises to Alaska can be pretty amazing, Arctic wildlife is still not best viewed from the lido deck. But getting up close and personal with polar bears, lynx, and other Arctic species doesn't mean you've gotta go all Into the Wild, either. Head to this 25-acre compound at the foothills of the Chugach Mountains where, in addition to over 50 species of animals, you can also visit the only rescue facility in America for injured, abandoned, and orphaned polar bears. They probably won't be tossing around beach balls and drinking Coca-Cola, but you can at least go in the winter (it's open year-round) when they'll be most active.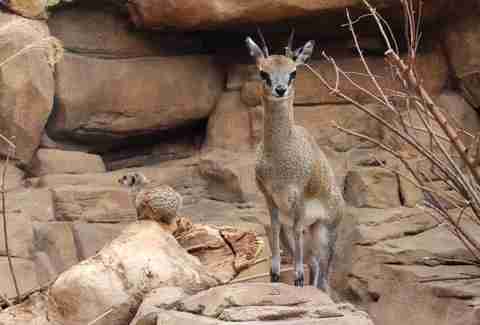 Omaha, NE
Henry Doorly Zoo and Aquarium
In Arizona, they build giant domes to keep the desert out. In Nebraska, they built one to keep it in. The zoo's landmark desert dome is the largest glazed geodesic dome IN THE WORLD, and houses replicas of the Namib, Sonoran, and Red Center Deserts. The basement also features the world's largest exhibit of nocturnal animals at Kingdoms of the Night.
Outside the dome, you can visit a three-acre primate exhibit where the gorillas roam and visitors are kept confined (effectively creating the most interactive exhibit of its kind) and America's largest indoor rainforest at the Lied Jungle. This summer the zoo will also be adding African Savannah and Alaska Adventure experiences, so plan your vacation accordingly.
Palm Desert, CA
Living Desert Zoo
While the zoo in Omaha created a desert in the middle of the plains, this Southern California zoo created lush vegetation and African plains in the middle of the desert. Originally founded to preserve the Colorado Desert ecosystems, this park is now home to over 50 gardens with 1,400 different species of plant and represents desert climates from around the world. And because this zoo has so much space, desert animals are able to roam pretty free while you stroll around and take notice. Everything from giraffes to pygmy hedgehogs to African wild dogs are on display, all in the greenest environment you'll find in Palm Desert that doesn't include a pro shop.
Melbourne, FL
Brevard Zoo
Seeing live alligators on your Florida vacation might not even require leaving the hotel swimming pool, but watching them eat is far less terrifying at this Space Coast zoo. Here, every day at 3pm you can marvel at the power of a gator's jaw latching on to something that's not your leg. Possibly the most active zoo in America (for guests that is), you can also kayak through the giraffe exhibit, zip-line over the monkeys, and climb to the top of (and rappel down from) an old Florida pine tree to check out all of the wildlife.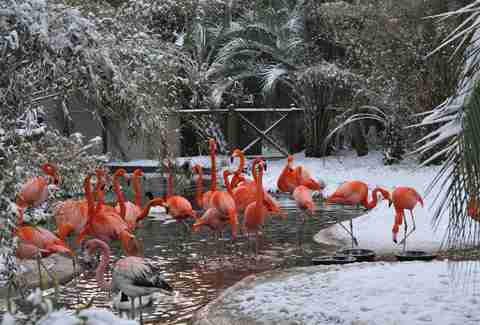 Columbia, SC
Riverbanks Zoo
Even though there's a palmetto on the state flag, South Carolina is rarely thought of as "tropical." Except at the state capitol's zoo, where visitors can wander from the 55,000-gallon Pacific coral reef tank to see birds from tropical Asia, Africa, and South America in the Asian Trek and Savanna Camp. But that's just the warm-up: this zoo has over 2,000 animals including Arctic penguins, African elephants, and a 900lb Galapagos turtle, not to mention a place where kids can feed the giraffes.
Fort Worth, TX
Fort Worth Zoo
This Texas-sized, 64-acre animal extravaganza comes complete with a water park, shooting gallery, theme town, and rail system; it's almost as much zoological theme park as it is a series of animal exhibits. In addition to all the standards -- African Savannah, Asian Falls, flamingos, etc. -- the Museum of Living Art offers a revolutionary way to view amphibian and reptile species. Open-air encounter areas allow visitors to walk among crocodiles, Komodo dragons, and Burmese pythons in complete safety. And the Texas Wild! exhibit, which houses the aforementioned shooting gallery, also takes visitors on a natural tour of every landscape in Texas.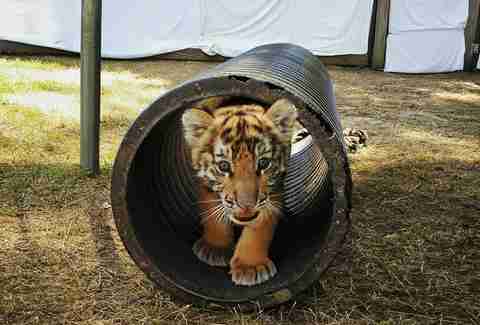 Gulf Shores, AL
Alabama Gulf Coast Zoo
While the self-proclaimed "little zoo that could" boasts as many lions, tigers, and other big cats as many prominent city zoos, the real attraction is the animal encounters. This facility provides guests about 10-15 minutes of one-on-one time with sloths, kangaroos, and lemurs for $5-$10 per person -- compared to around $80 per person at a mega-park like SeaWorld. So if you have children and want to give them an animal experience that doesn't require tapping their college fund, it's worth a visit on your next trip to the Redneck Riviera.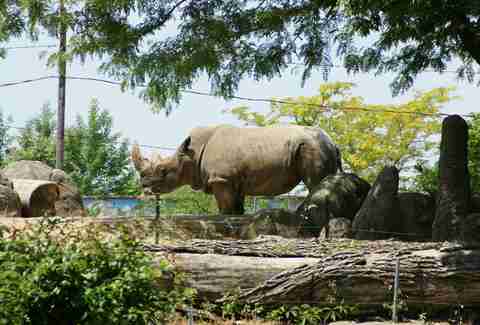 Toledo, OH
Toledo Zoo
Northwestern Ohio might not be the first place you'd expect of find yourself gazing at an African savannah, but that's exactly why this zoo in Toledo is so unexpectedly incredible. From a series of skywalks and elevated platforms, you'll feel like you're on another continent as you appreciate the zebras, giraffes, crocodiles, and other African fauna. Before, of course, stepping down a long ramp and into the world's first Hippoquarium, an underwater observation room where you can take in hippo life below the water line. And if you get tired of walking, the Africa! exhibit even has an aerial obstacle course for you to traverse while looking down at the animals.
Sign up here for our daily Thrillist email, and get your fix of the best in food/drink/fun.