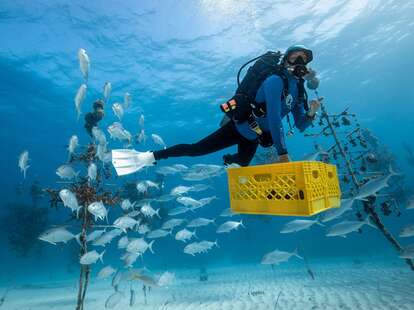 These Eco-Tours Let You Save Baby Sea Turtles, Restore Coral Reefs, and Eat Invasive Species
Spice up your vacation and help save the ocean.
As reports about the rapid progression of climate change and other earthly afflictions continue to increase (as do our nights spent doom scrolling), it may often feel like there's nothing we can do to prevent the degradation of the planet—especially if you're a traveler. But remember that there's power and influence in numbers. This Earth Day, here are some Green Travel tips to lessen your impact and join the millions of people doing their part to make preserving the planet priority #1.
I've visited the Florida Keys many times over the years, road tripping through the interconnected islands that have welcomed all sorts of characters from Ernest Hemingway to Jimmy Buffett. I've gone scuba diving, explored reefs off the coast, and gotten up close and personal with fish, all in between slices of Key Lime Pie. But I'd never considered just how precious the ecosystem is until I volunteered with Key Largo's Coral Restoration Foundation.
The Florida Keys boasts the third largest barrier reef in the world, stretching 360 miles long and supporting thousands of marine animals—a delicate ecosystem that's been negatively impacted by environmental changes that cause coral to die off.
It's those issues that lead to the creation of the Coral Restoration Foundation (CRF). Launched in 2007, they now operate the largest ocean coral nursery in the world. "We developed something called the coral tree… [it's] a very cheap, cost-effective technology that enables you to grow coral," says Alice Grainger, Communications Director of CRF. "It's an in situ nursery, so it's ocean-based."
The CRF's 500 coral trees—internationally-used, publicly available pieces of tech that resemble Christmas tree frames—help produce thousands of coral pieces to be transplanted into the reef every year.
If it all sounds a little confusing, worry not: you can get to know the tech up close. The CRF runs a volunteer program where travelers can go diving to help remove biofilm from the trees and transplant mature coral into the reef.
"We work with local dive operators. It's a one or two days program, education in the morning and some kind of hands-on practice," says Grainger. "Then we actually take people out into the water alongside our team, and they can actually work to do the work with our staff and interns. Snorkelers can also get involved."
Whether you're into marine biology, environmental activism, or straight-up scuba diving, these six tour companies will help you have an adventure, earn your sea legs, and make a difference.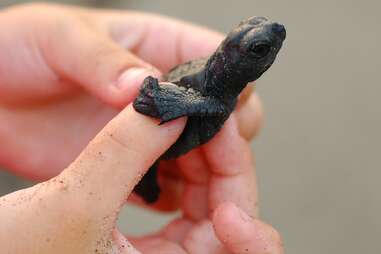 Help baby sea turtles reach the ocean
Puerto Vallarta, Mexico
Significant to the country's native Huichol people, Kemp's Ridley sea turtles—the world's smallest sea turtles!—nest along the coast of Mexico (as well as throughout the Gulf) every June to December. Unfortunately, in the 1980s, the number of female turtles that came for nesting dropped from tens of thousands down to just a few hundred; today, they're considered an endangered species.
The Marriott Puerto Vallarta Resort & Spa is one of many groups working to reestablish the nesting grounds in the region through its turtle protection program and in-house nursery. Through the hotel's activities center, visitors can sign up to work with an on-site biologist, assist in night patrols, and use coconut shells to release newly-hatched turtles into the ocean straight from the property's stretch of coastline.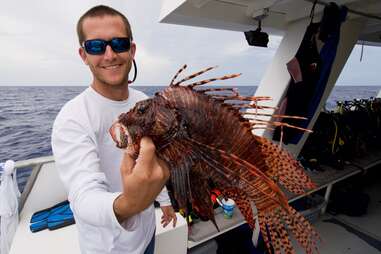 Hunt (and eat!) lionfish off the Florida coast
Pensacola, Florida
Lionfish have become an invasive species in the last few years—especially off the Florida coast where they have no natural predators. It's uncertain how they arrived, but the general assumption is that some were dumped from a personal aquarium. The fish reproduce quickly and have insatiable appetites, leaving little room for other species to thrive.
To combat the damage, dive outfitters and fishing charters now offer lionfish hunting trips, teaming up with local restaurants in Pensacola to provide fresh fish and better the ecosystem. Travelers can join Ocean Strike Team, a local conservation group, for one of these trips, where you can carefully spear the fish or collect them in special devices to avoid their venomous spines.
The four-day trips include all the gear you need, along with a chef-prepared dinner of the lionfish you caught.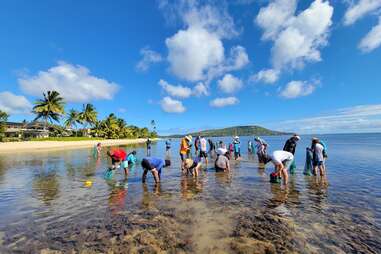 Do your part to protect the waters of Hawaii
Honolulu, Hawaii
In Maunalua Bay on the island of O'ahu, Mālama Maunalua spearheads a number of projects to protect marine life. In the 1950s, population growth and pollution caused the bay to suffer, but the organization's various programs seek to restore it to its former glory.
For example, there's the Great Huki Project—a monthly community event to remove invasive algae like gorilla ogo, prickly seaweed, and leather mudweed and incorporate it into soil for local farms so nothing is wasted—or the Hana Pūkoʻa, which helps the community monitor the bay's coral reefs. Best of all: you don't need any prior experience to lend a hand.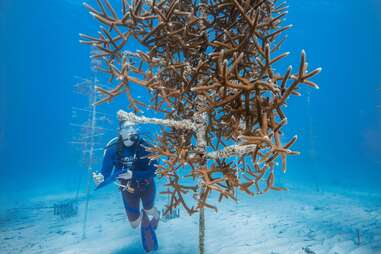 Scuba dive to restore coral reefs
Key Largo, Florida
With the Coral Restoration Foundation, you can participate in weekly dive programs with local dive shops who'll help you do your part to restore coral reefs off the coast of Florida. You'll start with an educational session at their Exploration Center, dive underwater into the coral tree nursery to assist with clean up and planting new coral, and end your day by earning a PADI Coral Restoration Certification.
The rate includes a two-tank dive and donation to the foundation. If your plans allow for a longer stay, Coral Restoration also brings on volunteers for three-week stints.
Embark on the search for bluefish tuna
Pacific Grove, California
Visitors to the Monterey Bay area can don some yellow waders and join a one-day research and fishing adventure on the Pacific Ocean with Tag a Giant. Founded over 25 years ago by Stanford and Duke University scientists, the organization tracks and researches giant bluefin tuna, a major predator in the Atlantic and Pacific oceans whose populations have declined in recent years.
Tag a Giant brings travelers aboard a fishing boat to catch, tag, and release the enormous creatures, all with the goal of collecting data about migration patterns. It's quite the unique way to get out on the open sea and satisfy your inner science nerd all at once.
Take photos to protect paradise
Sri Lanka and the Maldives
Plastic in the ocean is an increasingly devastating problem, but especially in Sri Lanka. In the weeks following the 2021 shipping container fire, debris spread throughout the ocean, plastic resin pellets (or nurdles) began washing up on beaches, and countless marine animals died.
Oceanswell, Sri Lanka's first marine conservation research and education organization, is one of the groups combating the issue. They've established a Nurdle tracker page where locals and visitors can submit photos and descriptions of plastic pellets on the beaches of Sri Lanka and the Maldives. If you're in either place, you'd likely be snapping pictures anway—so there's hardly an easier way to help clean up the environment.