While America's 59 national parks may get all the glory and the Ken Burns documentaries, nearly three times as many people visit the country's 10,234 state park areas each year. Spanning a total of more than 18 million acres across the US, America's state parks take up the equivalent land area of 13.6 million football fields -- or roughly the size of South Carolina.
So yeah, there's kind of a lot to explore. To help us narrow down a list of the cream of the crop, we consulted locals throughout the country to give us their top picks of their favorite state parks. Behold, our glorious unveiling of America's top 25.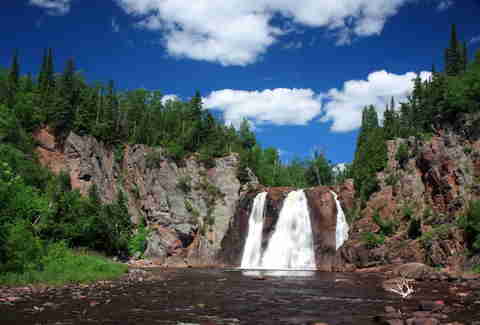 25. Tettegouche State Park
Silver Bay, Minnesota
Located about an hour north of the underrated town of Duluth along the magnificent Highway 61 that one Robert Zimmerman once sang about, this scenic Midwestern park offers everything from stunning views of jagged cliffs over Lake Superior, to roaring waterfalls, to forested hikes along the 310-mile Superior Hiking Trail. If you don't feel like going on that long of a hike, roaming the area around Palisade Head or paddling over to your kayak-in campsite should more than suffice. Pro tip: while you're here, head another 20 minutes north to snap a photo of the ridiculously picturesque lighthouse at Split Rock Lighthouse State Park.
24. Iao Valley State Park
Wailuku, Hawaii
To call this West Maui Mountains park "lush" is an understatement of epic proportions. Its dense rainforest canopy makes this popular Hawaiian park one of America's more unique, dominated by the Iao Needle -- a 1,200ft vegetation-covered lava remnant that rises from the valley floor to a higher height than the Eiffel Tower. Snap its photo while exploring the laid-back trails of this peaceful 10-mile-long park.
23. Eldorado Canyon State Park
Eldorado Springs, Colorado
In a state as rich in parkland as Colorado (it has four national parks), the state parks pack a hell of a punch. Little Eldorado Canyon State Park, just a short ride from Boulder, is a hotspot for rock-climbing walls: It has over 1,000 technical climbing routes within the park, plus 11 miles of hiking/mountain-biking trails, and fishing opportunities in the scenic South Boulder Creek. And if you get thirsty, Boulder's Mountain Sun Pub & Brewery is only 20 minutes away.
22. Niagara Falls State Park
Niagara Falls, New York
Obvious choice? Of course. Mandatory pick? Absolutely. Hordes of photo-snapping tourists you remember from high school may have sullied your memories of the place, but America's oldest state park remains popular for a reason -- or 750,000 of them, which is the number of gallons of water rushing over the falls every second. You can't consider yourself a true New Yorker until you've gotten up close and personal with the falls, Jim and Pam-style, by boat. Or maybe you can, that's totally up to you.
21. Baxter State Park
Millinocket, Maine
What's not to like about this affable Northern Maine nature oasis? Not only is the sprawling 200,000-acre park home to Maine's beloved Mount Katahdin (the state's highest peak and the northern terminus of the Appalachian Trail), it's also home to a killer variety of wildlife, from hawks to black bears who make their home amid the park's peaceful lakes and waterfalls. There's no paved roads, running water, or electricity within the park, so this is your chance for the full Thoreau experience.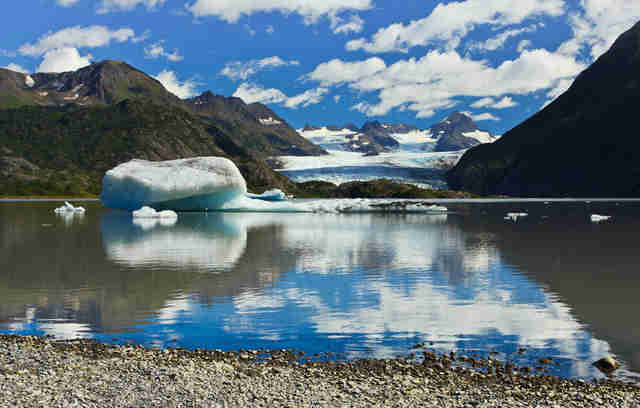 20. Kachemak Bay State Park
Homer, Alaska
If you're looking for wilderness, this massive 400,000-acre park near one of America's finest hippie towns has got your number. You'll need to fly in or travel by boat (most likely from Homer) as there is no road access to much of the park -- which is what preserves this pristine wilderness that is home to whales, sea lions, moose, and an incredibly diverse range of sea birds. But its main asset remains its ecological diversity: whether you're looking for sandy beaches, dense forests, or massive icefields and glaciers, you'll find it all here.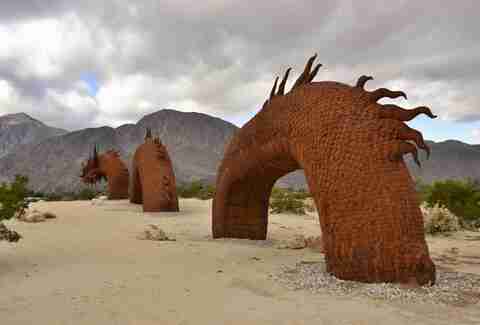 19. Anza-Borrego Desert State Park
Borrego Springs, California
Sprawling out across a stark expanse of 600,000 acres about an hour south of Coachella, California's largest state park (and second-largest in the lower 48) is a crown jewel of America's state park system. By day it has 110 miles of hiking trails to explore and 12 designated wildlife areas, and by night the huge desertscape delivers some of the best stargazing in America. The park is also a site of great geological importance as it has been found to contain over 500 types of fossils that are up to 6 million years old. If you can't picture the prehistoric vibes on your own, there are also 130+ giant metal animal sculptures that pop up out of nowhere as you roam the park's unforgiving terrain.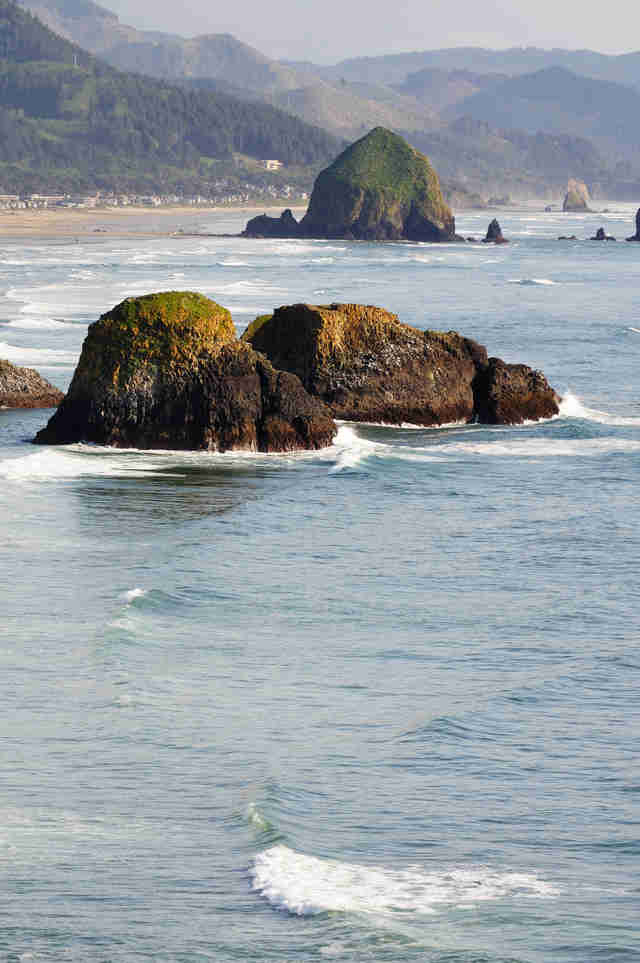 18. Ecola State Park
Astoria, Oregon
Damn, if this isn't one sexy-ass park. Home to the famous Cannon Beach (famous as in The Goonies and the final scene in Point Break), this vista orgy of a state park stretches nine scenic miles of coastline from Cannon Beach to Seaside, offering secluded coves, lush spruce forest, and grassy bluffs overlooking its seductive beaches. While you're here, check out the town of Cannon Beach -- one of the West Coast's best small beach towns -- and hit up the venerable Castaway's Restaurant & Tiki Bar if you know what's good for you. Bonus: the equally cool Oswald West State Park is just a 15-minute ride south.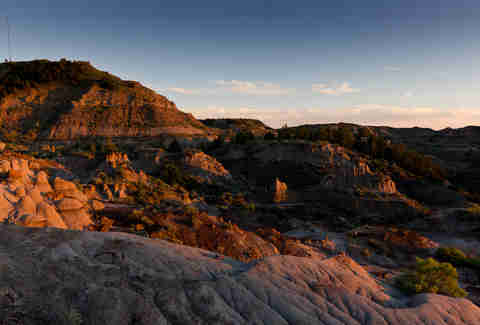 17. Makoshika State Park
Glendive, Montana
Montana's largest state park might not be as famous as places like Glacier, but it's still the finest spot in Big Sky Country to mingle with dinosaur fossils. And the best part? You can mingle with said fossils buried within the state's far eastern plains anytime of day, as the park never closes. Also, you can play disc golf at all hours of the night in total wilderness. Pretty cool, right?
16. Smith Rock State Park
Terrebonne, Oregon
While it is known as one of the best rock-climbing areas in the West, and regarded as the birthplace of American sport climbing, Smith Rock also delights with low-impact family hikes and eye-popping scenery at every turn. Watch golden eagles soar over the Crooked River stocked with river otters as you try not to burn out your iPhone battery snapping pictures of the jagged rock formations popping up in this Central Oregon high-desert outpost. Bonus: Deschutes Brewery is only a half-hour away.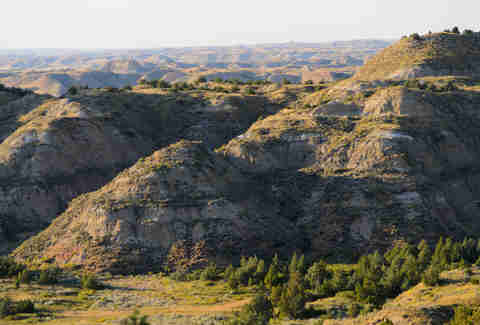 15. Little Missouri State Park
Dunn Center, North Dakota
With large sections of this primitive park only accessible by foot or horseback, this lesser-known park is famous for its windswept badlands vistas and awe-inspiring scenery ripe for the taking via 47 miles of backpacking and horseback-riding trails. There are few rules at this remote BYOH (bring your own horse) outpost, but there is one: you must feed your horse with certified weed-free hay, available for purchase at the park.
14. Emerald Bay State Park
Lake Tahoe, California
Emerald Bay may be one of Lake Tahoe's most popular attractions, but there's a reason for that. Encompassing both the only island on the lake (Fannette Island) and a crazy 38-room Scandinavian mansion called Vikingsholm, Emerald Bay is also unique in that it is one of the first parks in the state whose underwater shipwrecks are also protected. The main activities here include camping (aka drinking) on your boat and staring at the deep-blue hues of the lake as you muster up the courage to cannonball into its refreshing waters.
13. Letchworth State Park
Castile, New York
Whether you're into horseback riding, whitewater rafting, or simply gazing at magnificent waterfalls cascading over rocky gorge cliffs surrounded by lush forest, you'll find it all at this beautiful Western New York park known as the "Grand Canyon of the East." The 17-mile-long park contains 66 miles of hiking trails and over 20 waterfalls, one of which is straddled by a picturesque 235ft railroad trestle. In the winter months you can also snow tube and cruise the park by horse-drawn sleigh, but nothing beats floating over the park in a HOT-AIR BALLOON (which runs you $260, available May-Oct) on a clear summer or fall day. You can also camp in one of 82 rustic cabins or, if you feel like getting corporate, rent an in-park conference center where you can get close to nature with Janice from accounting.
12. Boston Harbor Islands State Park
Boston, Massachusetts
America's coolest state park located near a major city, Boston Harbor Islands State and National Park consists of 34 islands and peninsulas spread over 50 square miles of bays, harbors, and rivers within the greater Boston Harbor basin -- with 17 of the islands part of the state park. It may not exactly be the place to "get away from it all," but with a Civil War-era fort, America's oldest lighthouse, and campsites on four islands only accessible by boat or scenic ferry ride, there's more than enough here to keep you entertained.
11. Dead Horse Point State Park
Moab, Utah
You could be forgiven for thinking you drove to Utah and ended up in the Grand Canyon instead. Mountain biking the badass Intrepid Trail is a must for thrill seekers, but the more relaxed can simply gaze open-mouthed at the deep-red rocks and glorious hues via panoramic vistas of the Colorado River and Canyonlands National Park. The park gets its name from horses who often died in this unforgiving landscape and, with much of the park open with unfenced cliffs and little signage, you best exercise a bit of common sense if you want to make it out of here alive.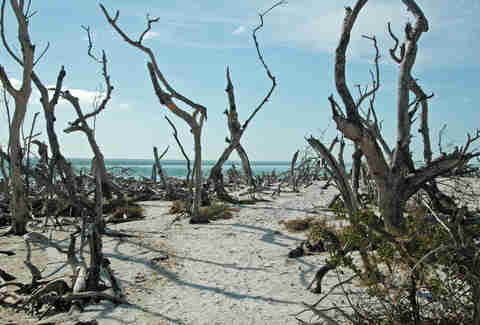 10. Cayo Costa State Park
Captiva, Florida
Only accessible by boat or helicopter, Cayo Costa is a quick boat ride from the popular tourist destination of Captiva Island but a world away from the Florida of your spring-break nightmares. Instead of frat bros and beer bongs, you'll spend the day walking pristine white sand beaches dotted with ghostly tree skeletons and playful dolphins that can often be seen swimming close to the shore. If you're lucky, you can also spot a manatee or bald eagle in the high trees as birds travel from limb to limb. While sunbathing is the prime recreation activity here, you can also camp on your boat or in one of the park's 30 highly recommended tent sites.
9. Valley of Fire State Park
Moapa Valley, Nevada
Arches National Park may be more famous, but that'' quite alright for fans of this perfectly named Southern Nevada oasis. While less than an hour drive from Vegas, this incandescent, 42,000-acre park couldn't be further from the vibe of the Vegas Strip. Similar to Joshua Tree National Park's relationship with Los Angeles, this park is the perfect place to escape urban life and immerse yourself in solitude. You'll be blown away by the brilliant-red Aztec Sandstone rocks that appear on fire when reflected by the sun.
8. Chugach State Park
Anchorage, Alaska
So, this is what mountains are supposed to look like. You might think this park's location just 20 minutes south of Anchorage might lead to packed crowds… until you realize this massive 500,000-acre park is the third-largest in the country. So yeah, there's plenty of space to spread out a blanket and get weird. Combine that with Alaska's legal marijuana and you've got a pretty fun day of hiking amidst pristine glaciers, rivers, and lakes on your hands. You can also drive scenic highways, ATV the Bird Valley Trail System, or whale-watch at the scenic Beluga Point. All good.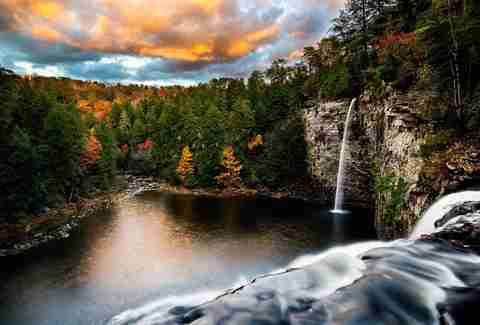 7. Fall Creek Falls State Park
Spencer, Tennessee
This popular park is beloved by Tennesseans not only for its 256ft namesake waterfall Fall Creek Falls (the highest free-fall waterfall east of the Mississippi), but also for caves likes Rumbling Falls Cave System (the second-largest cave chamber in the country) and modern amenities including an 18-hole golf course, zip line, and Olympic-sized swimming pool. Although cooling off in one of its many natural waterfalls is always a better idea.
6. Hunting Island State Park
Beaufort, SC
It may be South Carolina's most visited state park, but that doesn't stop this secluded barrier island located 15 miles east of Beaufort from being one of the most picturesque destinations in the South, thanks to its famous lighthouse, pristine beaches, and popular fishing lagoon. Fun fact: many of the Vietnam scenes from Forrest Gump were filmed here.
5. Adirondack Park
Northville, New York
Part state park, part forest preserve, and part privately owned land encompassing 102 towns and villages, Adirondack Park is massive. Totaling 6.1 million acres, America's biggest state park is larger than Yellowstone and Yosemite combined. Nearly half of the land is owned by the State of New York and designed as "forever wild," encompassing all of the Adirondacks' famed 46 High Peaks as well as 3,000 lakes and 30,000 miles of river. So pack up the canoe or kayak, get ready to scale Mount Marcy, or simply meander about its 2,000 miles of hiking trails. You're gonna be here a while.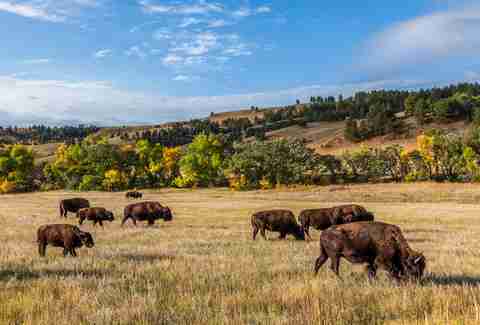 4. Custer State Park
Custer, South Dakota
Located in South Dakota's fabled Black Hills region, the state's first and largest state park is most famous for its photogenic herd of 1,500 wild bison that freely roam the land as well as other Wild West creatures like pronghorns, bighorn sheep, and mountain lions. The scenery is everything you think of when you close your eyes and picture the great American West, laid out before you amidst 71,000 acres of vast open vistas. The place is so cool that even Calvin Coolidge made it his "summer White House," so that has to count for something, right?
3. Julia Pfeiffer Burns State Park
Big Sur, California
As if 300ft redwoods and world-class scuba diving from a gorgeous remote beach cove weren't enough, this little gem of a park not far from the road near Big Sur also features the glorious McWay Falls, a stunning 80ft waterfall that flows DIRECTLY INTO THE OCEAN. Getting down to the beach isn't easy, but the payoff is huge. Just look at the photo.
2. Palo Duro Canyon State Park
Canyon, Texas
This sprawling park in the heart of the Texas panhandle has everything you think of when you imagine a great American nature retreat, most notably the vast open spaces of the "Grand Canyon of Texas" known as the 70-mile Palo Duro Canyon. Horseback rides and hikes amidst its brilliant-red rocks and freaky hoodoos are a must, but what really sets this park apart are its one-of-a-kind activities like seeing live music at its Red Rocks-style Pioneer Amphitheatre, or sleeping in historic brick huts you can rent, making this easily one of the coolest campsites in America.
1. Na Pali Coast State Park
Kapaa, Hawaii
This place is just ridiculous. With otherworldly cliffs rising 4,000ft above the beautiful Pacific Ocean coastline it straddles, this remote section of Kaua'i's northwest coast is inaccessible by car, meaning you need to charter a boat or helicopter to get the most expansive views of its stunning "land before time" charms. The more adventurous can hike or kayak their way through its 6,000+ acres of breathtaking waterfalls, lush valleys, gorgeous forested cliffs, remote Cast Away-style beaches, and historic stone wall terraces. In other words, sure beats hanging out at the hotel bar all day.
Sign up here for our daily Thrillist email, and get your fix of the best in food/drink/fun.