The Best Places to Travel When You're Newly Single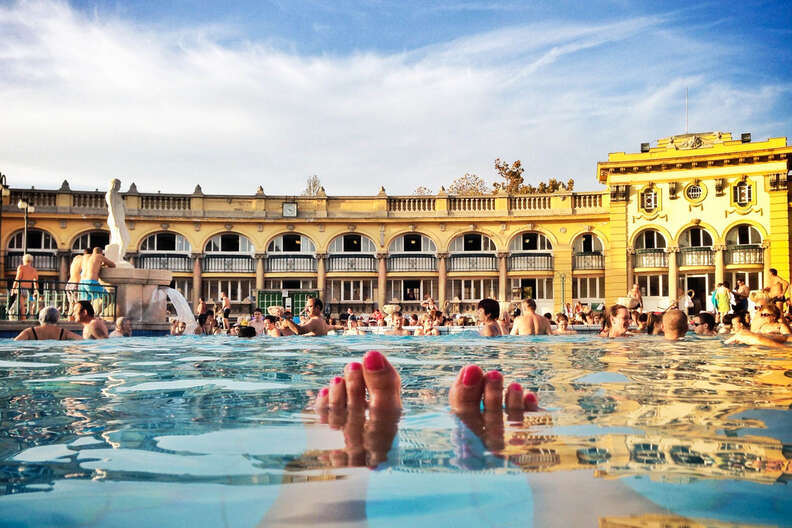 Szechenyi thermal bath, Budapest, Hungary

| Li Kim Goh/moment mobile/getty images
Szechenyi thermal bath, Budapest, Hungary

| Li Kim Goh/moment mobile/getty images
We won't pretend to know what happened between you two. There might have been a fight about whether or not organic avocados are a liberal myth, or if it's blasphemy to keep your sheets tucked under the mattress while you sleep with two sweaty people underneath?! You're such an egocentric -- geez, get your stream of consciousness out of this introduction, reader; we're trying to make our point.
Anyway, it's over. For-real over, change your relationship status on Facebook over, pound a screw-top bottle of red and howl at the moon over. Now what? You might feel heartache or relief or relieved heartache or plain ol' bell-rung shock. Then you realize: You're back to being single. And being single is fuuuuuun.
We've hit up a gang of writers who've probably been dumped at least once in most of the world's continents for advice to get you back out there, to whatever "there" suits you best -- whether that's salsa dancing with tipsy surfers in Mexico, stripping in an eastern European spa, or soul-searching out on the open road. Rope in a gaggle of friends or go it alone (according to a recent report on solo travel from Expedia, Gen Z'ers are more likely to embrace the solo trip after a life-changing event like a break-up).
Here are the best travel moves to make when you find yourself newly single. You lucky so-and-so.
Cognac, France
A quaint distillery town confirms Snoop's assertion that "Cognac is a drink that's drunk by Gs"
If you're ready to mingle, and a bit of a boozehound, there's no better place to ball out than the birthplace of Henny, Remy, and the rest of the boys. A four-hour train ride from Paris, this hamlet is saturated in the aged eaux-de-vie we know and love. You can't walk two steps without bumping into a delicious bottle. Most distilleries offer tours and tastings -- Hennessey's immersive, technology-fueled journey through its multicultural history is a must -- plus gift shops where you can stock up on some totally unnecessary but 1000% wonderful souvenirs like these neon flask sleeves (I mean, seriously).
After meeting the makers, hit up Hôtel François. Hopefully you've done your homework and booked a room upstairs. Either way, you can still chill at the cocktail lounge, Bar Louise, which, spoiler alert, happens to be one of Europe's best: a gilded back bar and cream-colored banquette, expertly crafted tipples -- it's the place to see and be soused. Unsurprisingly the joint's an industry hub, so you'll invariably find a friendly posse of liquor pros posted up there, eager to buy you a drink, chat you up and help you bid your troubles adieu. -- Meredith Heil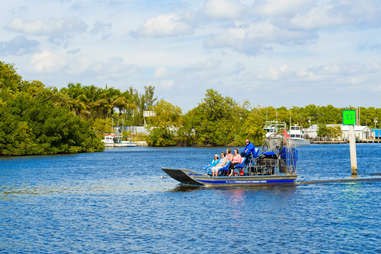 Everglades City, Florida
Lay low in the timeless swamps with locals who are doing the same
You need to heal, dear friend, so you should be somewhere soothing. To this end, neon pink skies and cheap cigarettes are a good start. But you should avoid any spot that smacks of South Beach. Seeing bubbly, model-grade rich kids partying and grinning tightly from bliss and bruxism is just going to bum you out (trust me).
Instead, zag over to Everglades City, a small town in the middle of (you guessed it) the Everglades, a National Park and a mad, murky expanse of sub-tropical swamp. You will see gators. You will meet mosquitos. You may see a panther! You will be two hours from Miami but you're 50 years behind 2018. You'll meet back-to-the-land sorts here who'll be game to chat over a beer. Your new friends wear bandanas and live in trailers they own outright and know how to relax and may share their weed. Plus, if they live down here, there's an excellent chance they're also running from something.
Just beyond Everglades City are uninhabited islands you can reach via flooded mangrove paths. Boats are cheap to rent here ($20 per day is typical for a canoe). You'll paddle onto your own uninhabited shore and drink tallboys while watching long-legged birds spear fish with rapier beaks. The land and the sea here are as postcard-quality as the Florida Keys, but because the 'glades are protected everything is still pristine. You're in a sunny place for shady people, and soon your head will feel much clearer, having lived among the animals for a while. -- John Marshall

Go on a road trip
There's nowhere better than the open road to celebrate your newfound freedom
No one in your apartment building wants to hear your breakup playlist on repeat. So throw some snacks and a spare charger in a tote and turn up the volume on some stretch of infinite asphault that begins with I-. There's no better place to cry loud than out on the open road where you can sing back at Toni Braxton and Taylor Swift. Watch the scenery smear past at 80-odd mph and realize that you're only in the opening credits of the next episode of your life.
If you must head somewhere in particular, California makes a nice fat target. Run on sand in bare feet, catch a morning wave, hike a mountain in time for sunset, then sleep under the Milky Way in the wide expanse of the desert, all on the same day. Wake up to the sound of lapping waves and the chill of a foggy ocean morning. Be that mysterious person making coffee for one at the campground. Ruin a tire on some highway debris, change it yourself with pebbles digging into your bare knees, wipe off the blood, keep moving.
Oh, what's that? A sign welcoming you to Los Angeles, home to an endless supply of people seeking physical affections and shallow affirmations? Do the tour. Or get your more ephemeral likes with a perfect selfie in Big Sur. By all means. Those long stretches of road and beautiful backdrops are there to remind you, as you sort out who you even are now, that you'll "find" yourself wherever you happen to find yourself at any given moment, in any given place. -- Michelle Rae Uy
Montreal, Quebec
The je ne sais quoi of Europe, but close enough to go, like, tomorrow
Where do you go when the guy you're obsessed with breaks your heart and shacks up with your friend? For me, that place was Montreal, a city I selected because I'd never been and I didn't know anyone there. I found Montreal as Canada's answer to an artsy European capital, the perfect balm to soothe an aching heart. Wander through the Montreal Museum of Fine Arts, take in a concert at Le Belmont or sidle up to one of the many bars along Boulevard Saint-Laurent, where the locals are reasonably friendly, especially if you attempt to chat them up in broken French. Virtually everyone here can speak some English, but many also hold a 260-year grudge for the English hijacking Quebec from the French and would just as soon not. Like you, they're loyal to the good times.
The real answer to any post-relationship sadness though is carbs: Chow down on the perfectly doughy sesame bagels from St-Viateur or indulge in the poutine at Greenspot, an old-school diner that supposedly serves up the best local version of Canada's greatest hangover preventer. In the summertime Parc Jean-Drapeau hosts an annual fireworks competition, with two displays a week (befriend someone with a roof deck, but if not the Jacques‑Carter Bridge is a solid vantage). Montreal is the sort of relaxed, easy-going city that allows you to feel your feelings without wallowing too much. And if all else fails, go get a tattoo from a guy who doesn't speak English. It worked for me. -- Emily Zemler
Budapest, Hungary
Get naked and meditate on love and life in the world's best spas above the Danube
You've rolled in solo, only to find that Hungary's capital -- with its throng of ancient spas, old city walks, castles, welcoming locals, cheap-as-a-song eastern European prices -- is yours to embrace. Meet people, go on an adventure, or just to take a relaxing break. I can recommend from experience your best bet is to disrobe in front of a bunch of naked foreigners, and while settling into this new single life of yours, embrace your body, as you sit naked, and sweat it all out in one the world's best saunas and spas
The Szechenyi Thermal Bath is a century-old spa with vintage architecture, tucked away in one of Budapest's prime city parks. Once you enter, your emotions in tatters, you realize: nothing stokes the embers of the heart like shvitz in a roasting spa full of large, steaming, semi-naked Hungarians. Winter or summer, you can sit outside in the Roman city and dwell on what was, and what the future holds, soaking in natural hot, thermal mineral waters. Twenty bucks gets you into this steamy, fleshy wonderland. I've left the saunas feeling as energetic as if I'd just met a new lover. -- Dan Cole
Grand Junction, Colorado
The great crossroads of the American West is the gateway to your next phase
Grand Junction is, as you might imagine, a junction that is somewhat grand in nature. The 70 snakes through, and also connects to the 50 and 141. If you're traveling America via the 70 -- your main Vegas-to-Denver artery, basically where the American west transitions into Kansas -- you're going through this town near the Utah border, and chances are you'll wind up crashing here for the night. It's a city of 60,000, none of whom you'll actually see while you're here.
Truth be told, I've wound up here after long drives, post-break-up, going in both directions. It's an excellent dead-zone wherein to re-evaluate every single life choice. One time, I got up the next morning and drove to LA. Another time, I'd left LA the night before and decided I should turn around and drive back. In both situations, that meant that leaving Grand Junction. If you're heading west in the early hours, the sun will rise behind you, leaving you to see clearly as several hours' worth of the most beautiful natural lands in America wake up ahead of you, as the pink light rings your orange surroundings and leaves purple shade in your rearview. Grand Junction is nothing special. It's only the gateway to so much better. -- Brock Wilbur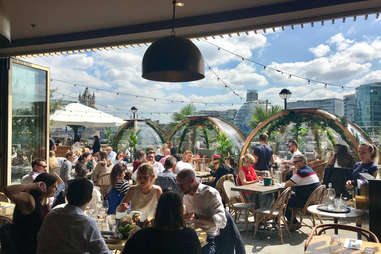 London, England
Of all the gin joints in all the towns, these are the ones you want to walk into
So you like cocktails? Strangers with charming accents? Maybe penthouse suites? If you answered with duh, you, mate, are in for a treat. For a strapping singleton, this sprawling world capital offers way more than footie and fish and chips. Welcome to the birthplace of the sexiest drinking establishment on the planet: the hotel bar. We're not talking warm beer at the breakfast buffet -- London's posh inhouse lounges revolve around premium spirits and seasoned barkeeps. What better hangout for an eligible traveler than a stocked bar in spitting distance of a king bed, full of fellow travelers who may or may not be giving you their real name?
Save the museums and monuments for daylight. Come nightfall -- or earlier, you're on vacation -- your agenda is stacked. Hipsters haunt the Curtain's tiki-esque Green Room while the swank set hits The Connaught or DUKES for martinis spiked with local gin (no American swill here -- Plymouth or Boodles for OGs, Fords or Sipsmith for young guns). The legendary American Bar at the Savoy is aces for booze buffs and scores of buddies gather around punch bowls at the Edition's handsome Punch Room. Fitz's at the Principal is an opulent Art Deco dream with killer Negronis. The Mondrian's Dandelyan, with its wildly experimental menu and clubby vibe, is your hookup joint of first resort. Just make sure your HotelTonight app is up-to-date. -- Meredith Heil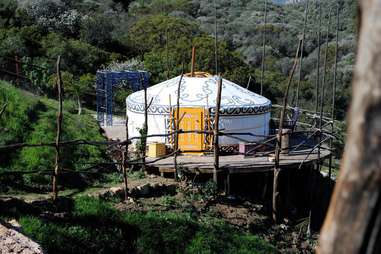 Break-up camp
Yes, it's a real thing, and you'll come out of it feeling like a better you
Who wants to sit among the ruins of a relationship in an apartment you once shared (or, due to the brutal nature of the New York real estate market, still share?). Leave town for a real thing I promise is actually called the Renew Breakup Bootcamp. It's a three-day women-only retreat experience that promises to help you to get over your ex in, what is that, 72 hours, damn. Located in private residences in upstate New York and Malibu, California, the retreat plops you into beautiful scenery into yurts and teepees and hammocks and offers an on-site chef, a psychologist, a tantra expert, yoga and meditation classes, and various exercises aimed at giving you the tools to self-soothe and detach and maybe not set the rest of your life on fire.
This excursion ain't free: It starts at $1,500 for a private room and $1,000 for a shared room. But maybe it's a way to return to the city with a scotch-taped heart and a clear head. The retreat may not be a new lover, but let me repeat to you those three little words every girl loves to hear: On. Site. Chef. -- Ruthie Darling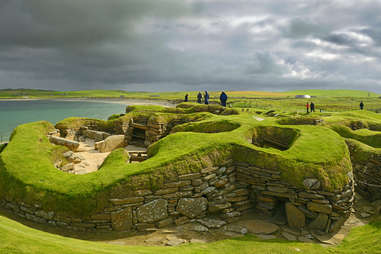 Scotland
A dismal land where you can stew in your own rain-soaked moods
Sometimes you just need to wallow. I brooded after she left, losing myself in the customary single malt (probably a smoky Caol Ila 12) and in what I recall as a smoldering half-blaze hissing in the fireplace -- at the Sheep Heid in Duddingston, maybe, where the bitter and wistful have been at this for nearly 700 years, or Edinburgh's Bow Bar, or one of hundreds of other dim pubs dotting Scotland's lonesome lands. Maybe I crammed a roll stuffed with freshly slaughtered Highland pig from Oink down my gullet to soak up the booze and memories of meals we'd made. Maybe I paced listlessly about Greyfriars Kirkyard, the world's most haunted cemetery, looking for spirits who shared my grief. I might, too, have visited the Meigle Sculptured Stone Museum, where the gravestone of Guinevere, wife of Arthur and lover to Lancelot, reportedly lies, thinking on romances more doomed than my own. I must have gazed achingly into the misty moors of the highlands and the gloom of Gothic kirks and abbeys, and seen her face in callous sea spray off the Orkney Islands.
I don't really remember where my mind was in all of these corners. If you recall your Macbeth, you know Scotland as a land "where violent sorrow seems a modern ecstasy." Of one thing I'm certain: It's is the perfect place to lament your lost love. Embrace it. -- John Maher
A Korean spa
Soak your cares away, or let someone scrub them right off
Being single has exactly nothing to do with your physique. In case you needed reminding, there's nothing like the seeing the sea of lumpy bodies at a Korean spa to help you realize your ex didn't leave you because of your bumpy buttocks. You'll find these havens largely in and around New York, LA, and Washington (and you know, Korea), where for a very reasonably price you'll enter a realm of calm achieved by when I can only describe as a grueling course of saunas. (Plus you get to lay in a sea of clay balls, like some kind of adult Chuck E. Cheese's.)
Do it for the day. Bring friends, or don't. Just reboot. Need to take self-care to the next level and help usher in a new era? Opt for a Korean scrub so brisk, you'll shed a pound of skin and whatever's left of your inhabitation. (Wing, breast, thighs -- it doesn't matter, spa attendants will scrub them all down with equal vigor.) End the day with a belly full of bibimbap (crispy rice mixed with vegetables) and a glass of wine (just go easy when mixing alcohol and heat), and you're certain to reclaim your zen. -- Laura Studarus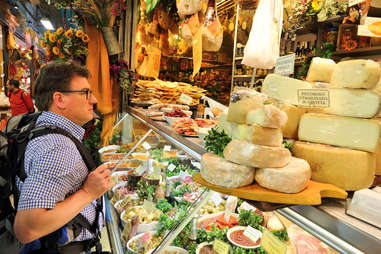 Tuscany, Italy
Ditch the love and skip the pray -- just enjoy a food pilgrimage
Some post-breakup locations are classic for a reason. If you don't have the time and money to go full Elizabeth Gilbert, take a cue from her memoir and stuff your face in Tuscany. The region has science on its side: Italian carbs are proven mood enhancers -- not that justification for the avocado ravioli at Florence's Acqua Al 2 is required. Ditto for chocolate, which is why a visit to Venchi, known for its creamy gelato and nougat-filled chocolate is required. Next, get out the city and into chianti country, an area that Anthony Bourdain called "ridiculously, ludicrously beautiful." For those not ready for a travel buddy, but up for casual interactions, Torcibrencoli vineyards offers a tour of their property, featuring an optional lunch (opt in: it's pasta, with locally sourced ingredients) and wine tastings. Keep 'em coming.
Between meals -- if you can move -- soak it off in Bagno Vignoni's free village hot spring (an area that ancient Romans believed belonged to the nymphs), Instagram the imposing medieval towers of San Gimignano, and hop a boat out to mountainous island of Giglio. Sure, it's a lot to take in, and even more to eat. But whatever, praying and loving can wait. -- Laura Studarus
Peru
A getaway for an ayahuasca trip is how to turn confusion into euphoria into closure
Fresh off a breakup, you have to figure out who the hell you are anymore. Peru for an ayahuasca-inspired trip into self-realization. Ayahuasca is an ancient medicinal recipe that blends the extracted liquids from two or more Amazonian vines. Mixed and proffered by shamans, the concoction first quiets the users' ego and then inspires psychological breakthroughs via visions that pave the way for progressive thinking. A vision quest described by some as "five years of therapy in one night," the experience includes vice-ending testimonials from people who have quit cigarettes, cocaine, or heroin on the spot and others who have declared war on sexual abuse wounds and chronic depression. And there's always one person in every group that definitively leaves the pain of a broken relationship behind.
Cusco is the gateway to now overrun Machu Picchu and one heck of a place to have an out-of-body experience that makes you realize that romantic relationship dilemmas are often luxury problems. Our group sat in a circle upon futons on the floor of a candlelit room. We each drank a three-ounce shot of the auburn, woody-tasting fluid. Twenty minutes later, a dizzy euphoria encouraged us to all lie down on our backs in the shadowy room. The dizziness soon subsided and my first vision leisurely wandered in. The dreamy series of visualizations launched with a self-propelled flight -- me clutching a flight-worthy two-by-four wing and flying through an infinite, illuminated cave teeming with indented half-dome shelves. Each domed ledge in the hallowed emporium comfortably roosted groups of the important people in my life. I visited dozens of ledges, exchanged greetings or memories with comrades, received reassurance from my parents and nods of approval from my two older brothers. When the breezy voyage landed on the shelf propping up the ex-girlfriend, I said, "Sorry." She tried to reply but couldn't find words. We both cried until I flew away. The tears were real, both in and out of the dream.
One predictable outcome of an Ayahuasca ceremony is the literal purging of your personal demons. An exorcism, in the form of literally dry-heaving out unhealthy spirits, occurs at intervals after you process unfortunate or unpleasant things from your past. In this shamanic forum, my first confrontation with my unsettled history concluded with purge of that broken relationship. Something stronger than us insisted we finally move on. Other baggage best not remembered was later evacuated in stages. I was free of it, at least for a rapturous moment, maybe longer. Looking back years later, I rarely even look back. -- Bruce Northam, American Detour
Puerto Escondido, Mexico
Don't overthink this -- you want tacos, surf wax, and bodies
Sometimes the best way to get over an old lover is to get under a new one. Or something more poetic but equally real. Often a great way to heal if you're newly single is to get that palate cleanser. And there is no better place for that than Puerto Escondido, Oaxaca. It's a beautiful Mexican beach town (because who isn't healed by the mighty Pacific Ocean with a side of freshly grilled tlayudas) and a legit surfer mecca. Hard bodies of both male and female variety can be found over every inch of the town, surfboard and avocado toast in tow. Hotel rooms are exceedingly cheap (which is saying something considering the exchange rate is still 19 pesos to the dollar). This is handy in case the friends who took you to Puerto Escondido to help you heal don't actually want to HEAR you heal.
By day Puerto Escondido has athletic types crushing waves, relaxing under palapas sipping local mezcal, or exploring the hidden beaches up and down the coast. By night, the temperature dips and the energy spikes along Calle Moro on Playa Zicatela, the main drag of bohemian beach bars. Check out Revolucion for drinks, Costenito for ceviche, or the famous tlayuda lady who grills up local Oaxacan specialties behind the Oxxo convenience store. Nothing says palate cleanser like a hookup before (and after?) some tasty tacos dorados. -- Meagan Drillinger
The Museum of Broken Relationships
A cultural institution specifically designed for letting go of your emotional baggage
You've unfriended and unfollowed them, disposed of their belongings, and wiped all physical traces of them from your life. But inevitably there's something -- some worthless trinket heavy with meaning and memory -- that you can neither throw away nor keep in your house any longer. Enter the Museum of Broken Relationships, where unwanted tokens and digital stories are donated by broken-hearted people around the world. There are two permanent museum outposts in Zagreb, Croatia and Los Angeles, California, as well as various traveling exhibitions -- all of which will accept the detritus of your doomed dalliance.
Whether or not you're donating an item, it's worth spending some time at the exhibit in solidarity with your fellow survivors. Each memento is displayed with a note penned by the former owner. They range from the devastating ("This iron was used to iron my wedding suit. Now it is the only thing left") to the cathartic ("I never stopped loving her for a moment and I'm happy for her") to straight-up gems like "Darling, should you ever get a ridiculous idea to walk into a cultural institution like a museum for the first time in your life, you will remember me." Laugh, cry, and when you're ready to leave it all behind you, walk out the door and directly to the nearest bar. -- Sarah Theeboom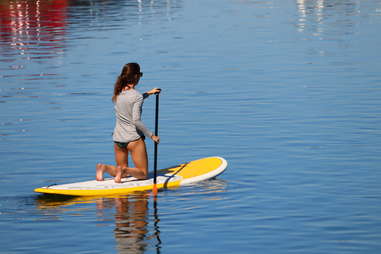 Maine's beaches
It's impossible to stay sad when you're in Vacationland
When you're looking for the perfect place to stare into the ocean waves and think long and hard about your life choices, head to Ogunquit, Maine, whose name translates to "beautiful place by the sea." The sandy beaches and brilliantly blue water are the stuff of much warmer destinations. But how many of those will sell you crustaceans by the pound?
Go wander the mile-or-so Marginal Way that meanders along the sea from idyllic Perkins Cove. Head far from the maddening crowd to Footbridge Beach, a quiet corner on the northern edge of bustling Ogunquit Beach to spread your towel and soak up some sun. For lunch, head to Barnacle Billy's which has been helping people eat their feelings since 1961. Work on your beach bod with a lobster roll and a pint of locally brewed beer (check the menu for the Maine Brewing Company's Peeper Ale).
Spend the afternoon hiking through nature preserves in nearby Wells, watching a play at the Ogunquit Playhouse, fishing for an elusive blue lobster, or simply watching the waves while swiping Tinder. When evening falls, head a few miles up the coast to check into Kennebunkport's 100-year-old Colony Hotel. It's impossible to feel down when surrounded by happy pups in a hotel that is so dog friendly they have pug upholstery on the sofas in the cozy lobby. -- Melissa Locker
A cruise. Really, any cruise.
Ocean views, rebound targets galore, and a total inability to stalk your ex
Sometimes a cliche is a cliche because it's true. When it comes to cruises, as with picking yourself up after a breakup, there's a lot of truth in this one: It's not the destination. It's the journey.
Certain destinations that might be better fits for your specific state of mind. For deep introspection, take in some Alaskan vistas, weaving among fjords and feeling a chill in your lungs. Try a beach vibe if you want to compare tan lines with other fellow travelers out for the same thing you are. In any case, the point really isn't the destination. The point is spending days or even weeks on this floating island, surrounded by beautiful views and affable strangers. Cruises force you to be as social as possible, so there's no room to grouse. You're bound to make a friend, and, wouldn't you know? That friend now lives just a deck or two away. What you and other consenting adults get up to in confined quarters in the middle of an ocean are very much up to y'all.
As for a bug that's actually a feature: The price of internet on a cruise ship tends to run around $0.75 a minute. Cyberstalking your ex on Instagram is, in this case, for once, literally not worth it. -- Vivian Kane
Santa Barbara, California
Okay, so that three-year relationship and condo in Boston didn't work out. Now ask yourself: do you heal your soul in the ocean or in the mountains? Either way, you'll arrive in Santa Barbara, where you can have both at the same time, plus much more. Every "California time out" properly begins by the sea: East Beach is a local fave as is Hendry's Beach, where you can brunch at Boathouse with your toes in the sand. Stearns Wharf will follow with clam chowder at Santa Barbara Shellfish Company and rosé at Deep Sea Wine Tasting Room. Ready to hit the town and rebound? The Funk Zone boasts an Urban Wine trail with more than 20 tasting rooms; if beer is your swill, Figueroa Mountain Brewing Co. has craft brew, a patio, and live music on tap. Hit up a stranger for serious opinions about chowder.
Hike up to Inspiration Point for panoramic views of the Pacific and a chance to get artsy -- hikers rearrange rocks into sculptures at the top. Exercise and art have a way of helping you Figure Out the Big Shit, so also hit up the Santa Barbara Museum of Art, Old Mission, and State Street's local arts and crafts show every Sunday. Also worth a mention: Jenna Dewan jet-setted to Santa Barbara after her breakup earlier this year. If she can get over Channing Tatum, you're going to be just fine. -- Brooke Sager
Bermuda
A peaceful, polite paradise around the corner from the East Coast.
A solo beach vacation might be just what you need to fully embrace your newly single status. Cancun seems a bit much -- college students offering to buy you tequila shots is a later phase of this process. Choose under-stimulation for a while and find Bermuda, probably the most beautiful island you can reach in 2-ish hours for 300ish dollars from New York. You'll go from crying on a sidewalk to day-drinking by turquoise waters in less time it takes to muster up the strength to block your ex on Facebook.
Bermuda has 34 stunning beaches to choose from. As you gorge on sun, carve out at least a day to lay on the pink sands of the world-famous Horseshoe Bay, which leads to a long stretch of beach dotted with smaller coves -- perfect for private meditation or the occasional sobfest. Culturally, the British territory leans conservative. Sunbathing topless is prohibited, skimpy clothing is frowned upon, and approaching a local without saying "good morning/afternoon" is downright rude. Translation: solo travelers won't have to deal with unwanted shit-showy attention. If your post-breakup regimen involves more distraction than quiet self-reflection, Bermuda can get your pulse up: hit the bioluminescence boat tours, explore the otherworldly Crystal Caves, or scuba diving through sunken ships. You'll soon be out of this wreckage. -- Alicia Lu

Sign up here for our daily Thrillist email and subscribe here for our YouTube channel to get your fix of the best in food/drink/fun.