The Best Places in Austin to See Live Music
If you're even thinking of being in Austin, check out the rest of our DestiNATION: Austin guide. It's stacked with expert advice from locals on what to eat, where to drink, and what to do.
In typical Texan understatement, Austin likes everyone to know it's the Live Music Capital of the World. With a claim like that, a city has to have the goods to back it up. Enter: One bazillion clubs and twice that many local bands.
The history of Austin music lives on its stages. Back in the '70s and into the '80s, clubs like the Armadillo World Headquarters, Antone's, Raul's, and Soap Creek Saloon became gathering places for a new, weird scene that embraced country, rock, blues, punk, soul, and roots. The patron saints -- Willie Nelson, Townes Van Zandt, and the Big Boys -- fed a growing club scene and a profusion of bands and, eventually, the live music show Austin City Limits helped usher in a nationally recognized music scene. In '91 the city council made it official, and declared itself the Live Music Capital of the World -- fueling locals' favorite maybe-even-true claim, that no city in America has more live music venues per capita.
Many of the clubs from that golden era have shuttered. Yet the spirit endures. Willie once sang about the beauty of Texas on a Saturday night, but on any night of the week in this town you'll find a band playing its first-ever gig or veteran act playing its thousandth. You'll experience a handful of genres within a couple blocks, or perch on a barstool and find your new favorite singer-songwriter. Here's where you're bound to encounter your own chapter of Austin music history.
South Austin
The soul of South Austin: This two-story South Congress club is a red-hued oasis for blues, soul, and country fans. It stands as a tribute to C-Boy Parks, the former cook and manager of Rome Inn -- the onetime home to Austin's growing blues-rock scene. Downstairs you'll be greeted by a jukebox that whisks you into another era with the Supremes, Professor Longhair, and Elmore James, among others; upstairs, the Jade Room offers a respite from the music with impeccable mood lighting, room for close conversation, and '50s-inspired decor. While you're there, hit up the food truck La Gris Gris, serving incredible Creole, Caribbean, and soul food on the expansive patio. If you come on a Sunday, you might witness the venerated Austin tradition of Dale Watson's Chicken Shit Bingo, which involves live pooping chickens, and Bingo cards.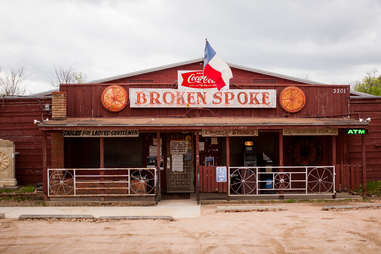 South Austin
Where to get your two-step on: A couple streets over from C-Boy's is James White's legendary dancehall, a Texas music museum and family business. Over the course of its 50-year history, Willie Nelson, Dolly Parton, and George Strait have graced the stage. You'll find regulars and curious out-of-towners here, all drawn together in the name of two-stepping and people-watching. I once saw the singer of a touring avant-noise act two-stepping here, and it remains one of my best Austin memories. Dancing is not required, but it's hard to resist the lure of the floor; if a stranger asks you to dance, just say yes.
South Austin
Where the action has been for six decades: This South Congress stage has seen some truly remarkable sets: Robert Plant, Doug Sahm, Wanda Jackson, The Replacements. The history of Austin's Continental Club goes back more than 60 years, and owner Steve Wertheimer (who also opened C-Boy's Heart & Soul) restyled the club in the '80s, hosting punk, rock, blues, jazz, and more. This isn't a place you stumble into in jeans and a T-shirt; the Continental is an event, so wear your nice shoes, but make sure you can dance in them -- if the energy is right, the dance floor will become a swirl of bodies. Hold on to your drink (and then go upstairs to the Gallery). It's definitely a tourist destination, but you never know who will stop by.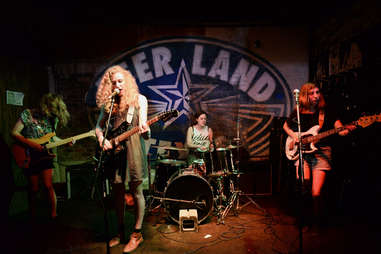 Downtown
Proof that punk's not dead: The first time I visited Beerland, I witnessed a man projectile vomit during a band's set. The band was using a strobe light and when he spewed, the vomit became stuck in the effect, becoming its own kind of supernatural art, suspended in time. It was one of the most beautiful things I'd ever seen. The Red River club has been an anchor of the Austin punk scene for more than 15 years, and become an essential stage for local and touring bands. Its bathroom graffiti is art, drinks are affordable, and if you want to catch some of the best unofficial SXSW shows, Beerland's patio (and the adjacent Red River) has hosted some truly wild ones.
East Austin
Quite possibly the honky-tonk you'll find in heaven: Those looking for a pulse-quickening country fix will want to stop by this East Side dive. The curtained corner stage has drawn comparisons to Twin Peaks' Red Room; if that reference grabs you, this is your kind of limbo. The dance floor gets crowded on busy nights, but that's the best way to experience the White Horse: bumping elbows with strangers and working up a sweat watching local country, roots rock, folk, and Western swing acts. The bar is also serious (like, smashing-TVs serious) about its weekday happy hour and offers two-step lessons for the curious. Grab something from the Bomb Tacos truck to soak up the stew.
Central Austin
An immortal weird-circus gem: Away from the crowds and traffic of Downtown sits Carousel Lounge, a true beacon of Austin weirdness since 1963, when it was opened as an homage to the Carousel Bar & Lounge in New Orleans. Most nights you can find a variety of local acts on the stage, but the ambiance and decor is the real highlight. Behind the bar sits a small, colorful carousel; a pink elephant stands on stage, an eternal performer; the booth-side jukeboxes are time machines; and a circus mural watches over patrons. You'll overhear some great stories from the living, and maybe even encounter a few ghosts. A heads-up: The bar sells beer and wine but is BYOL.
Downtown
The happy place: Step into this vegan- and LGBTQ-friendly Red River venue and be transported into a place that nails a certain feel-good vibe with the limestone wall surrounding the patio stage, colorful art, and delicious/healthy kombucha-based drinks. It also hosts punk, electronic, experimental, country, and hip-hop from local and touring acts; storytelling nights; and karaoke. It's an ideal venue for catching a band you've never heard of or just hanging out under the stars. Either way, it'll be a party.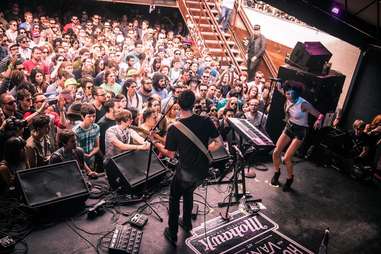 Downtown
An eclectic home to you-name-it: A stuffed grizzly bear, raised up on its hindquarters, sets the tone here. Experiencing Mohawk is quite literally a layered experience: There's the cozy, wood-paneled indoor stage and bar, anchored by a fireplace that's perfect for conversation and lounging. The outdoor stage gives way to a mezzanine and rooftop bar, so you can choose your own adventure. On the right night you could see a wrestling match or stand-up comedy, and Mohawk hosts a generous happy hour. It's the variety show of music venues. If you're attending a big or sold-out show, get there early: Mobility will be limited, and sight lines can be an issue. But if you stake out a good spot, you'll be rewarded.
East Austin
A long tradition of chill, with Skee-Ball: If you're looking for some Austin history, this is where to begin. The East Austin venue has lived at the corner of Fourth and Navasota since 1871, and has been the Scoot Inn in 1955. Since then, it has seen countless local and touring bands shuffle through the door, and weathered plenty of change on the Eastside. The semi-shaded outdoor stage has a backyard vibe, great sight lines, and plenty of seating; the recently opened Ivy's Room bar is dotted with leather chairs, velvet couches, worn-in eight-track tapes, and a piano, the perfect place to chat with friends or make some new ones. Then take those friends over to play Skee-Ball while you down some Lone Stars.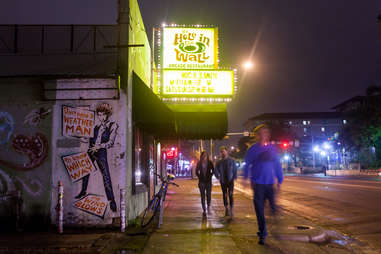 West Campus
A college-crowd bar that lives up to its name: In the past, Hole in the Wall's sign boasted "Cheap Music, Fast Drinks, Live Women," a mantra that has held fast for the campus club's 40-plus years of existence. Its history goes deep: Spoon, Sterling Morrison, David Byrne, St. Vincent, Lucinda Williams, And You Will Know Us by the Trail of Dead, and Leonard Cohen have all left their mark in some way, and the colorful bathroom graffiti is on its permanent record. Hole in the Wall remains a holdout, a home for UT students looking for cheap beer and a study break and regulars holding court at the pool table. Duck in for a cold beer (and a shot) and warm conversation.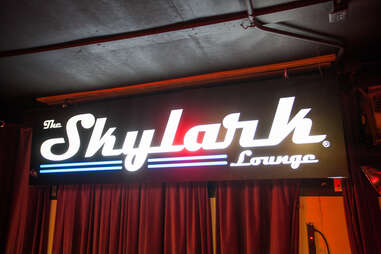 East Austin
A magnificent dive, once you find it: This East Austin joint is a little hidden, but that only adds to its speakeasy feel. Make the right turn and you'll find soul, jazz, blues, R&B, and more on the intimate stage. The crowd is diverse, there's free popcorn to chomp on, and the vibe is relaxed. If you come on a popular night, however, you might have some trouble finding parking. Check out pianist Margaret Wright's happy hour slot or Soul Sunday for a true old Austin experience away from Sixth St and South Congress. If the music gets too loud, pop out to the garden patio for a some people-watching. Oh, and there's some surprisingly solid pizza. Order it and watch innocent bystanders magically gravitate to your table.
Sign up here for our daily Thrillist email, and get your fix of the best in food/drink/fun.
Audra Schroeder is a writer and editor living in Austin, Texas. Her work can be found at the Daily Dot, the Austin Chronicle, and the Dallas Observer. On Twitter, she's @yeahsolike.