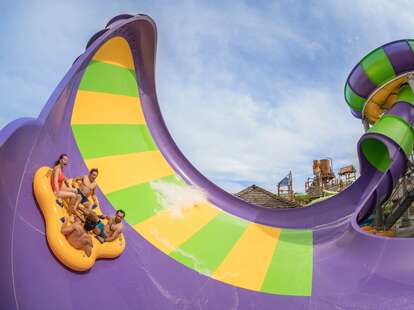 The kids aren't the only ones having fun here.

| Photo courtesy of Wisconsin Dells
The kids aren't the only ones having fun here.

| Photo courtesy of Wisconsin Dells
Water parks are a staple of summer as a kid, but just because the "death-defying" slides aren't quite so terrifying anymore doesn't mean you can't kick off your sandals and spend the day lounging on a tube on the lazy river. Even if you're nowhere close to Orlando and its many theme parks, you can still plunge down speed slides, drift along the lazy river, or linger at the swim-up bar and feel like you're at a seaside resort in the Caribbean (while being just a short drive or flight away from home).
Around the country, there are a number of water parks that are genuinely just as fun for adults as they are for kids, with thrills like beer halls, daybeds, and concerts on the "beach." Don't give up on your childhood just yet—here are 10 of the best water parks for adults in the U.S.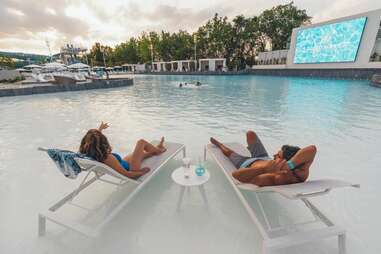 Go beyond concession stand food at the upscale SoundWaves
Nashville, Tennessee
Water parks have never been known for their cuisine. Soft pretzels, soggy pizza, and plastic trays of tortilla chips drowning in pools of nacho cheese—lukewarm, if you're lucky—are usually par for the course.
That's what makes Nashville's SoundWaves, the Gaylord Opryland Resort's indoor/outdoor park, such a standout. Beyond upscale, modern attractions (think interior temps of 84 degrees year-round, a state-of-the-art wave rider, and adults-only bars and cabanas), you'll find fare that suits more mature tastes, including lobster rolls, poke bowls, sliders, and Mexican-style paletas in flavors like blackberry mint and strawberry jalapeño, as well as house-made bread and honey from onsite beehives. The grub is spread out across a restaurant, two food trucks, and an adults-only upper level lounge with its very own bar and infinity pool. (As a heads up, the park's outdoor attractions are only open on select dates from late-May through summer, and will close for the season after Labor Day. Indoors, the party goes on!) [Grab your tickets here.]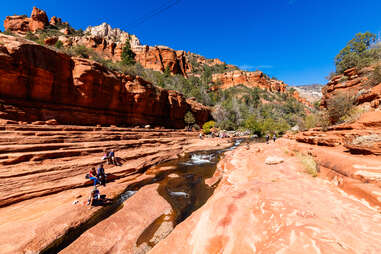 Sedona, Arizona
Most water park action takes place outdoors, but are you catching "fresh air" when the scent of concession-stand mozzarella sticks and chlorine wafts between your waterlogged nostrils? For an outdoor adventure in the truest sense, ride the 80-foot slide in Sedona's Oak Creek Canyon. Rather than PVC, this chute is naturally carved into red rock (made slick by algae), and powered by a current that empties into a large swimming hole. In addition to the slide, there's a half-mile stretch of Oak Creek that's open game for taking a dip. You can also pack a picnic, go trout fishing upstream beyond the water recreation areas, and hit the park's hiking trails. Keep an eye out for javelinas—wild, pig-like creatures that are native to the area (something you'll never see at man-made parks). [Grab your tickets here.]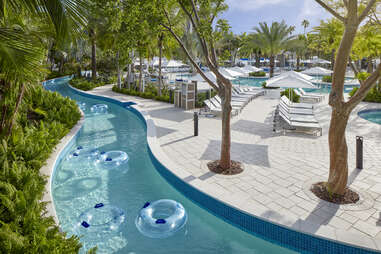 Enjoy short lines and strong cocktails at Tidal Cove
Aventura, Florida
Imagine a swanky South Beach day club complete with the occasional live DJ, all-white private cabanas, and frosé served all day long. Now add waterslides. That's a pretty close approximation to the experience at Tidal Cove, a water park attached to a JW Marriott about half an hour north of Miami.
Here, you'll live like a jet-setting adult and play like one of their overindulged children, feasting on A-plus bar food, strong, fruity cocktails, and plenty of high-quality people-watching. Lines are never long (daily admission of $95 or more will do that), so you can shoot down the trap-door Aqua Drop or get weightless on the Boomerango and barely have time to recover before your next climb to the top—a good reason to relax in the lazy river, grab a drink, and catch your breath. [Grab your tickets here.]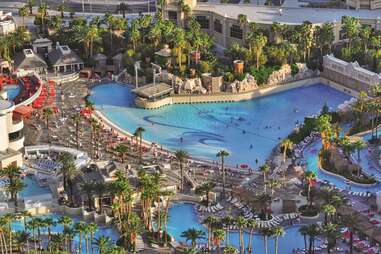 Las Vegas, Nevada
Though Vegas lies smack dab in the middle of the Mojave Desert, there's no shortage of watering holes in town. And while you'll find a pool at just about every hotel on the Strip, we're elevating Mandalay Bay to water park status because of the resort's aquatic trifecta: a wave pool, a lazy river, and a beach (manmade, of course).
Spread across 11 acres, Mandalay Bay Beach makes it possible to frolic in waves, nurse a piña colada while drifting along in a tube, and let loose at a DJ-powered pool party, all within short proximity of a full casino. Music lovers should also check out Mandalay Bay's summer concert series on the beach, which has come back full-force since the pandemic. Anyone looking for a bit more privacy can head to the resort's adults-only offshoot, Moorea Beach Club. There, guests can reserve an array of poolside daybeds, cabanas, and even a private pavilion with its own pool, waterfalls, and wet bar. [Grab your tickets here.]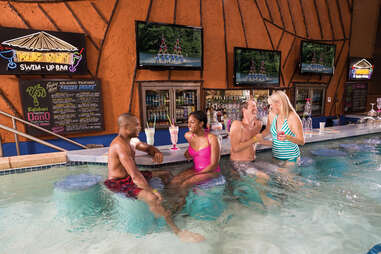 Wisconsin Dells, Wisconsin
Take a break from slipping and sliding with some Wisconsin-made craft brews
If you've ever tried to get a beer at a certain pizza joint with a mousy mascot named Chuck—where "a kid can be a kid"—you'll know that beer at theme parks can often only aspire to be Miller Lite or MGD, at best. Kalahari, however, proves that family-friendly and quality brews don't have to be mutually exclusive.
Located in the delightfully cheesy Wisconsin Dells, aka "The Waterpark Capital of the World," Kalahari is home to a beer-focused restaurant called Wisconsin Brew Pub. Create your own flight and sample the state's finest suds, including pours from New Glarus, Port Huron, and Lake Louie Brewing, then take to the resort's African safari-themed slides (we see you, Zimbabwe Zipper and Swahili Swirl). Another famed Wisconsin Dells water park, Noah's Ark—the largest outdoor water park in the country—also has everything from a branded Blue Moon Bar to the island-inspired outdoor Kahuna Bar, if you want to take a break from the water with a draft brew or margarita. [Grab your tickets here.]
Make it a twofer at this combination water park and zoo at Zoombezi Bay
Columbus, Ohio
Zoombezi Bay has the distinction of being the only large-scale water park in America attached to a city zoo—which means your admission also grants you access to the Columbus Zoo and all its animal friends.
At Zoombezi Bay, you'll find 14 world-class waterslides, including the SoundSurfer, where you can pick a music genre and light show to accompany you on your twisting, turning ride. But the real draw for Central Ohio grown-ups is Croctail Creek, a 21-and-over lazy river complete with a swim-up bar, where you can grab a footlong fruity drink and float the afternoon away. Conveniently, it sits next to the park's children's area, so parents can trade off who takes the kids to Baboon Lagoon and who sips cocktails in the water. [Grab your tickets here.]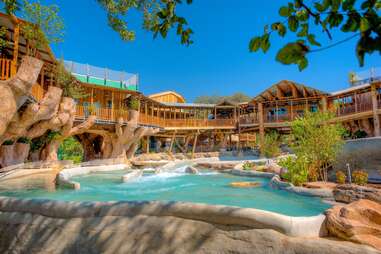 New Braunfels, Texas
Destinations like the Maldives, Seychelles, and Bora Bora boast overwater bungalows—but you only have to fly to Texas for over-water park digs. Dubbing itself "The World's Best Waterpark," Schlitterbahn's seven Treehaus Luxury Suites come outfitted with full kitchens, living rooms, and hand-carved furniture, and overlook both the water park's lazy river and an actual river, the Comal. The park offers seven different lodging options, making it the best in the country for a multi-day escape.
After checking into your suite, you can lounge by a heated pool in a biergarten, then head down racing slides, double-loop body slides, and pretty much every other kind of waterslide imaginable. [Grab your tickets here.]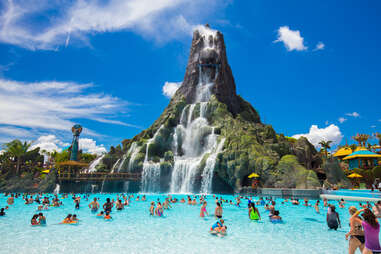 Orlando, Florida
We're not trying to sound like a Young Life recruitment meeting here, but sometimes you really don't need a ton of alcohol to have a good time. Case in point: Volcano Bay, where they'll get you intoxicated the old-fashioned way—with good old reliable terror.
We're talking about the park's signature slide: the Ko'okiri Body Plunge, the tallest body plunge waterslide in America. The 125-foot trap door ride drops you at a 70-degree angle down a volcano and past the less-adventurous humans relaxing in the swimming pool below. The park also has two other 125-foot slides, which don't drop you nearly as fast but are no less adrenaline-inducing. If you need something to calm your nerves after all that death-defying action, you can hit up the Dancing Dragons Boat Bar, which'll hook you up with enough liquid courage to try it again. [Get your tickets here.]
Denver, Colorado
A ticket for Elitch Gardens is a two-for-one, meaning you can access both the theme and water park, with its adrenaline-inducing, 65-foot speed slide, aptly named Epic Mega Wedgie. After you've sufficiently gotten your swim trunks in a bunch, hit Meow Wolf's Kaleidoscape. The Santa Fe-based art collective's thrill ride has been described as "a mind-bending journey" and "an odyssey of creative discovery," and if it's anything like what we've seen them do in the past, you won't want to miss out. (Before you head out, know that the park is often only open on weekends and closes for the season after Halloween.) [Grab your tickets here.]
Belton, Texas
The coolest bar in Belton, Texas has a dress code: swimwear required. That's because the bar is really Summer Fun, a water park about 60 miles north of Austin. From June through August, the park hosts "Adult Night" every other Saturday. Exclusively for a 21+ crowd, the nights include live music, bikini dance parties, and plenty of lazy river action clear through midnight. As an added bonus, the evenings are BYOB and admission is only $30, so you don't even have to splurge on amusement park pricing. Play your cards right and your new "going-out clothes" just might include a pair of sultry aqua socks. [Grab your tickets here.]
Amelia Mularz is an LA-based travel and lifestyle writer who has worked for
Vogue, New York magazine, The Knot
, and
HGTV Magazine
, and contributed to
Travel + Leisure, National Geographic Traveler,
and
Harper's Bazaar
.