8 Water Parks That Are Actually Fun for Adults
Local craft beers, adults-only parties, even "top optional" pools: Water parks aren't just for kids.
The year was 1969. The Boeing 747 jumbo jet made its debut, Neil Armstrong and Buzz Aldrin walked on the moon, and over in Tempe, Arizona a man named Phil Dexter unleashed another marvel of modern science: the US's first wave pool.
It's been 50 years since Dexter's invention changed the amusement park landscape and gave legions of kids in landlocked cities the opportunity to ride bonafide waves. If it feels like nearly as long since you've set foot in a water park, now's the time to remedy that. Can you even remember the smell of the chlorine, the feel of the plastic admission wristband, the glorious sound of the wave-pool buzzer sending hundreds of swimmers into a celebratory frenzy?
Of course, much has changed since Dexter's days. The food has gotten better, the lodging increasingly luxurious, and the rides more extreme. In fact, plenty of parks have grown up with us, as new rides open with a more, dare we say, sophisticated audience in mind. To guide you back into the world of aqua-amusements, we've rounded up the top eight water parks across the country for adult-sized fun. So pack your cooler, hightail it to a wave pool, and ask yourself, hey, what are all these kids doing here?
Nashville, Tennessee
This upscale and modern oasis goes beyond crappy concession stand food.
Water parks have never been known for their cuisine. Soft pretzels, soggy pizza, a plastic tray of tortilla chips with a pool of nacho cheese sauce (lukewarm, if you're lucky) – these bites are usually par for the course at amusement parks. That's what makes SoundWaves -- Nashville's brand-new, four-acre indoor/outdoor water attraction inside the Gaylord Opryland Resort & Convention Center -- such a standout. Beyond the upscale, modern waterpark attractions (think interior temps of 84 degrees year-round, state-of-the-art wave rider and adults-only bars and cabanas) you'll find fare that's fitting of your more mature tastes, including lobster rolls, poke bowls, sliders, and Mexican-style paletas in flavor combos like blackberry mint and strawberry jalapeño. The bread is baked onsite and the honey comes from the property's onsite beehives. The grub is spread out across a restaurant, two food trucks, and an adults-only upper level lounge with its own bar and infinity pool. A craft cocktail menu has been expertly curated by the resort's director of beverage Trudy Thomas, aka "the Bourbon queen" and a certified spirits educator. All the upscale food and drink pairs well with the park's understated, spa-like decor: walls of succulents and exposed wooden beams. Plus, both the indoor and outdoor water areas are equipped to host live bands – this is Music City, after all. [Grab your tickets here.]
Orlando, Florida
Surfs up when the lights go out at this water park.
Could Orlando be the new Ibiza? Well… swap all the Euro club kids for Toy Story characters and the shoulder-to-shoulder rhythmic grinding for a loop around a lazy river and… Nope, they're pretty different. But Typhoon Lagoon does offer nighttime thrills for anyone who prefers to bathe under the moonlight. Back for a second year, the park will host H20 Glow Nights over 25 select dates between May 30th and August 24th. From 8pm-11pm, these after-hours events include glowing wristbands, illuminated backdrops, and specialty rafts in the lazy river. Entertainers in neon clothes and an inflatable Partysaurus Rex keep the dance party going at the sandy beaches of the Surf Pool. There's also a designated area, The Wharf, for the over-21 crowd where you can sip cocktails with light-up cubes as well as bubbles served in glowing Champagne flutes. But perhaps the best part of all is that you'll have access to the water park's slides minus the lines -- not to mention you'll avoid any tan lines. [Grab your tickets here.]
Kalahari Resorts
Wisconsin Dells, Wisconsin
Take a break from slipping and sliding with some Wisconsin-made craft brews.
If you've ever tried to get a beer at a certain pizza joint with a mousy mascot named Chuck -- where "a kid can be a kid" -- you'll know that beer can only aspire to being Miller Lite or an MGD, at best. Kalahari, however, proves that family-friendly and quality brews don't have to be mutually exclusive. Located in the delightfully cheesy Wisconsin Dells, aka "The Waterpark Capital of the World," Kalahari is home to a beer-focused restaurant called the Wisconsin Brew Pub. Create your own flight and sample the state's finest suds, including pours from New Glarus, Port Huron, and Lake Louie Brewing, then take to the resort's African safari-themed slides (we see you, Zimbabwe Zipper and Swahili Swirl). Over at another famed Wisconsin Dells water park, Noah's Ark, the beer offerings are more limited throughout the summer, but the park does host a hop-filled final hoorah for its last weekend of the season. The annual Arktoberfest is celebration of all things Wisconsin, including polka, sausage, and, yes, craft beer. [Grab your tickets here.]
Las Vegas, Nevada
This Strip hotels lets you "strip" down, with upscale digs and an tops-optional, adults-only zone.
Though Vegas lies smackdab in the Mojave Desert, there's no shortage of watering holes in town. And while you'll find a pool at just about every hotel on the Strip, we're elevating Mandalay Bay to water park status because of the resort's aquatic trifecta: Wave pool, lazy river, and beach (manmade, of course). Spread across 11 acres, Mandalay Bay Beach makes it possible to frolic in waves, nurse a piña colada while languorously drifting in a tube, and let loose at a DJ-powered pool party, Daylight Beach Club (Thursday-Sunday) – all within striking distance of a full casino. Music lovers should also check out Mandalay Bay's summer concert series, which hosted in the pool area. Listen to the likes of Juanes and Ziggy Marley while digging your toes in the sand or wading in the water. Anyone who's looking for a bit more privacy and a "toptional" experience can head to the resort's adults-only offshoot, Moorea Beach Club. There, guests can reserve an array of poolside daybeds, cabanas, and even a private pavillion with its own pool, waterfalls, and wetbar. [Grab your tickets here.]
New Braunfels, Texas
Stash your stuff (ahem, beer) in easily accessible bungalows.
Destinations like the Maldives, Seychelles, and Bora Bora boast overwater bungalows, but you only have to fly to Texas for overwater-park digs. Schlitterbahn has seven Treehaus Luxury Suites -- outfitted with full kitchens, living rooms and hand-carved furniture -- that overlook both the water park's lazy river and an actual river, the Comal. Here, you can literally stumble out of bed and into an innertube or hang-ten at the Boogie Bahn surfing ride. The entire east section of the park is within a few minutes' walk from the suites, which means much less schlepping at Schlitterbahn. The large suites have three bedrooms and sleep up to 12, so you and your 11 closest friends can stash your flip-flops and sunscreen in the room and then pop back in for snacks and beers between rides. Because if you've learned anything in your old age, it's that convenience is king and the hassle of those tiny lockers is strictly for kids. [Grab your tickets here.]
Slide Rock State Park
Sedona, Arizona
Nature's handiwork yields a super-fun, high-speed slide through gorgeous terrain
Most water park action takes place outdoors but are you catching "fresh air" when the scent of concession-stand mozzarella sticks and chlorine wafts between your waterlogged nostrils? For an outdoor adventure in the truest sense, ride the 80-foot slide in Sedona's Oak Creek Canyon. Rather than PVC, this chute is naturally carved into red rock, made slick by algae, and powered by a current that empties into a large swimming hole. In addition to the slide, there's a half-mile stretch of Oak Creek that's open game for taking a dip. You can also pack a picnic, go trout fishing upstream beyond the water recreation areas, and hit the park's hiking trails. Additionally, keep your peepers peeled for javelinas – wild pig-like creatures that are native to the area (something you'll never see at manmade parks). [Grab your tickets here.]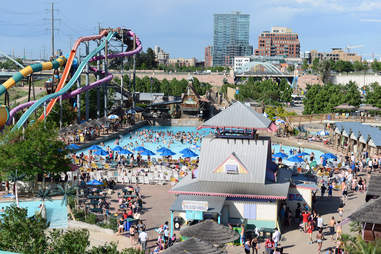 Elitch Gardens Theme and Water Park
Denver, Colorado
Catch the latest movies while getting your float on.
Even the thinking man or woman occasionally craves a drop down a 65-foot speed slide (maybe?). If so, there's Elitch Gardens and its Epic Mega Wedgie ride. After they've sufficiently gotten their swim trunks in a bunch, artistically-inclined water lovers will appreciate the summer dive-in movies at this Denver park. Every Friday from June 28th to August 2nd, the wave pool stays open after hours for free movie screenings, included with park admission. While you won't necessarily see arthouse films, you can catch Aquaman, Incredibles 2, and Mary Poppins Returns (hey, Tony Award-winner Lin-Manuel Miranda has a role, so that's pretty highbrow). As a bonus, water park admission also includes entry into the property's theme park, where you can test out one of the most buzzed-about attractions in the country, Meow Wolf's Kaleidoscape. Meow Wolf is a psyche art collective based out of Santa Fe and the ride they've created at Elitch Gardens has been described as "a mind-bending journey" and "an odyssey of creative discovery." [Grab your tickets here.]
Belton, Texas
Going out just got wetter.
The coolest bar in Belton, Texas has a dress code: swimwear required. That's because the bar is really Summer Fun, a water park about 60 miles north of Austin. From June through August, the park hosts "Adult Night" every other Saturday. Exclusively for a 21+ crowd, the nights include live music, bikini dance parties, and plenty of lazy river action clear through midnight. As an added bonus, the evenings are BYOB and admission is only $20, so you don't even have to splurge on amusement-park pricing. Play your cards right and your new "going-out clothes" just might include a pair of sultry aqua socks.
Grab your tickets here
Amelia Mularz is an LA-based travel and lifestyle writer who has worked for Vogue, New York magazine, The Knot, and HGTV Magazine, and contributed to Travel + Leisure, National Geographic Traveler, and Harper's Bazaar.