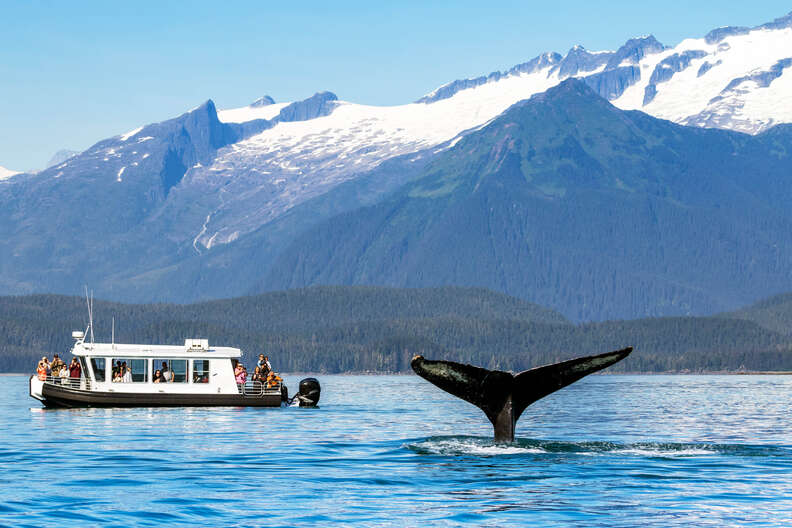 Tourists ogle a Humpback whale

| John Hyde/Design Pics/Getty
Tourists ogle a Humpback whale

| John Hyde/Design Pics/Getty
How to Go Whale Watching in Alaska
If you're even thinking of being in Southeast Alaska, check out the rest of our DestiNATION Juneau travel guide. It's stacked with expert advice from locals on where to eat, what to bring, where to stay, and how to fully unlock the wild adventures that await you.
Whales! Actually seeing them in the wild does us the rare favor of short-circuiting our brains. Since childhood we've thought of whales with an abstract, mathematical conception of scale that in no way prepares us to confront how truly massive they are in real life. Seeing a humpback forcibly dissolves our perspective on the world, and you can't get that in even the very best zoos, even if SeaWorld wasn't already a terrible idea on its own. You must see the whale in the natural world, on its own turf -- or, err, water -- to be properly awed.
There are loads of different species of whale that migrate through the waters off the coast of Alaska, including but not limited to blue whales, gray whales, minke whales, and bowhead whales. On a trip through Southeast Alaska you're most likely to see humpbacks, orcas (aka killer whales), and belugas, plus your bonus non-whale cetaceans (porpoises and dolphins). While you'll find plenty of guided tours and viewing spots up and down the coast, you don't have to wander far from Juneau to see you some whales. You might not want to wander from Juneau at all.
"Juneau is the place to go whale watching if you're coming to Alaska," says Erin Heist, a food columnist, lifelong Juneauite, and former whale watching tour guide. "It's whale soup out there."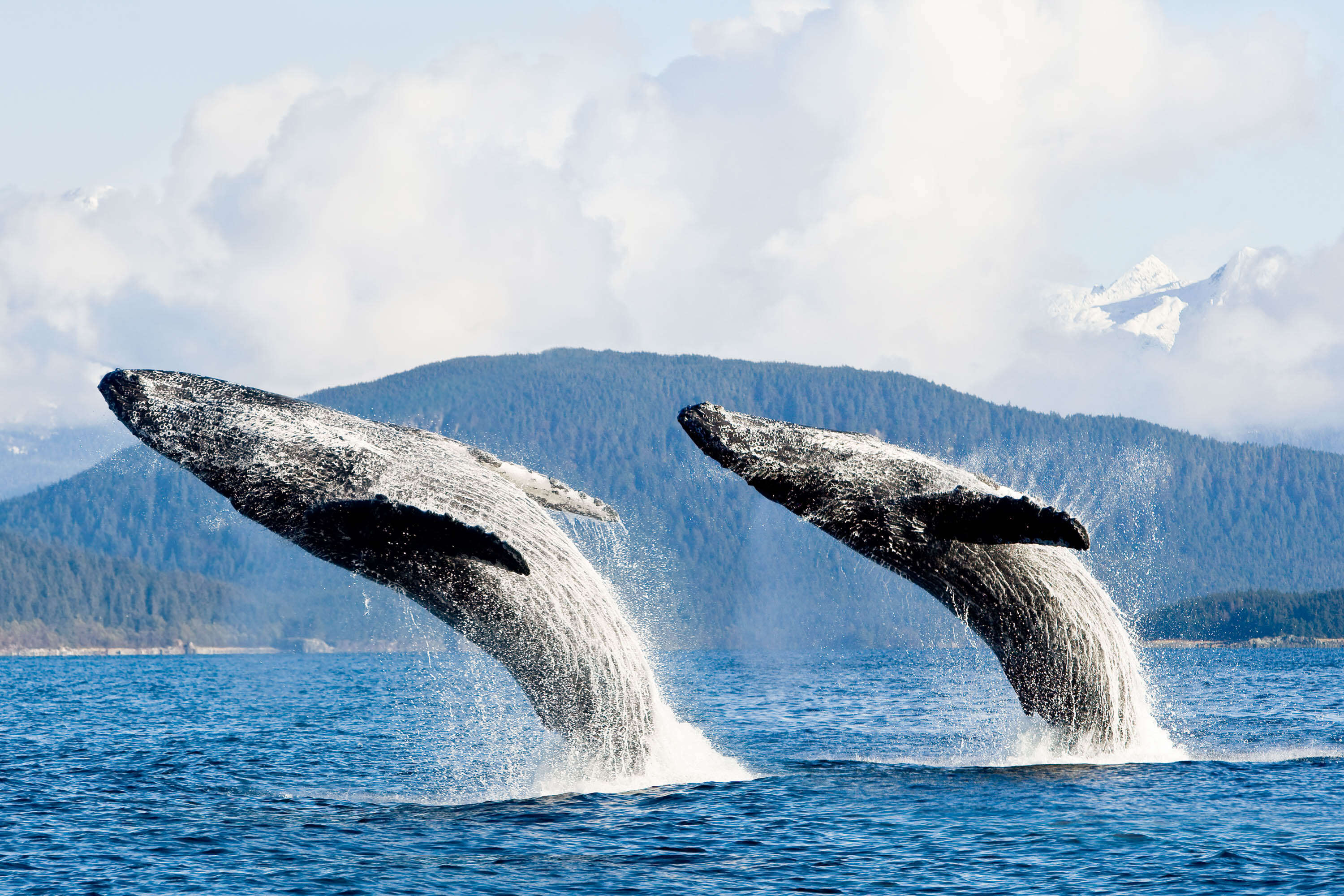 Juneau is the best spot for whale watching in Alaska
Primarily, Juneau's "whale soup" means humpbacks. Belugas are found farther north; orcas are around, but move fast and don't tend to hang about feeding the way humpbacks do. You can see orcas though during a late-summer window in July and August, which is also when the humpbacks engage in an absolutely bonkers learned behavior known as bubble net feeding. The pod of humpbacks circles a school of fish, traps them by blowing a serious amount of bubbles -- which the fish won't swim through -- and then, following the lead of a boss lady whale, lunge out of the water, mouths agape, collecting their meal in one synchronized motion.
"You can't really see it many other places," Heist says. "It's the kind of thing where locals will go out in skiffs just to see the bubble net feeding."
Juneau also has the added bonus of relatively calm waters, so sea-wary tourists and young kids can go on incredible whale watching excursions without feeling too pukey. "Juneau is in the Inside Passage," Heist says. "I think a lot of people don't understand that that means there's not really any ocean wake. The water's calm. It's like being on a giant lake in some ways, you're not gonna have the huge rolling waves you have out at sea." (Just in case you're ever on rougher water, though, here are the best remedies for dealing with seasickness.)
High summer is the ideal time of year to spot 'em
Water around Alaska is, y'know, cold, and in a similar fashion to many humans, whales like to escape the winter by traveling somewhere warm like Mexico or Hawaii. Come springtime, though, they begin their migration back up north, and thus are best viewed around Alaska between May and early September.
Keep in mind, though, that Juneau is located in a big 'ol coastal rainforest and while the climate is temperate the weather can be unpredictable. Out on the water you'll want to be windproof, waterproof, and warm, so invest in a good jacket and shoes, and bring sunscreen.
The best guided whale watching excursions in Juneau
It might seem suspicious to pay a whole lot of vacation bucks to watch an animal that may or may not be there. "Some tours offer [money back] guarantees that you'll see a whale 100% of the time," Heist tells me, as I nod and wait for a warning about how this is bullshit. "And you really will! I worked for a whale watching company for a decade, and I think we gave the guarantee back maybe, twice? In 10 years. Don't expect to get that guarantee back, because you are gonna see a whale. For sure."
Here are some of the best guided whale-watching tours you can take in Juneau. Excursions can all be booked through the company's website, and sometimes through your cruise line. For more guided tours that aren't necessarily whale-related, check out our full guide to outdoor adventures in Juneau.
Total estimated time: 5 hours (1 ¼ hours on trails; 2 ¼ hours of sea time for whale watching)
Booking & cost:Step Into Alaska; advance bookings through cruise lines only; independent travelers can call Gastineau Guiding for availability in next 24 hours [$199 for adults, $139 for children]
Gastineau Guiding offers an excellent "Alaska's Whales, Glaciers & Rainforest Trails" tour that you can arrange through your cruise line, if cruising is how you're getting around. The first part of this tour is a boat ride where you'll watch out for humpback whales, orcas, seals, sea lions, and porpoises. The guides are not only super knowledgeable but skilled storytellers, so you're not just getting the information flung at you. Not that you'll just be listening to them the whole time anyway -- you'll probably be more interested in hearing the underwater song of the whales through your hydrophone.
After the boat ride, the guides lead you on an easy, secluded rainforest hike that's great for families (or solo travelers, couples, etc.) of all ages and abilities. You'll see scenic views of the Mendenhall Glacier and Nugget Falls, and maybe even some black bears and spawning salmon.
Total estimated time: Just under 10 hours; your boat will board around 8:15am and return at 6pm
Booking & cost:Adventure Bound Alaska[$160 for adults, $95 for kids 17 and under]
This tour is an incredible way to see Tracy Arm, a glacial fjord around 45 miles south of Juneau, with superlative views of mountains, glaciers, icebergs, and waterfalls. The surrounding waters are absolutely stuffed with humpback and, yes, orca whales. You can also see seals and their pups, a few bears, and goats, and the awe-inspiring Sawyer Glacier. In short, this is the natural glacial beauty of Alaska at its absolute best.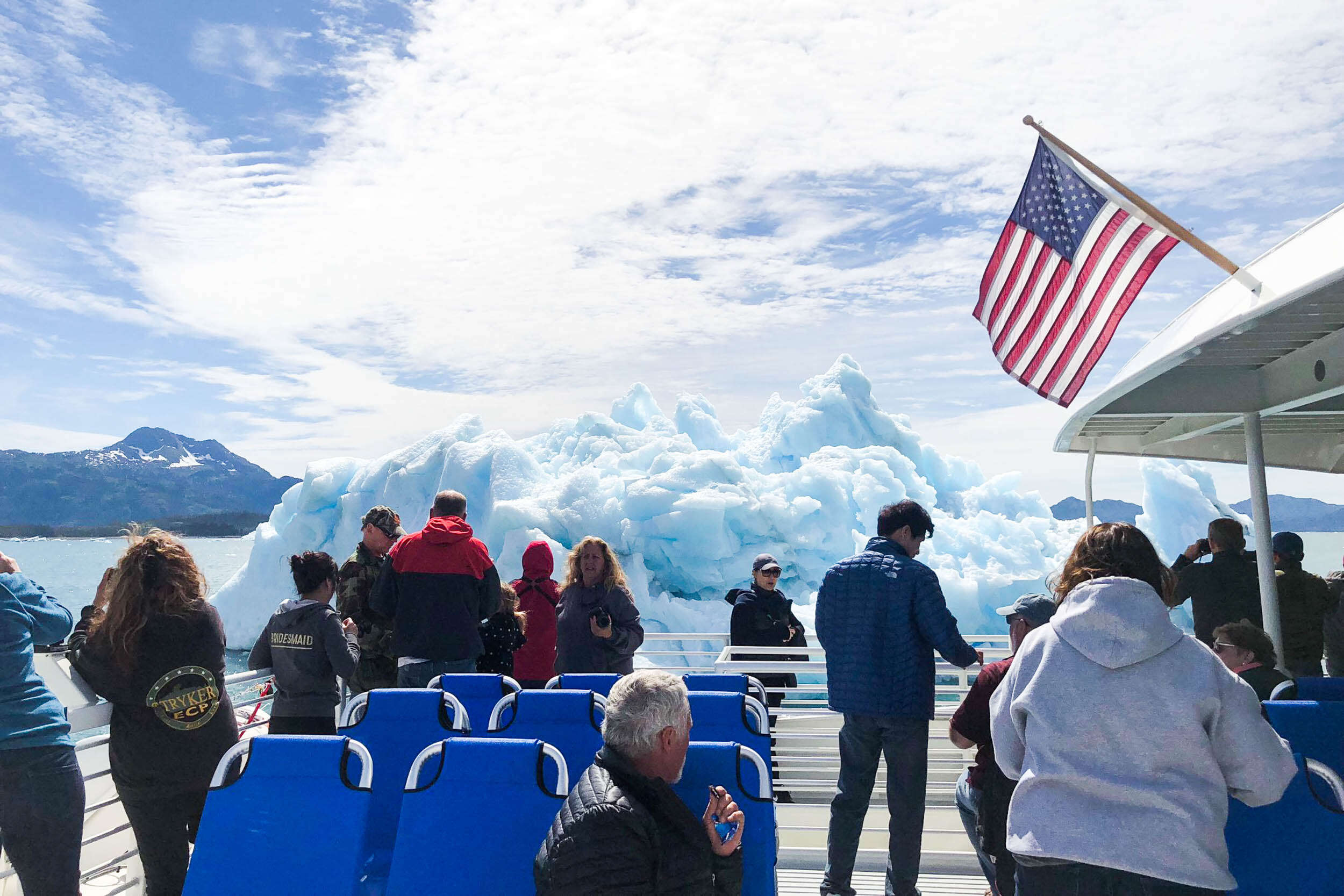 Total estimated time: 8 ½ hours
Booking & cost: Stan Stephens [$165 for adults, $82 for children]
We stan Stan Stephens. From May to August, you can take the all-day Meares Glacier Excursion through Prince William Sound, a haven for pods of orcas. You'll be looking for humpbacks too, as well as porpoises, sea otters, seals, sea lions, puffins… a lot of animals, OK? You'll get within 1,000 feet of Meares itself, which means you're close enough to see it calving (when massive sheets of ice break off with a thunderous crack and collapse into the water; not to be confused with whale calving, which refers to having babies).
It's a family-owned company and all the staff are local Alaskans. They also offer a separate daily tour to Columbia Glacier (6 hours; $132 for adults, $66 for children) where you can spot whales, otters, sea lions, puffins, and, when close to land, the occasional bear.
You can also DIY whale watch
If you want to save some money and avoid interaction with other humans, one of the best places to walk around and whale watch on your own is Cross Sound, where about two-thirds of all humpback whales in the world migrate to from Hawaii. Set up a picnic down at the Elfin Cove dock, look out toward Brady Glacier, and enjoy. If you're lucky, a few will swim right into the harbor, gorging themselves on krill.
If you're in the mood to watch a feeding frenzy, Amalga Harbor is your place. Sea lions come here to hunt, and -- no promises -- you might spot an orca or two as well. Why do they come here in particular? Salmon. The harbor is a bottleneck for salmon waiting for high tide so they can continue their wacky, wrong-way journey into the nearby creek.
Sign up here for our daily Thrillist email and subscribe here for our YouTube channel to get your fix of the best in food/drink/fun.