The White Sand Beach P*rn You Need Right Now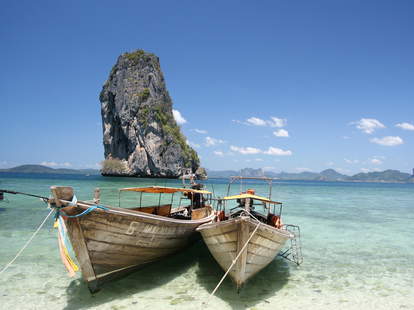 It's never wrong to daydream about white, sandy beaches and crisp, aqua waters. But when it's cold, slushy, and there's four feet of snow out your window, well, those thoughts take on an entirely new voyeuristic value. And if Fifty Shades of Grey taught anyone anything (it didn't, really), it's not to be embarrassed by your inner desires. Embrace them. If you're cruising the Internet for a steamy, full-frontal ocean shot to carry you through the dismal winter months, then take a look at these sexy BILFs (Beaches I'd Like to Frequent).
Shutterstock
Bottom Bay
Barbados
This Caribbean temptress will lure you in with her seemingly demure nature. Waves crest in 'Baywatch'-style slowmo onto crystal-colored sand. But looks can be deceiving. With a feisty undertow, this Barbadian beauty is almost better to look at than actually touch.
Best features: Picnic spot; whale-watching; not recommended for swimming
Order now: Fly into Grantley Adams International Airport.
<a href="http://www.shutterstock.com/gallery-576292p1.html?cr=00&amp;pl=edit-00">evantravels</a> / <a href="http://www.shutterstock.com/editorial?cr=00&amp;pl=edit-00">Shutterstock.com</a>
Ölüdeniz Beach
Turkey
Though more popular among Europeans -- they're usually more open, anyway -- Ölüdeniz is perfect for the adventurous. You might have to adjust to its pebbly shore, which can be a bit crude for American audiences, but it's worth a viewing. BDSM Bonus: Ideal for hardcore customers into Beaches for Diving or Snorkeling in the Mediterranean. 
Best features: Paragliding; scuba diving
Order now: Ölüdeniz is a 2.5-hour drive from Antalya Airport.
Laughing Bird Caye
Belize
This island national park is perfect for people who love to go down... diving. Laughing Bird Caye is the southernmost island in the Belize Barrier Reef and is full of colorful marine life and coral. There's no place to stay on the Caye itself -- you'll have to stay in nearby Placencia Village. But if you're looking for the perfect one-night stand of beaches, this is it.
Best features: Diving; bird-watching
Order now: Daily flights run between Belize City and Placencia. From there, hire a boat out to the caye.
Navagio Beach
Greece
Navagio is a quiet, seemingly innocent cove, with a tawdry past. Legend has it a smuggling fleet shipwrecked on the beach while transporting cigarettes and booze. Today, the *sleepy* inlet has cleaned up its act and offers everything white-sand fetishists look for: insanely blue water with clear views to the bottom. Accessible only by boat, this is your patch of white sand if you like bad beaches gone good.
Best features: Hiking; swimming; snorkeling; BASE jumping
Order now: Regular flights are scheduled from Athens to the town of Zakynthos. From there, reach Navagio beach by taxi boats from Porto Vromi.
Playa Paraiso
Cuba
A classic tale of forbidden love, Cuba is still off limits to Americans, making this stretch of pristine coastline the ultimate taboo. Maybe there are better beaches out there, but the thrill of doing something naughty makes the attraction that much stronger. 
Best features: Catamaran trips; dolphin-watching; beachside dining
Order now: Sneak into Cuba illegally (but you probably shouldn't), or be patient and wait for the borders to open to Americans. However, once you're actually allowed to visit, you'll realize you put Cuba up on a pedestal in your mind.
Long Beach
Vietnam
Unpolished and undeveloped, this beach falls into the 1970s amateur category, but there's still a surprisingly large audience for that. If your fetish is white-sand beach surrounded by a full jungle, this is your jam.
Best features: Backroads for motorbiking; kayaking; beachside massage (happy endings not included)
Order now: Long Beach is on Phu Quoc Island in the Gulf of Thailand. Vietnam Airlines has daily flights between Ho Chi Minh City and Duong Dong, Phu Quoc's main town.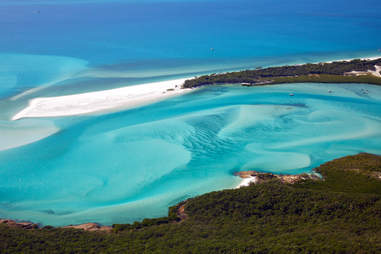 Shutterstock
Whitehaven Beach
Australia
It's all about POV at this beach. One of the most photographed spots in Australia, Whitehaven Beach on Whitsunday Island has actual silica in the sand, making it some of the whitest on earth. The best POV shot comes from the lookout on Tongue Point. That's not even a joke. As the tide shifts, the water and sand mix together to create a kaleidoscope of colors.
Best features: Camping; scenic hiking; selfie settings
Order now: Fly into Hamilton Island or Prosperine. Boats depart at Hamilton to many of the Whitsunday Island resorts.
Belle Mare
Mauritius
This sugary stretch of sand is the blond bombshell equivalent of beaches. It's everything you pictured when you first felt the tingle at 12 years old, alone in your bedroom, watching NatGeo with the sound turned all the way down. Weekends get a little crazy when the shores are packed with other eager beach bums, but during the week, you'll get her all to yourself. 
Best features: Swimming; relaxing; nearby golfing
Order now: It's not super easy to get to Mauritius from the US, but major international airlines like Air France, Emirates, Austrian Airlines, and British Airways fly to the destination through their home bases.
Tulum 
​Mexico
You've heard how things can get extreme south of the border? Well, hardcore beach lovers keep returning to Tulum for a reason. This beach throws you into the deep end of intense beach porn, with cocaine-colored sand and water so blue it puts Heisenberg's product to shame. Guest appearances include stunning Mayan ruins that dot the nearby cliffs, giving you a little extra bang for your buck.
Best features: Mayan ruins; vibrant sand and water
Order now: Tulum is about 80mi south of Cancun. Fly into Cancun International Airport, then get the hell out of there for some place that's legitimately beautiful.
Rarotonga
Cook Islands
Are you interested in BBW (Big, Beautiful Waves)? Well, the largest of the Cook Islands, Rarotonga has waves year-round and is a popular genre among surfers. The best waves crash between November and March. Rarotonga is also considered more affordable than neighboring Tahiti, so don't expect the glossy finishes typical of resorts with high production values. Still, the sand and surf have gained quite an underground following.
Best features: Surfing; fishing; scuba diving; sailing
Order now: Air New Zealand operates a direct flight from Sydney to Rarotonga. Virgin Australia flies from Sydney, Melbourne and Brisbane, which connect through Auckland.
Shutterstock
Phra Nang Beach
Thailand
One of the world's most recognizable beaches, Phra Nang Beach is the Jenna Jameson of the sandy set. It's well-known, experienced, and has delivered what sun-seekers want for years. Just pray the beach doesn't go overboard with development and then retires out of nowhere.
Best features: Limestone cliffs for climbing/diving; beachside dining; massage; water activities
Order now: Phra Nang Beach is off the coast of Ao Nang, a 20-minute boat ride away. Get to Ao Nang via Krabi, Phuket, or Bangkok.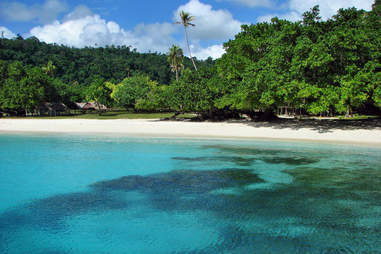 Shutterstock
Champagne Beach
Vanuatu
This beach is all about the "wet look," with a surprise twist. At one end of the beach, underwater springs send effervescent bubbles to the surface, which is where this beach earns its name. One of the best beaches in the South Pacific, this is a classic must-have in any beach porn lover's collection.
Best features: Do you need more beyond "effervescent bubbles"?
Order now: Champagne Beach is on Espiritu Santo, an island 50 minutes from the Vanuatu capital of Port Vila. If you can find Vanuatu on a map without consulting Google, more power to you.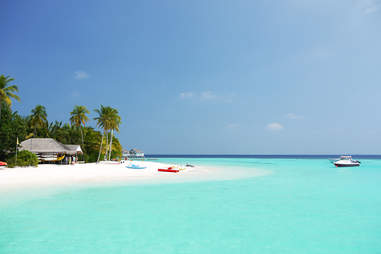 Sun Island Beach
Maldives
Access to this beach is for members only, but it's worth the extra cost. The entire island belongs to Sun Island Resort & Spa, an enclave of bungalows that hover over the water. File this beach away under the Watersports genre (yeah, we went there).
Best features: Jet-skiing, canoeing, windsurfing, or catamaran along the turquoise lagoons 
Order now: Sun Island Beach is a 30-minute flight from Ibrahim Nasir International Airport. It is also an hour's flight off the coast of India and Sri Lanka.
 
Meagan Drillinger is a freelance writer for Thrillist. This article combines two of her greatest passions: beaches and rewriting popular porn acronyms. Follow her on Facebook, Instagram and Twitter at @drillinjourneys.