For an industry that requires years of agricultural (and plain ol' cultural) investment, wine moves quicker than you'd think. Just a few years ago, American oenophiles weren't hip to places like Portugal, Greece, and Hungary -- and now? Your local wine shop is likely to feature bottles from all those countries. Never have so many good wines poured in from so many places: it can melt your mind, stagger your palate, and scrap your evening plans from the amount of time you spend on Google Maps.
Still, our palates and personalities are never satisfied with the options we have, always wondering: what's next? The following round-up demonstrates the wide breadth of wine production in the world -- almost any place you can think of is giving winemaking a shot, and naturally there are some areas having better luck than others. Here are some destinations that should make a worthwhile trip and which can punch their weight with a pour.
Prince Edward County, Ontario, Canada
Why it's unique: No, not the island with the oysters, people. Craig Perman tells Thrillist to check out the wines of this spot near the Great Lakes, just across Lake Ontario from Rochester, NY. The proprietor of preeminent Chicago wine shop Perman Wine Selections says Ontario wines are distinguished in part because of the province's "high proportion of fractured limestone soil." This characteristic is singular for grape growing because it drains rainwater well but also lends a mineral edge to the wine's taste. "PEC is brutal in the winter, and the canes of the vines need to be buried under soil in order to make it through the freezes," he says. This harsh climate gives Prince Edward wines their edge.
What to seek out: Perman says that chardonnay and pinot noir are what PEC is "best known for," but that you can also find cabernet franc, pinot gris, and riesling. "Norman Hardie Winery is by far the leader in quality," Perman says. He also says to check out Hinterland Wine Company for its sparkling wine and, if you're planning a trip, to stay at the Drake Devonshire Inn in Wellington.
Canary Islands
Why they're unique: Todd Hess -- partner at H2Vino, an importer and distributor also based in Chicago -- is hot on this cluster of Spanish islands off the northwestern coast of Africa. He points out that Tenerife, the largest island, is not only part rainforest and part desert, but that it also boasts Mount Teide, the third-largest volcano in the world. "This does all sorts of weird things for the climate," Hess says. "A lot of the grapes in Tenerife are being grown on fairly recent volcanic soil, so they have a flavor affinity with the Sicilian wines found near Mount Etna." Much of the wine production is sold to European tourists, who flock to the Canaries for epic beaches and warm weather. Luckily, some bottles are making their way across the Atlantic, courtesy of importers like Hess and distributors like David Bowler.
What to seek out: Hess recommends the grapes listan negro and listan blanco, for flavor and -- why not? -- a good yarn. "Those make some really cool wines. The reds tend to be kind of spicy, Côtes du Rhône-like. The whites are floral and really pretty." He goes on to say, "There's a hidden tie to the early days of California winemaking," and tells Thrillist that the negro was recently discovered to be the same grape as the mission grape from California, which was used in early American winemaking. Hess also name-checks grapes like malvasia -- which makes sparking wines and dry and sweet whites -- albillo, gual, and vijariego. Ignios Orígenes, on Tenerife, makes a fine example of the last type and he also recommends the wineries Tajinaste, Viñátigo, and Los Bermejos (which is on the island of Lanzarote).
Tasmania
Why it's unique: Yeah, that's right: Tasmania. Hess doesn't stop at the Canaries for out-of-the-way islands. "Tasmania is exciting because it gets an Antarctic current that keeps the water cold, so the climate around there is really cool," he says of the Australian archipelago.
What to seek out: Tasmania is "a great place for growing pinot noir and chardonnay," Hess says. He points to Ninth Island as a nice place to get started. He also says to check out the area's penchant for handcrafted and farm-to-table eats.
Styria, Austria
Why it's unique: "So many people miss the Styria region of Austria because they are so focused on the famed regions along the Danube, west of Vienna," Perman says. You're not going to want to make that mistake, friends. "The region's combination of Mediterranean climate along with altitude and steep vineyards makes it unique."
What to seek out: "This is mainly white wine country," Perman says, naming off the grapes weissburgunder (pinot blanc), sauvignon blanc, welschriesling, grauburgunder (pinot gris), and morillon (chardonnay). "My favorite producer is Lackner-Tinnacher," he says, also recommending Sattlerhof as a nice place to visit. The latter even has its own hotel, so your transportation concerns after a few-too-many tastings are moot.
Northern Thailand
Why it's unique: Because it's in Thailand, for starters. Hess says he was caught off guard by how good some of the wines he tasted on a recent Thai trip were.
What to seek out: "The northern part of Thailand is making some very nice syrah -- like something you'd actually want to go back and drink again, not just because you're looking to see how weird you can get," Hess says. "They are legitimately delicious wines." Get started with Mae Chan Winery, which reps a boutique resort on property.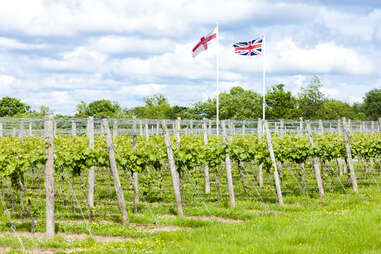 Great Britain
Why it's unique: Brit wines are easy to forget -- even I tend to forget 'em, and I used to live in Great Britain. Hess reminds us all: "They have the same type of chalk soil in Southern Britain that they do in Champagne. They're part of the same geological formation." He adds, "With climate change -- it doesn't all have to be negative -- there's all sorts of opportunities that didn't once exist there."
What to seek out: "In Britain, they are generally growing chardonnay and pinot noir for their sparkling wines," Hess says. If you want a solid first look, you could do worse than Nyetimber. Bring a hand-imported sparkler from frickin' West Sussex to your New Year's Eve party this year and you're sure to get some conversation going.
Dão, Portugal
Why it's unique: While you've probably jumped on the Portuguese wine bandwagon in recent years, chances are you've gotten down on some vinho verde or Duoro productions but perhaps aren't as familiar with the Dão. Perman says the region's climate is one-of-a-kind because of a "diurnal temperature shift." (That's fancy-speak for variations between high and low.) "Surrounded by mountains, it gets no influence from the ocean," Perman says. "Yet its elevation leads high daytime temperatures to shift quickly into cold nighttime temperatures. You get wines with phenolic ripeness, yet good freshness."
What to seek out: Perman points out that blended wines are the name of the game in the Dão. "White wines are made from predominantly encruzado and bical," he says. "Red wines are produced mainly from touriga nacional, alfrocheiro, jaen, and tinta roriz." He likes the stuff from Casa de Darei, a rising star, and Quinta da Pellada, an icon. Visiting any of these would amount to a full-day trip (or quick overnighter) from Lisbon, which is a city itself worth a transatlantic jaunt.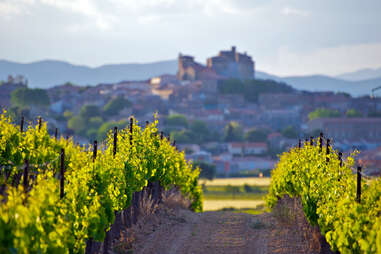 Southern France
Why it's unique: OK, OK. I know what you're thinking: "wine" and "France" are basically synonymous. What the hell is France doing on a list about undiscovered wine regions? Well, because while "the South of France" has been a go-to tourism destination since approximately the Bronze Age, the wines of Southern France have been all but ignored until recently. "It's been an amazing transformation of an area which, 30 years ago, was producing some really bad wines," wine consultant and native Frenchman Antoine Songy tells me. "I think the Languedoc-Roussillon area is way underestimated," he says of the region that snuggles the Spanish border. "I went to the VINISUD exhibition again this year, and was astounded by the number of high-quality wines in display. A lot are organic, many use sustainable agricultural practices."
What to seek out: Songy says that appellations and sub-appellations like La Clape and Terrasses du Larzac are well worth a pour. (See how a wine merchant reacts upon your order of "a case of La Clape.") And regions like Pic Saint-Loup and Limoux are another hot order. "This is where things are really happening. They have transformed the vineyards dramatically," Songy says. Limoux boasts a Rothschild property that is "worthy of a high-end Bordeaux property which could fool many when tasted blind." Another name worth keeping an eye on is Laurent Bonfils, who has 23 domaines, some of which are being transformed into swank hotels. "Laurent is an exceptional individual with a vision," Songy says. See you soon, Laurent.
Sign up here for our daily Thrillist email, and get your fix of the best in food/drink/fun.
Colin St. John writes for
Rolling Stone
,
Esquire
, and other various outlets. Writing his own bio makes the Colorado native uncomfortable, almost as much as club sandwiches with no tomato, brown spirits, and Phish put him at ease.