Photo by Chris McLennan ©2022, courtesy of Travel Alaska
Photo by Chris McLennan ©2022, courtesy of Travel Alaska
A team of dogs pulls a sled across a frozen wonderland, exuberant tongues lolling. Yogis bend and stretch in a windowed dome as the northern lights ripple and glow overhead. Steam rises from heated pools in a boreal forest, and somewhere in the distance, a helicopter touches down on a glacier beside Gatorade-blue water. Is this a dream? Maybe, but it's also a reality that's accessible to those who crave cold weather adventure. All you have to do is visit Alaska in the winter.
The 49th state is covered in vast swaths of wilderness, with thousands of miles of coastline—which means many of the state's best attractions involve spending time outdoors, even in the chillier months. But whether you stick to milder coastal areas or brave the state's icy interior, enjoy longer days in southern Alaska or endless polar night beyond the Arctic Circle, adventure awaits. And if you're lucky, so does the aurora borealis.
So bundle up and get ready to visit the Last Frontier this winter. Here's what to do while you're there.
Explore the snowy wilderness by dogsled
Learn to mush with Alaska's first ecotourism dog sledding company Arctic Dog Adventure Co. and form a greater connection to the wild places in the state's arctic and interior—and to your team of huskies, of course. You can choose from a bunch of incredible adventures, like sledding from cabin to cabin in the White Mountains, braving the closed, snow-covered Denali Highway along the Alaska Range, or embarking on a multi-day adventure through the remote backcountry to Tolovana Hot Springs for a few days of soaking. No matter which experience you choose, you have a good chance of glimpsing the aurora at night.
The tours include an orientation in Fairbanks, where the tours begin and end, and you aren't necessarily required to have mushing experience.
Practice yoga in geodesic igloos in the Arctic
The northernmost yoga studio in the country lies 63 miles above the Arctic Circle and some 270 miles north of Fairbanks, nestled in the Brooks mountain range. It's part of Arctic Hive, a wilderness retreat center accessible via the famed Dalton Highway, a long and remote road with enormous wilderness views. Arctic Hive picks up guests in Fairbanks, so you can spend the drive looking out the window, rather than worrying about road conditions.
Book the retreat center's ReWild retreat for five days of snowy self care. You'll practice yoga and meditation in igloos with celestial views, venture out into nature on snowshoes, cross-country skis, or dogsleds, and learn about the subsistence lifestyle of the nearby village. Guests stay in cozy, off-grid cabins, and eat healthy plant-based meals.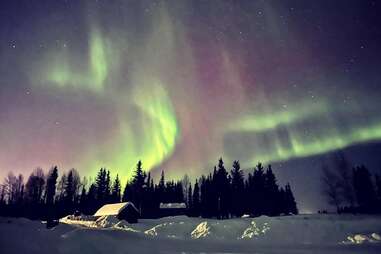 Go ice fishing under the northern lights
Ice fishing can get monotonous for those who aren't passionate about the hobby—but things are simply better in Alaska. When you book an ice fishing experience with Alaska Fishing and Rafting Adventures, you'll catch Arctic char and grayling through holes cut into 4-foot-thick ice on Chena Lake. If you book an overnight experience, you're likely to catch some views of the northern lights, too.
For overnight guests, Alaska's first permanent solar-powered fishing cabins are situated on the ice and insulated for warmth. Anything you happen to catch on your line will be cooked up by your guide in the wood-burning oven to enjoy alongside those aurora views.
Learn about the many Indigenous cultures in Alaska
There are numerous ways to experience ancient traditions from the many Indigenous groups in Alaska. Start off at the Alaska Native Heritage Center in Anchorage, where Culture Bearers take travelers on private tours to six traditional dwellings set around the mountain-rimmed Lake Tiulana. The Heritage Center also offers demonstrations of Alaska Native games, dance performances, tea with a community elder, and storytelling.
If you're interested in learning more about the land and animals of Alaska, you should also pay a visit to the Kodiak Brown Bear Center, which is owned and operated by Kodiak Island's Alutiiq people. If you sign up for a bear viewing excursion, a guide will take you by boat to a spot where you can observe bears in their natural habitat and learn more about these incredible creatures.
Enjoy some hydrotherapy at a Nordic spa
There's no cold weather wellness ritual quite like a Nordic one. And if you can't get to Finland this winter for hot saunas and cold plunge, Alyeska Nordic Spa in Girdwood, Alaska might be the best stateside substitute.
Situated in the Chugach Mountains, the wellness retreat is an all-out oasis surrounded by boreal forest. Spend your days in a hydrotherapy haze, rotating between multiple types of saunas, steam rooms, hot tubs, heated pools, and cold plunges. You can book a massage, eat at the onsite restaurant, take fitness classes, and just generally feel your best. If you want to spend the night, the Alyeska Resort next door has plenty of rooms and even offers skiing.
Ride north through the scenic backcountry on the Alaska Railroad
Climb aboard Alaska Railroad's winter train for a chance to admire the landscape in relative comfort. The Aurora Winter Train is utterly scenic, running 12 hours from Anchorage to Fairbanks with ample views of the backcountry and maybe an occasional moose. On a clear day, you might even see Denali Mountain from the warmth of your passenger car. The train heads north on Saturdays and south on Sundays, and offers onboard dining.
To turn things up a notch, the Hurricane Turn Train travels from Anchorage to Hurricane Gulch just once a month from October to May, along the highest bridge on the entire Alaska Railroad system. Bring your own food, as there's no onboard dining service. If you travel this route, you'll likely see locals with hunting gear disembarking at flagstop requests along the way, off to live out some winter weeks (or longer) at remote cabins. It might even make you rethink your own adventure threshold.
See Alaska from a helicopter
No flying experience is required to take part in an exciting helicopter adventure with Alaska Helicopter Tours, departing from Anchorage. Take in stunning aerial views from a snug three-person Robinson 44 as you're taken to a glacier for a tour, or an ice formation for winter climbing. The tour company provides everything you'll need for your activity of choice, including crampons, ice axes, helmets, harnesses, and hot drinks. If you opt to ice climb, you can explore glacial ice caves and climb a frozen waterfall.
After your icy-cool jaunt, it's back into the chopper and off to Anchorage in time to grab a beer at one of our favorite local breweries, like the Anchorage Brewing Company or Midnight Sun Brewing Co.
Embark on an 11-day Alaska Iditarod adventure

If you want to leave all the planning to the experts, join John Hall's Alaska Cruises and Tours for its epic Iditarod and Aurora Adventure. Hang with the mushers at a banquet marking the official, ceremonial start of the famous Iditarod race. Then, take a flight over the Arctic Circle to check out behind-the-scenes race drama at a remote checkpoint on the course. During the rest of the tour, you'll spend two nights at Borealis Basecamp in Fairbanks, try your hand at curling while checking out the World Ice Championships, go dog sledding, and visit a musk ox farm. You'll even spend a day in Anchorage with relaxing spa treatments and the opportunity to fly over a glacier. The tour is all-inclusive, so all you need to worry about is having the best time ever.
Hit the slopes at a nonprofit ski resort in the Talkeetna Mountains
Drive an hour north from Anchorage to Skeetawk alpine ski resort at Hatcher Pass in the Mat-Su Valley. With just a dozen trails and a single 30-chair lift, Skeetawk is hardly the gigantic and famous Vail. But the nonprofit resort offers an intimate Alaskan ski experience that's accessible to those who might not be ready to ski the backcountry just yet. For harder-core skiers and snowboarders, the mountain does have four black diamond runs, but the majority of the runs are comfortably blue.
Ski confidently alongside the state's rugged locals (including many volunteers who helped build the resort), and de-ice between runs in a multi-purpose yurt at the mountain's base. And if you're not sure the mountain is worth the trip, just know that your lift ticket will be much, much cheaper than what you'd find at the Vails and Aspens of this world.
Kori Perten is a Senior Travel Editor at Thrillist. She loves having the proper gear to withstand cold weather.