12 Vacation Ideas That'll Get You Stoked to Travel This Winter
Winter, when done right, is amazing: Look no further than the winter carnivals in places like Quebec, or ski resorts in the Rockies for evidence. But making the most of the cold isn't limited to the obvious places. Sometimes it means viewing Alaskan wildlife as it emerges from hibernation, or tucking into a warm blues club on a cold Memphis night. There is a special feel to winter that offers experiences like no other time of year. And sometimes finding the best places to do it means thinking a little differently. Here are some overshadowed places nearby and abroad that'll have you reveling in the cold-weather months.
MORE: The best winter festival of them all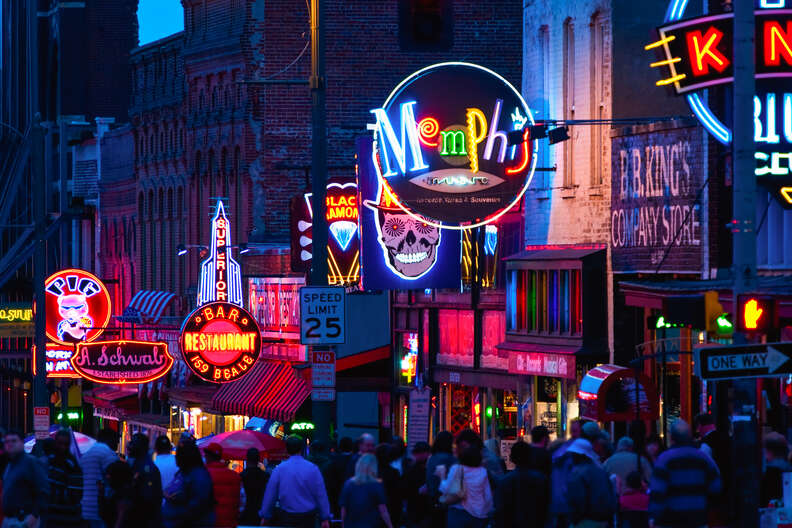 Memphis, Tennessee
One of the great Memphian experiences one can have is strolling down Beale Street on a cold night and being beckoned inside by a driving blues beat and smoky barbecue. The Delta gets shirt-soaking hot during the summer, making this the finest time of year to experience one of the best music and food cities in America. Tourists aren't packing the bars, and you can chat with the guy next to you about Memphis, a topic every local loves to discuss until the bartender kicks you out.
Once you've had the more authentic Beale Street experience, head over to the Memphis Zoo, where a big, tented skating rink sits right in the middle of the exhibits, and for six bucks you can skate among the animals all day. Barbecue tastes especially good in cold weather, so consult the experts for the best spots to hit while you're there. Even better, head here during Black Restaurant Week (March 8 - 14), when loads of tiny, hole-in-the-wall spots locals like to keep secret offer three-course menus for $25.
Paris, France
Look, we get that it's weird to call Paris underrated, but here's the thing: If you're looking to avoid the throngs of tourists blocking your view of the Eiffel Tower, see the Mona Lisa without an hours-long line, or get a deal on airfare, you should jetset to the world's most romantic city during the winter months. That's because, as a winter destination, Paris is, in fact, overlooked. It shouldn't be. Not only is Paris brought to life with holiday cheer, the city enjoys moderate temperatures, relatively little snow, and way, way fewer visitors. Visitors can expect temperatures in the 40s and 30s -- perfect for exploring the city with a coat and warm cup of rich, Parisian coffee. Plus, you can snag airfare from most U.S. cities for under $500 if you keep your eyes peeled, and hotels are considerably cheaper than they are during the most tourist-heavy months.
Speaking of tourists, they're a major complaint of many visitors (no, the irony is not lost on us), and visiting during the winter is one of the easiest ways to avoid them, allowing you to peruse museums and popular attractions like the Arc de Triomphe and even Versailles in relative peace. Since Paris is a notoriously attraction-driven vacation spot, the extra space and time makes a huge difference in making the trip more enjoyable.
Cyclades, Greece
Some of these islands are my favorite places in the world. I should start by saying that wintertime trips here aren't for everyone -- you're gonna find a lot of restaurants and hotels closed for the season. But if you're looking for a quiet, lonely stretch of beach, a fishing town where you'll find lots of fresh octopus and zero TVs, a small but breezy white-walled hotel where you'll wake to the sound of a donkey braying, then winter is when you should head to the Cyclades.
Try taking the ferry to more than just one stop. Start at Kythnos, then a few days later move along the route to Kea, Serifos, Sifnos… you decide. You do have to do a tiny bit of planning in advance though -- meaning, just call ahead to the places you want to stay to make sure you'll find a hotel that's open. But if you want to wing it, you can. Some towns may be more or less closed, but you'll find something the next town over. Or, at the very least, the next island over.
MORE: These are the underrated Greek islands American tourists don't know about
Ogden, Utah
The ski resorts around Park City and up the Cottonwood Canyons outside of Salt Lake City get all the fame and acclaim -- and that's why you should instead consider Ogden as your home base for a Utah ski trip. The skiing outside of Ogden is every bit as good -- if not better -- than what you'll find closer to Salt Lake City, but the big thing you won't find around Ogden is the crowds or the traffic. Powder Mountain is a throwback resort, with night skiing and a rowdy Apres ski scene. With the most skiable acreage in the country, Pow Mow is huge yet still prioritizes the ski experience by capping the number of tickets sold each day. With powder for days (and days and days), it's as close to backcountry experience you can have while still technically being inbounds. If luxe lodges and Olympic credentials are more your thing, Snowbasin is the spot for you. Host of the 2002 men's and women's Olympic downhill competitions, Snowbasin has more than enough terrain to keep you busy for days, and because of the variety of runs you can access from the same lifts, it's especially well suited to groups with varying ability levels.
As for Ogden itself, there's enough to keep you busy when you're not on the slopes. 25th street is the vibrant heart of the city, with a strip of bars and restaurants to choose from. Lighthouse Lounge is everything you want in a bar -- comfortable, cozy, cool -- and Brewski's is an excellent Western dive. Rooster's Brewing makes good beer, with a location on 25th as well as a new brewing space and taproom just outside of downtown. Ogden's Own distillery helps keep Utah from getting too dry, with locally famous Five Wives Vodka, and interesting spirits like Porter's Whiskey, and Underground, an herbal spirit that could live side-by-side with the finest Italian digestivos. For good stopping points on the way out to the ski resorts, try Pat's Food Shack in Eden for breakfast, or grab a drink at the Shooting Star Saloon, which has been operating since 1879 -- even through 14 years of prohibition.
MORE: The best stargazing this winter is in southern Utah
Morocco
Long way to go for a getaway, but Marrakesh and Casablanca are full of bustling markets with a kind of approachable chaos that makes this country a rising star in world tourism. It's especially inviting in the winter, since the shoulder season means more actual Moroccans than visitors in the bazaars of Marrakesh, and no need for anything warmer than a long-sleeved shirt.
It's a short trip across the Strait of Gibraltar to Tangier, making the one-time outlaw port city an easy day trip if you're already in Spain. In the early 20th century, Tangier was a hotspot among poets, writers, and reclusive rich people, and the narrow streets are still filled with the bars and cafes they once roamed. If you're up for a journey, head up into the Rif mountain region to the blue-washed city of Chefchaouen, which happens to be one of the most-photographed places in the world. Its streets are too narrow for tour buses, and in the winter even the self-guided tourists don't often make the trip.
MORE: How Moroccan women are taking tourism into their own hands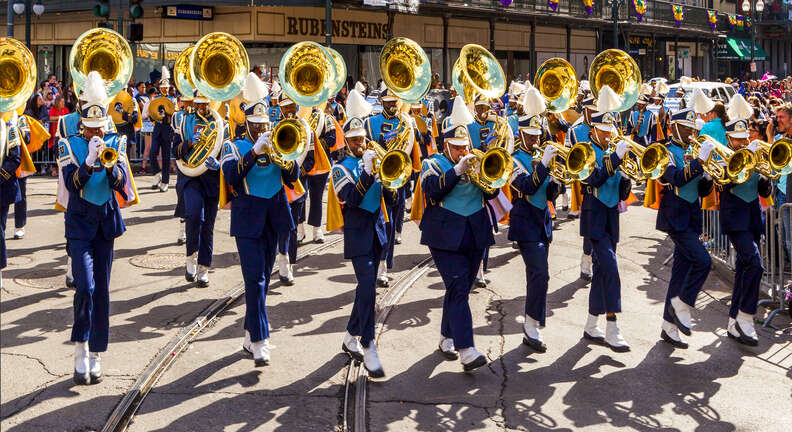 New Orleans, Louisiana
True, there's not a whole lot underrated about going to the Big Easy for Mardi Gras in February. However, visiting New Orleans in the non-Mardi Gras winter season is a different kind of fantastic: you can take in the culture, architecture, and culinary delights of the city with mild temps and minimal crowds.
Plus, from Ash Wednesday til Easter, you'll get to experience the almost oxymoronic sensation of prowling this sensual city during Lent, a period of relative detox among New Orleanians. This is a fine time to go if you don't need to turn the volume up to 11. January also welcomes the New Orleans Shakespeare festival at Tulane, where this year they'll be presenting Hamlet.
MORE: Check out our ultimate New Orleans travel guide
Barbados
Barbados is lively, colorful, relaxing, and delicious. Though the country has produced some renowned chefs, food here isn't unapproachable. Sure, you can go high end for dinner at The Cliff, a fine-dining joint that looks straight out of a Bond film. But you can find just as great a meal from Cuz's Fish Shack on the beach, or Friday nights at Oistins. Here, tourists and locals alike jam the port city, and the smell of fresh seafood and soca music fills the air. It's a perfect beginning to a night out in Barbados -- which absolutely needs to include a trip on the Reggae Bus, an island equivalent to the late-night dorm shuttles you remember from college. They'll only run you a dollar.
When you're not eating, Barbados also has the best surfing in the Caribbean outside of Haiti, and the region's best circuit racing course at Bushy Park. You can sample rum at Mount Gay, the oldest active rum distillery in the world. Or just lounge at Bathsheba or Bottom Bay, the idyllic picture of relaxing Caribbean beaches.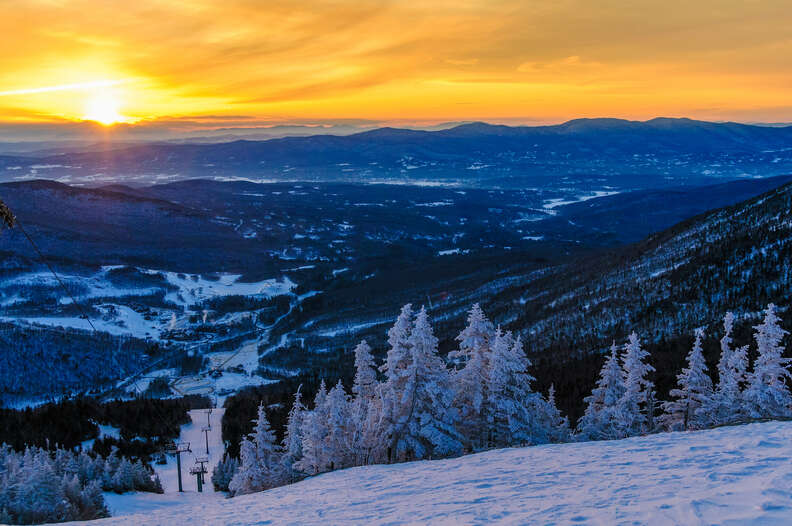 Stowe, Vermont
This little resort town at the foot of Mount Mansfield feels like equal parts ski resort village and Northeastern winter fantasy, where the brick buildings and narrow church steeples lining Downtown get covered in a perfect blanket of white. But visitors still in ski bibs and boots walk the street on their way back from the slopes.
The alpine skiing here is among the best in the Northeast, and Stowe Mountain Resort has runs suited for beginners, all the way up to double diamonds. Even discriminating Rocky Mountain skiers can find a challenge here, or opt to traverse the 25 miles of trails around one of the biggest Nordic skiing areas in the country. In town, Stowe boasts enough restaurants to have its own October restaurant week, when all the local farms pour ingredients into the kitchens, and the restaurants are just as good in winter. Spots like Idletyme Brewing Company and Butler's Pantry get surprisingly packed for a town of fewer than 5,000. It's an easy trip for northeasterners, mixing challenging terrain with that charm you'll only find in New England.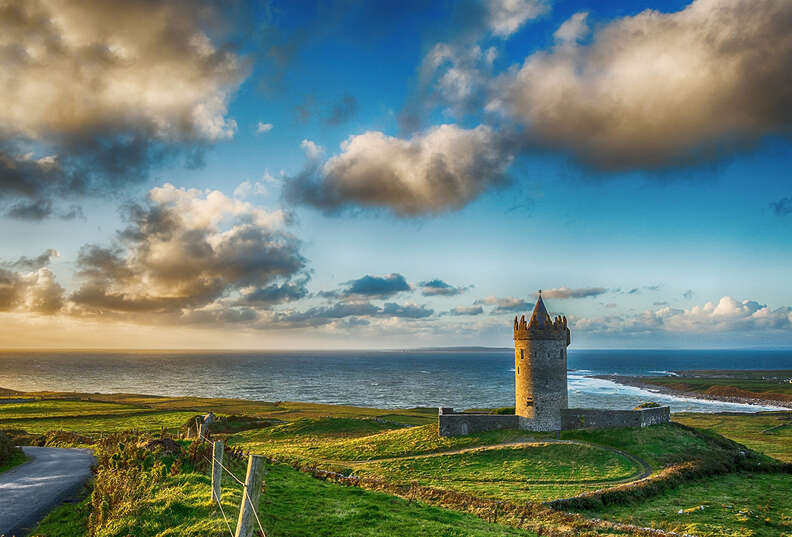 Ireland
If you want to get technical, St Patrick's Day happens in the winter -- spring equinox isn't until the 21st. And obviously, doing St. Paddy's in Dublin is an experience that'll put any green-beer drinking party at home to shame. Sipping a pint at the Guinness Storehouse on the 17th is pretty much the apex of St. Patrick's Day experiences, and one that's far more accessible than it used to be thanks to the glut of discount airlines servicing the city. But even in solid winter, Ireland is great to visit. Without the glut of summer tourists, you can actually enjoy the country without the entire population of whatever US city just launched $99 nonstop flights.
The slowdown in tourism also means a lot of your Irish travel fantasies are easier to make happen. Even if you can't land a discount flight, winter routes on traditional carriers can be half what a summer ticket costs. Hotels trend about 25% cheaper as well. And many of Ireland's natural attractions, like the Cliffs of Moher and Sheepshead Peninsula, are better experienced in winter -- your pictures will capture the mist and fog, and not 200 people on a bus tour.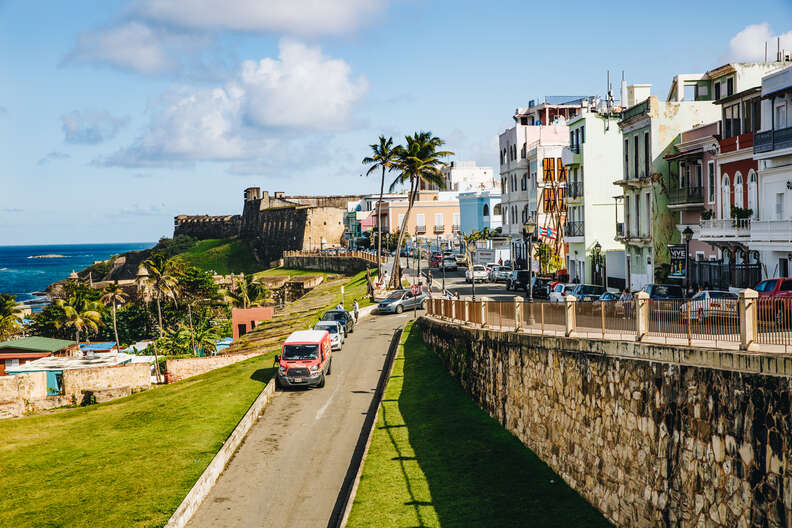 San Juan, Puerto Rico
Things have improved dramatically since the 2017 hurricanes. San Juan has long since announced itself back open for business, with nearly all of the hotels and attractions that made this city so special up and running. Flights to the island are often deeply discounted these days, so you could easily pay for one seat and get three.
So go ahead and stroll old San Juan, past the fortresses at Castillo San Cristobal and San Felipe del Morro. Check out the beaches at Culebra, a short boat ride away. Or take a sail around the island or snorkel off the coast; the water is clear now and the marine life just as brilliant and tropical as it ever was.
MORE: There's never been a better time to visit Puerto Rico
Sitka, Alaska
At first glance, the thought of winter in Alaska sounds about as appealing as monsoon season in Calcutta. But go a little later in the season, and it might be the best-kept secret in travel. The aurora borealis is at one of its most active times of the year from late February into early March, and the short days mean more hours when you might catch the show. While Sitka's skies aren't always clear, the temperatures here are still mild, more like Seattle than the frozen tundra. Catch it on a cold, clear day, and you'll see the lights minus the bone-chilling cold.
The main event of winter here is the Pacific Herring Migration, when Pacific herring converge on Sitka Sound. The fish themselves aren't the draw -- it's the bald eagles, bears, whales, and seals that arrive here in March en masse to feed, making this the most intense Alaskan wildlife viewing experience you'll ever get. Because most big cruise ships don't typically run until about May, you won't be sharing the sound with an armada. With a warm jacket and a good set of binoculars, winter in Sitka can be the best time of year to see Alaska in the raw.
MORE: Dog sledding in Alaska is the once-in-a-lifetime experience you gotta try
Scottsdale, Arizona
While most of the US is covered in snow or cloud cover during the winter months, it's the opposite for Scottsdale where it's sunny and 75 every day and thanks to the temperate weather the "world's most Western town" becomes a hotspot for outdoor activity and nationally recognized events. In fact, during the winter it's finally time for Arizonans and visitors alike to enjoy what makes Scottsdale Scottsdale: golfing, hiking, and, if you're acclimated to cooler climates, even a little swimming. Plus, Scottsdale boasts all the luxury of big cities like Los Angeles and New York City with designer shopping malls and high-end restaurants like the original Maestro's and the recently opened Los Angeles transplant Toca Madera, without the traffic or high travel price tag.
Throughout the winter months there are food festivals, music festivals, and art shows, but the top can't miss events include one of the world's most renowned automobile auctions, Barrett Jackson in January; and the nation's best-attended/worst named golf tournament, The Waste Management Phoenix Open, the last weekend of January heading into February.
Jamie Killin contributed to this story.

Matt Meltzer is a contributing writer at Thrillist. Follow him on Instagram @meltrez1.
Kastalia Medrano is Thrillist's Travel Writer. You can send her travel tips at kmedrano@thrillist.com, and Venmo tips at @kastaliamedrano.