The Airports That Americans Loved (and Loathed) in 2016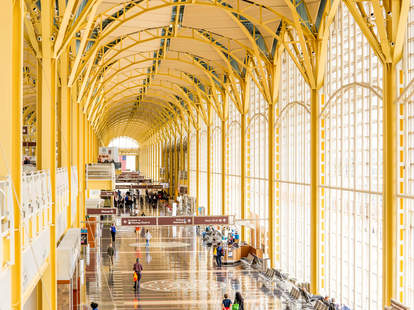 Maybe our collective expectations have just hit an all-time low, or maybe our airports are actually (gasp!) improving. In any event, Americans seem to be more satisfied with airports lately, a new study has found, though there is still a lot of room for improvement.
The J.D. Power and Associates survey ranked airports using a 1,000-point scale of satisfaction based on aspects including security lines, food, and baggage claim. In 2016, even with record passenger volume, the average US airport posted a 731, a six-point boost from last year's average of 725. Baby steps, but still an improvement. Baggage claim satisfaction saw the biggest increase, up 11 points. Food and beverage offerings were second, with a +10. Even TSA checkpoints seemed to suck a little less this year, with a three-point satisfaction bump.
Portland International Airport

| David Gaylor/Shutterstock
Are things actually getting better?
"The bigger airports are doing well for a couple of reasons," said Michael Taylor, the director of airport practice at J.D. Power. "First, airports like Portland have made it so people enjoy being there -- it's more like a mall than an airplane hangar. Second, a lot of them have brought in local food, drinks, and shops, so people can get a unique experience and sense of where they are."
Smaller and regional airports rated much higher in satisfaction. That jibes with every cocktail party conversation about the greatness of the obscure off-airport 60 miles out of town.
"Smaller airports rate higher because they're easier to navigate," Taylor said. "You can park closer, there are fewer crowds. There has to be some efficiency to it."
Who came out on top?
Among large airports, the aforementioned Portland International was the repeat champ. Right behind it was Tampa International, Las Vegas, Orlando, and Miami. For medium-sized airports, Indianapolis, Buffalo, Fort Myers, Jacksonville, and Cincinnati were tops.
"Indianapolis is a great example of using a lot of natural light," Taylor said. "It's white with clear glass that lets you see out onto the airfield and the sky. You never feel confined there."
Here are the overall best in America:
1. Portland International (786)
2. Tampa International (775)
3. Las Vegas McCarran (759)
4. Orlando International (751)
5. Miami International (750)
6. San Diego International (748)
7. Salt Lake City International (747)
8. Washington Reagan (742)
9. Chicago Midway (741)
10. (TIE) Charlotte Douglas/Denver International (738)
LaGuardia International Airport

| robert cicchetti/Shutterstock
And then, the problem airports 
To the surprise of absolutely nobody, New York's LaGuardia ranked dead last in the survey, followed closely by its cousin, Newark Liberty. Philadelphia, Boston Logan, and Chicago O'Hare were the other biggest losers. Though in the case of LGA, things might get better soon.
"LaGuardia is ripping up three of its terminals," Taylor said. "You couldn't ask for more of a pain for travelers than that. In four years, they'll have newer terminals, with security checkpoints designed for the passenger volume and gates built for the aircraft that are pulling up."
Here are the bottom 10 for large and medium airports:
1. New York LaGuardia (649)
2. Newark Liberty (669)
3. Philadelphia International (688)
4. Chicago O'Hare (689)
5. Boston Logan (689)
6. Los Angeles International (702)
7. Cleveland Hopkins (704)
8. Houston Bush Intercontinental (709)
9. John F. Kennedy International (713)
10. Fort Lauderdale-Hollywood International (720)
The survey polled 38,931 North American travelers over the past three months, rating in six categories: terminal facilities, airport accessibility, security check, baggage claim, check-in/baggage check, and food/beverage/retail.
Sign up here for our daily Thrillist email, and get your fix of the best in food/drink/fun.
Matt Meltzer is a staff writer with Thrillist who's satisfied by an airport with a Cinnabon. Follow him on Instagram @meltrez1.