American Cities You Didn't Realize Had Incredible Zoos
Standards for top-tier zoos have quietly gone, as they say in the monkey house, bananas. No longer are American zoos the perfunctory animal jails of decades past; now it's reasonable to demand open-air natural habitats and sprawling eco-parks. Also, we want to see weird-ball animals, and to be able to interact with those animals like old chums. We want to see the zoo kicking ass on conservation and rescue work. We want zoos designed to let us watch the animals from above, or below, or from inside a human enclosure that allows free-ranging critters roam around us, not the other way around. And while we're at it, we want zip lines, please and thanks.
We all know about the great zoos in San Diego and New York, Seattle and St. Louis. And many other large cities like Pittsburgh and Washington, DC boast impressive zoos worth a visit if you're there for the weekend. But across the country, some unexpected cities have zoos that are equally as interactive and intriguing, if not more so; most of us just don't know about them. Here are 10 that stand out.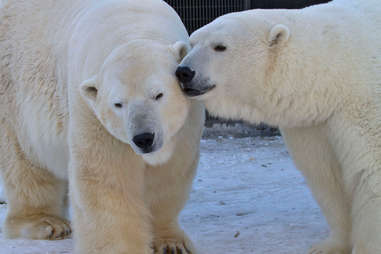 Anchorage, Alaska
Even though cruises to Alaska can be pretty amazing, Arctic wildlife is still not best viewed from the lido deck. But getting up close and personal with polar bears, lynx, and other Arctic species doesn't mean you've gotta go all Into the Wild, either. Head to this 25-acre compound at the foothills of the Chugach Mountains where, in addition to more than 50 species of animals, you can also visit the only rescue facility in America for injured, abandoned, and orphaned polar bears. They probably won't be tossing around beach balls and drinking Coca-Cola, but you can at least go in the winter (it's open year-round) when they'll be most active.
Omaha, Nebraska
In Arizona, they build giant domes to keep the desert out. In Nebraska, they built one to keep it in. The zoo's landmark desert dome is the largest glazed geodesic dome IN THE WORLD, and houses the world's largest indoor desert -- with replicas of the Namib, Sonoran, and Red Center deserts. The basement also features the world's largest exhibit of nocturnal animals.
Outside the dome, you can visit the primate exhibit, where gorillas roam and visitors are kept confined (effectively creating the most interactive exhibit of its kind -- and yes, those are the gorillas behind several viral videos) and the Lied Jungle, America's largest indoor rainforest. The 28-acre African Grasslands exhibit, by far the zoo's most ambitious project, is also exceptional for viewing elephants, giraffes, and cheetahs, among others.
Palm Desert, California
While the zoo in Omaha created a desert in the middle of the plains, this Southern California zoo created lush plains in the middle of the desert. Founded to preserve ecosystems in the Colorado Desert, this park now represents desert climates from around the world and is home to 50 gardens with 1,400 different plant species. Desert animals roam pretty freely around this huge zoo. As stroll through, you can spot the likes of giraffes, pygmy hedgehogs, and African wild dogs, all in the greenest environment you'll find in Palm Desert that doesn't include a pro shop.
Melbourne, Florida
Seeing live alligators on your Florida vacation might not even require leaving the hotel swimming pool, but watching them eat is far less terrifying at this Space Coast zoo. Every day there are alligator and crocodile feedings where you can marvel at the power of a gator's jaw latching on to something that's not your leg. An unusually active zoo (for guests that is), Brevard is the only one in the country to offer kayak tours through some of the exhibits, where you might spot a giraffe or impala while paddling. You can also zip-line around with the monkeys, or perhaps take your kids to cool off under the "dump tank" in the mangrove forest.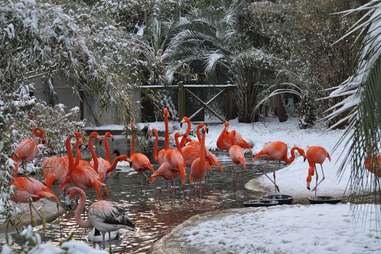 Columbia, South Carolina
Even though there's a palmetto on the state flag, South Carolina is rarely thought of as "tropical." The exception is the state capitol's zoo, where visitors can find sharks and eels in the 55,000-gallon Pacific coral reef tank and then wander over to the Asian Trek or Savanna Camp to look for birds from tropical Asia, Africa, and South America. But that's just the warm-up: this zoo has more than 2,000 animals, including giraffes (which you can feed from a specially designed overlook), four Galapagos tortoises, and penguins.
Fort Worth, Texas
This 64-acre animal extravaganza comes complete with a water park, shooting gallery, and 25-foot rock-climbing wall. It's almost as much an animal-themed theme park as it is a zoo (there are of course rides and activities for smaller kids, too, like a carousel, express train, and petting zoo). Be sure to check out the Museum of Living Art, an architectural marvel modeled after the Texas landscape itself, where you can see nearly 6,000 amphibians and reptiles (including a Burmese python and a king cobra). Open-air encounter areas allow visitors to walk among iguanas, toads, and various other species that won't have you worrying they'd like to snack on you.
Gulf Shores, Alabama
While the self-proclaimed "little zoo that could" boasts as many lions and tigers and bears as other prominent city zoos, the real attractions here are the animal encounters. For about $10 per person, the facility allows visitors to book some one-on-one time with sloths, kangaroos, reptiles, lemurs, and/or tamanduas -- those are a kind of lil' anteater, if you didn't know, and they are very adorable. So if you have children and want to give them an animal experience that doesn't require tapping their college fund, it's worth a visit on your next trip to the Redneck Riviera.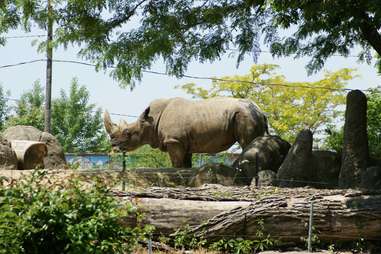 Toledo, Ohio
Northwestern Ohio might not be the first place you'd expect of find yourself gazing at an African savannah, but that's exactly why this zoo is so unexpectedly incredible. From a series of elevated viewing platforms, you'll feel like you're on another continent as you scan for the wildebeests, giraffes, warthogs, and other African fauna. Before, of course, stepping down a long ramp and into the world's first Hippoquarium, an underwater observation room where you can take in hippo life below the waterline (oh, and you can sometimes see what the inhabitants are up to via webcam). If you get tired of walking, there's always Aerial Adventure -- an aerial obstacle course for you to traverse while looking down at the animals from above.
Indianapolis, Indiana
This zoo contains around 1,400 animals and while all of them are cool, the big draw here is that it's the only place in the Midwest where you can swim with dolphins. Or, wade with dolphins, really -- you don't actually need to be able to swim, though you do need to be over the age of 6. If that's not you or you just personally find dolphins kind of meh, spend your extra time at the Simon Skjodt Orangutan Center. Not only does it house one of the largest orangutan groups in the country, but it's a widely renowned research and conservation facility that supports reforestation projects in the orangutans' native Borneo.
And if you have some extra coin to drop ($285 for non-members, though obviously this includes price of admission and all that) try a one-of-a-king Art Adventure, where you meet up with the talented animal of your choice -- penguin, elephant, rhino, pinniped (like a seal or walrus) and, yes, dolphin again -- to have them paint you a custom work of art.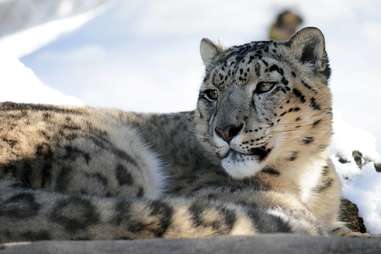 Colorado Springs, Colorado
There are great opportunities here to hand-feed some of the animals, but one of the best things about Cheyenne Mountain zoo is the open-air chairlift you can take to enjoy spectacular views of both the animals below you and the whole surrounding vista of Colorado Springs around you. This is also perhaps the best zoo to visit if you like giraffes -- they have the largest herd in the country (check out the live-stream cams) and you can watch them stampede through the open space.
The zoo is involved in a number of different conservation efforts, including contributing to different field programs that reintroduce endangered species into the wild as well as raising awareness about the palm oil crisis that's endangering wild orangutans.
Sign up here for our daily Thrillist email and subscribe here for our YouTube channel to get your fix of the best in food/drink/fun.