Twice a year, hundreds of gun enthusiasts find themselves in the deserts above Scottsdale, AZ, discussing the possible policy solutions to amending the 2nd amendment unloading as much ammunition as they possibly can on targets across a quarter mile long firing range. We're talking about a bunch of dudes spending an entire weekend blowing, respectively, 2.5 million loads of ammunition, from machine guns to cannons to you name it.... Giddy up, fellas.
This video shows more ordnance exploding than in the entire Second World War. Kind of.
Going on a limb here, but you probably don't own a .50-caliber machine gun or Barrett XM109. That's okay. Because for $25, you can come as a spectator for three days and watch these guys obliterate targets and talk endlessly about the 2nd Amendment.
The Big Sandy knows you didn't come all the way out here to just watch. Hand your iPhone over to someone not holding a weapon and have them 'gram you powering off rentable small subguns, medium battle carbines, and 30 cal and 50 cal belt feds mounted on tripods.
The saying probably goes, "Don't bring a pistol to a Big Sandy Shoot", or something.
For those who do own an M60 machine gun (kinda weird/kinda awesome), it's $250 per shooter for a three day shoot. You provide your own guns & ammo and get a spot on the firing line.
Dear Man with the Golden Gun, (and recent Mexican drug lord w/ pure gold AK-47?),
You dudes have got nothing on this guy's Gatling.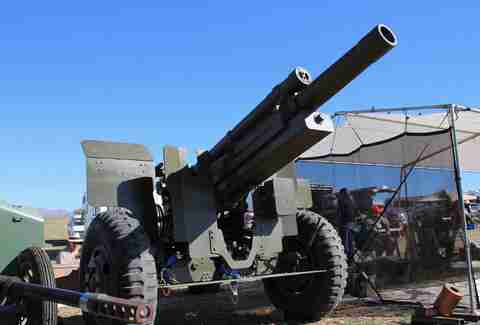 Think bringing a cannon will cost you more? You think wrong. It's only the Cannon crew (helpers) that are $50 extra.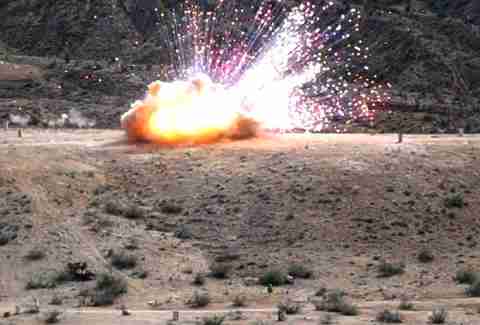 It's the Fourth of July out here for three days straight as exploding targets lined up to 1200m away go off all day and night.
Adding an element of competition, they also hold shooting contests through the weekend for subguns, BAR, assault rifles, Garands, tactical shotguns, and bolt action rifles. You know, so you at least have bragging ammo when you return home.
The trigger-happy celebration continues into the evenings with extended night shoots, and plenty of pyrotechnics provided by mortars.
You'll want to throw in some ear plugs for this giant, unless you really want to be part of something exploding.