The Biggest Great White Shark Ever Filmed Is Back, Still Huge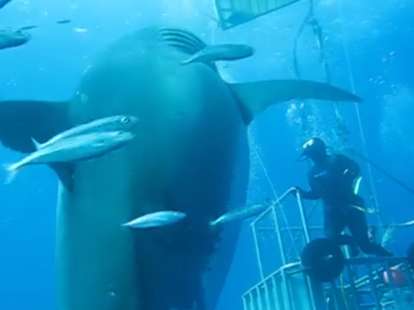 Just when you thought it was safe to go back on the Internet and look at videos of the water, new footage has surfaced of Deep Blue -- the largest Great White shark ever shot on video -- swimming menacingly around some divers near Mexico's Guadalupe Island.
Mauricio Hoyos Padilla, the aquatic researcher who first captured Deep Blue, apparently found yet another video of the 20ft-long shark on his computer, recorded during filming of a Shark Week special from 2014. The new footage gives a different angle on the action, and is just as striking as the earlier video:

That is one massive fish -- even if some of its bulk is admittedly due to the babies it's carrying in its belly. As Padilla explains, his release of this latest video is an attempt to raise awareness and donations for the protection of Deep Blue and other Great Whites in the Mexican Pacific, through his organization Pelagios-Kakunja. Definitely a worthwhile cause, unless you were on the USS Indianapolis, in which case you're probably still a little bitter about the whole "shark" thing.

Gianni Jaccoma is a staff writer for Thrillist, and if he met that shark in person, he'd make his wetsuit a little wetter. Follow his toothsome tweets @gjaccoma, and send your news tips to news@thrillist.com