The 10 best US cities for cyclists
In what may just be a blatant gimmick to generate social media debate, Bicycling magazine ranked the top 50 cities in the United States for cyclists and gave the number one spot to, get this, New York City. Huh? 
Citing 350 miles of bike lanes but conveniently ignoring both the number of cars on the streets and the population, NYC bested Minneapolis, Boulder, Portland, and San Francisco, among, like, a million other more bike friendly American towns. Sure, New York's made crazy progress thanks to the former Bloomberg administration's promotion of cycling, but the city could add a thousand miles of bike lanes and it wouldn't be number one. Please stop.
Anyway, here's the top 10 and a link to the full ranking.
10. Cambridge, Massachussetts
9. Fort Collins, Colorado
8. Seattle, Washington
7. San Francisco, California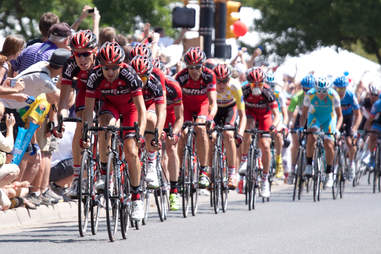 6. Boulder, Colorado
5. Washington D.C.
4. Portland, Oregon
3. Minneapolis, Minnesota
2. Chicago, Illinois
1. New York City, New York