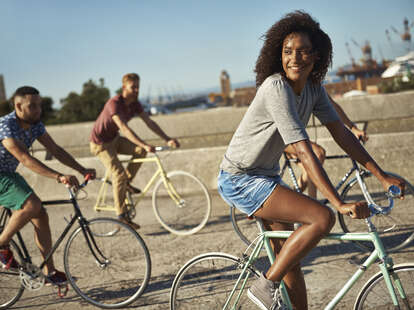 Hey! May is National Bike Month. That's a strange opening exclamatory followed by a factual statement about a made-up celebration. But hell, the weather's nice, and why not bike? In fact, the number of bicycle commuters has soared by 60% during the past decade, so clearly, people are into biking. And it's not just hipsters.
To showcase the nation's best paths and sights for cyclists across the country, we've rounded up the spots that're winning the biking revolution.
Washington, DC
As home of America's first bike-share program, DC made its mark on the cycling world in 2008. Capital Bikeshare has since upgraded its program to include more than 2,500 bikes across 300 stations, and extended hundreds of miles of bike lanes and trails.
Pro tip: Breeze along a two-mile ride from the US Capitol building to the Lincoln Memorial and catch a host of tourist spots and museums in between. Or, cruise the multi-use trails/shared bike paths of Rock Creek Park, and stop off to see the Giant Pandas at the National Zoo.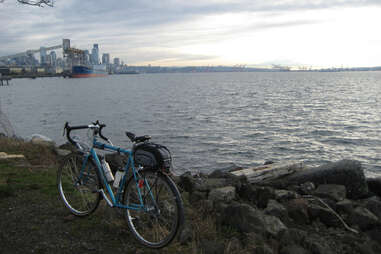 Seattle
The Pacific Northwest gets a bad rap for rain, but don't let that stop you from pedaling the Emerald City's paths. Hop on the Classic Loop, a 15-miler that begins at Pike Place Market and wraps around Lake Union, Salmon Bay, and the Puget Sound. Seattle also offers cycling tours, which range from short city sights to five-hour rides on Bainbridge Island.
Pro tip: The Watertown Hotel offers free loaner bikes and helmets to guests, and is ideally located near Pike Place Market, Tillicum Village, and the Space Needle.
New York City
Taking a bike ride in the nation's most densely populated city may sound daunting, but New York has taken strides to make room for cyclists on its well-trodden streets. Two years ago it introduced Citibike, the country's largest bike share program with more than 6,000 bikes. And in the last decade, bike paths have become increasingly important in the Big Apple -- just take a look at all the various maps and paths compiled on this website.
Pro tip: Brooklyn knows best when it comes to bike rides, but for those looking for a little less traffic, the Hudson River Greenway is a protected pedestrian path that stretches 11mi from Inwood down to Battery Park on the southern edge of Manhattan, giving you a great view of the Statue of Liberty and Ellis Island.
Portland
It's no secret Portland wears the crown when it comes to bike cities. The city ranks no. 1 for bike commuting per capita among the 30 largest US cities and features one of the most expansive bike networks in the country. Stumptown is not giving its title up anytime soon: the city invested $613 million to expand bicycle infrastructure to include almost 1,000mi of bikeway by 2030. That's a lot of mileage, FYI.
Pro tip: Check out Portland's best by biking the brief, 1.5mi Eastbank Esplanade trail along the Willamette River, but be sure to head to Forest Park, the largest urban preserve in the US. Stop by in June for Pedalpalooza. It doesn't get more Portland than that.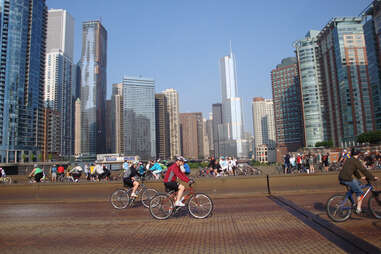 Chicago
With more than 170mi of on-street, protected, shared bike lanes, the Windy City has made cycling the new norm. Sure, it's bone-chillingly cold for 70% of the year, but Chicago's not messing around: the city's planning to build a 645mi cycling network by 2020. The 18.5mi breezy trail that wraps along Lakeshore Drive, featuring the city's skyline and the sandy beaches of Lake Michigan, is the most iconic ride for visitors looking to enjoy Chicago's best assets. The city prides itself on its neighborhoods, so work off that deep dish with a tree-lined ride that cruises by the Osaka Japanese Garden or the Garfield Park Conservatory.
Pro tip: Check out the North Branch Trail, which begins at Devon and Milwaukee Avenues and snakes along the Chicago River up to the Chicago Botanical Gardens. As you venture west toward Wicker Park (which you will, you hipster), be sure to avoid a cyclist's rush hour nightmare on Milwaukee Avenue; opt for Elston instead.
Austin
Two words: bike zoo. The zoo combines bicycles and art to create exhibits that allow visitors to ride upon a 15ft butterfly, which is reason 1,001 why Texas' weird capital is one of the nation's best places for cycling. Aside from a rich bike culture maintained by Austin's countless hipsters, the city is also home to the 6mi-long Lance Armstrong Bikeway that stretches through downtown. That guy sucks, but at least the bike path is cool.
Pro tip: Breeze past the main drag and head out to the Texas Hill Country, an idyllic backdrop for ranchland riding, or check out Walnut Creek for a 12mi loop. Hell, you might even run into Matthew McConaughey while you're at it.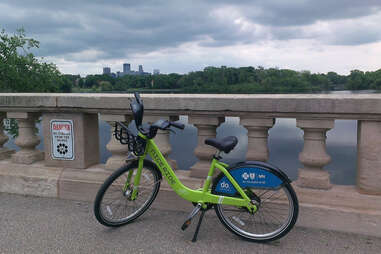 Minneapolis
Subarctic temperatures are no deterrent for locals when it comes to the two-wheeled commute. Must have something to do with those Scandinavian roots. Biking is a way of life here. Minneapolis touts the second biggest population of bike commuters of the largest US. cities, just below Portland, and the Twin Cities have 84mi of designated bike lanes between them. The Nice Ride Minnesota bike share gives the city a boost for the casual biker, while the flat, north-central plains (hello, Midwest) make it a great spot for beginners.
Pro tip: Check out one of the oh-so-many bike enthusiast hangouts like Grumpy's, Erik's Bike Shop, or One on One Bicycle Studio. Minneapolis also hosts bike-themed events nearly every weekend in the summer, giving you a chance to mingle with your fellow spoke-heads.

San Francisco
The Wiggle, a one-mile route that serpentines from Market Street to Golden Gate Park, is enough to mark this city as owning one of the nation's most scenic rides. But San Francisco's biking community has come a long way to implement infrastructure and expand a network of bike lanes to include more than 200mi of trails and pathways -- just watch out for all those hills. Your quads are about to get jacked.

Pro tip: Don't miss the 3.5mi trail through Golden Gate Park, but opt for Sunday when no cars are allowed. Check out one of San Fran's many organized biking events, including Winterfest or Tour de Fat.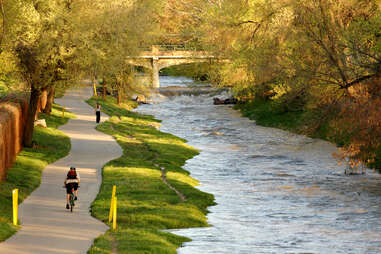 Denver
Outdoor living is a way of life in Denver, which is why cycling is a staple in the Mile High City. With more than 300 days of sunshine annually, and more than 300mi dedicated to urban riders, it's the perfect place to do a little off-road riding outside the city. But if the rough terrain isn't your idea of a bike ride, the city features trails along the South Platte riverfront, through the Botanical Gardens, and into the downtown shopping area.
Pro tip: The Cherry Creek Bike Path is a scenic route that provides access to Castlewood Canyon State Park. Otherwise, get yourself a mountain bike and do what one does with a mountain bike -- shred the trails of a city in the mountains.