Recommended Video
These Sparkly Pink Lakes Are Mexico's Low-Key Gem
Vik Beach
Vik, Iceland
Iceland's home to around 130 volcanos (18 of which have erupted since the island was settled in the 9th century) and black beaches have risen from the ashes. Vik Beach, or Reynisfjara as it's known to locals, is the island's most famous and boasts insane basalt columns, lava formations, towering cliffs, and caves.
Playa Jardín
Tenerife, Canary Islands
Designed by local artist César Manrique, Puerto de La Cruz's idyllic main beach juxtaposes volcanic black sand with landscaped gardens and cascading waterfalls. Off in the distance, you can see Spain's highest point, Mount Teide.
Black Sand Beach
Maui, Hawaii
This creatively named pebble beach in Maui's Waianapanapa State Park -- formed when lava hit the ocean and shattered -- didn't make our list of America's best beaches for nothing. Oh, no. Dotted with freshwater caves, lava formations, and ancient burial grounds/temples, this spectacular quarter-mile stretch is worthy of the accolades.
Papenoo Beach
Papenoo, Tahiti
While Tahiti usually elicits images of snow-white beaches, this ebony-colored shore is a local fave thanks to its famous river mouth surf break.
Muriwai Beach
Muriwai Beach, New Zealand
Famous among the birding community for its massive gannet colony (naturally), this rugged 40mi beach is also a top spot for some epic hang gliding, kiteboarding, and horseback riding.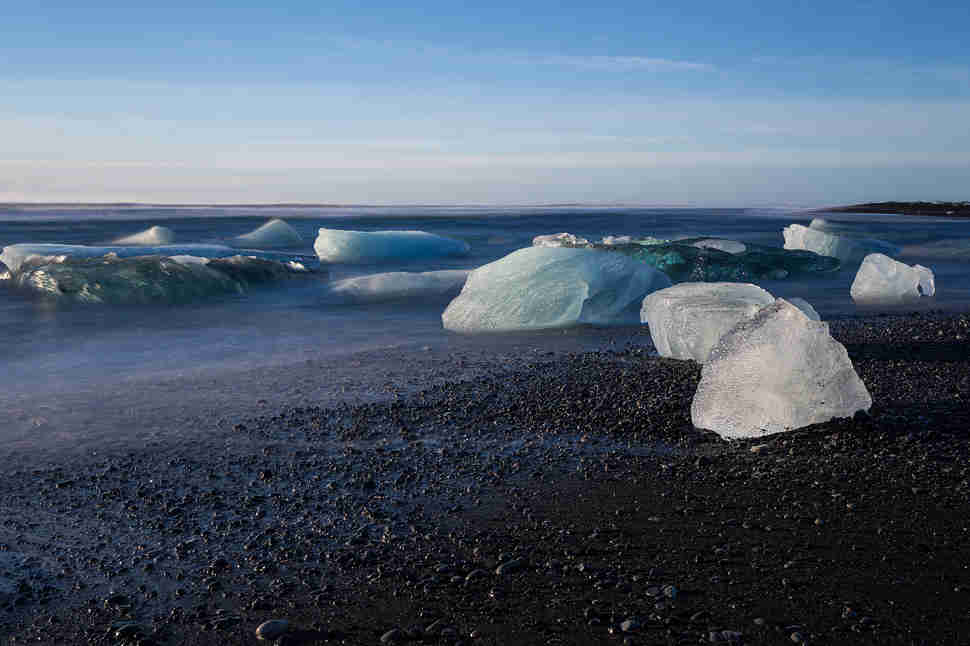 Jökulsárlón Beach
Jökulsárlón, Iceland
Yes, the icebergs should be a dead giveaway that this is not a tanning kind of beach. More look than touch, this glacial lagoon has been featured in a slew of blockbuster films including Die Another Day, Lara Croft: Tomb Raider, Batman Begins, and A View to a Kill.
Lovina Beach
Lovina Beach, Bali
This Bali beach with black sand from the cooled lava of nearby Mt. Agung is low key in all the right ways -- small waves, small crowds, small towns. Surrounded by seven fishing villages, Lovina is a hotspot for dolphin watching and snorkeling, and offers beautiful views of Java in the distance.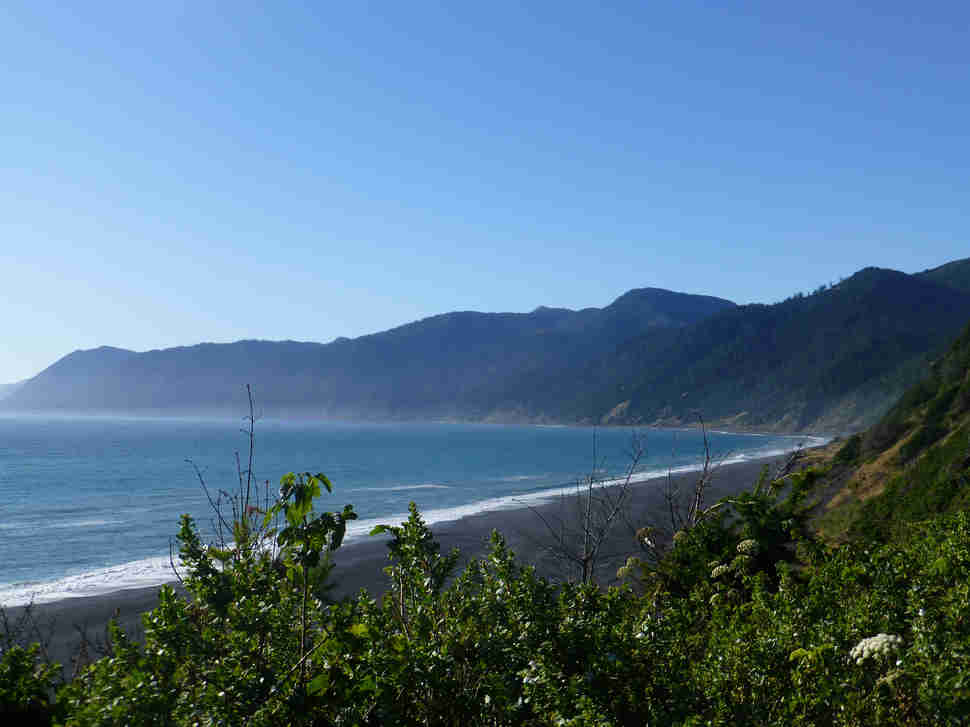 Black Sands Beach
Shelter Cove, CA
Jagged NorCal mountains and regal redwoods surround the remote, coffee-colored shores of this spot, its sand turned dark thanks to years of nearby cliff erosion. Some even claim to have spotted Big Foot in nearby forests.
Miho no Matsubara
Shizuoka, Japan
Lined with thousands of ancient, World Heritage-listed pine trees, this scenic, 4mi stretch of black sand offers visitors unrivaled views of Mount Fuji. Formerly a white sand beach known in local folklore for its skinny-dipping angel, Miho no Matsubara turned black after construction of a nearby train line exposed its volcanic rock sand.
Punalu'u Beach
​Big Island, Hawaii
Home to bright green sea turtles lazing in the sun, this onyx beach was formed from the lava of the still-active Mauna Loa. Its black sand is so popular that signs ask visitors to please stop pocketing it as a souvenir.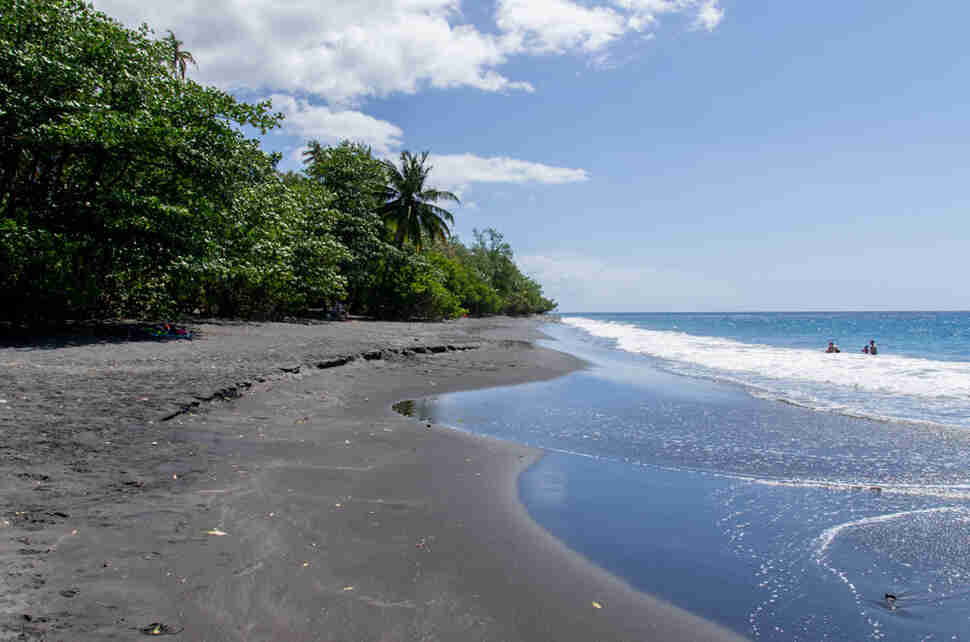 Anse Céron
Martinique, Caribbean
The charcoal-colored sand sits in beautiful contrast to the lush green tropical jungle and coconut-laden palm trees that serve as the backdrop to this secluded beach. Renowned for its snorkeling, dive shops dot the beach's rocky shores.
Playa Negrita
Vieques, Puerto Rico
Black sand be damned, all you need to know about this remote beach in Puerto Rico is that it recently hosted a swimsuit shoot for Victoria's Secret. Also, apparently, there are horses.
Karekare Beach
Karekare, New Zealand
Made famous by the movie The Piano, this apocalyptic-looking beach flanked by looming cliffs is home to the beautiful Karekare Falls and is a great spot for seal watching.
Perissa Beach
Santorini, Greece
Perissa's black-as-night sand sits in stark contrast to the gleaming white houses and bright blue water that've made Santorini a household name among travelers the world over. Sprinkled with shady palapas, the beach is lined with bars/tavernas and offers impressive views of Mount Vouno off in the distance.

Stokksnes Beach
Stokksnes, Iceland
The rocky shore (and dramatic Vestrahorn mountain that towers over it) at Iceland's Stokksnes Beach is the perfect spot to soak in the sunset.