Waianapanapa State Park, Maui, Hawaii

| Peter Unger/StoneGetty Images
Waianapanapa State Park, Maui, Hawaii

| Peter Unger/StoneGetty Images
Black sand beaches are a once-in-a-lifetime kind of marvel, oftentimes volcanic stretches of soot-colored sand that strike a perfect contrast against light blue waters. They may not always be the choice spots for sunbathing, but they're photogenic masterpieces of nature, some of the best beaches in the world, and actually quite pleasant to hang out on; the dark sand reflects the sun less harshly and gives you a peculiar sensation of living in a photonegative. These beaches are rare, but certainly not impossible to reach. Ratchet your ocean vacation and Instagram game up a notch by visiting one of these 17 beaches made of black sand.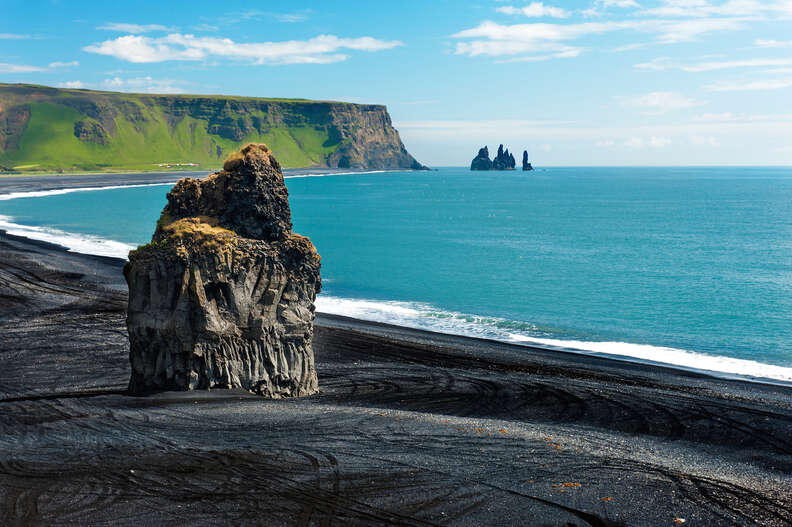 Vik Beach
Vik, Iceland
Iceland is home to around 130 volcanos (18 of which have erupted since the island was settled in the 9th century) and black beaches have risen from the ashes. Vik Beach—or Reynisfjara, as it's known to locals—is the island's most famous, and boasts impressive basalt columns, lava formations, towering cliffs, and caves.
Playa Jardín
Tenerife, Canary Islands
When an artist actually designs your entire beachscape, it had better be one of the prettiest ones in the world, or somebody owes the Canary Islands some money. Fortunately, the vision of native Canarian artist Cesar Manrique holds up, with lush gardens and palm trees against shimmering black sand, where colors pop brightly in the sun when viewed from the water. Past the gardens, you'll find a two-level promenade full of cafes and restaurants, perfect for taking in the scenery on a lazy summer afternoon.
Black Sand Beach
Maui, Hawaii
This aptly named pebble beach in Maui's Waianapanapa State Park—formed when lava hit the ocean and shattered—is just one fragment of Maui's natural splendor. That being said, this spectacular quarter-mile stretch—dotted with freshwater caves, lava formations, and ancient burial grounds/temples—is worthy of all the accolades.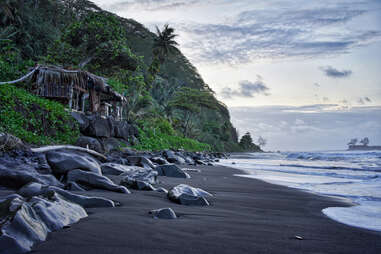 Papenoo Beach
Papenoo, Tahiti
One of the lesser-photographed sections of Tahiti is the Papenoo Valley, a tropical jungle full of waterfalls and volcanic sand that's not exactly what you see on most Tahitian postcards. The valley leads out onto Papenoo Beach, a remote stretch with no bathrooms, no cafes, and no guys selling lounge chairs. This beach is strictly for the surfers, as the river mouth breaks are among the most highly regarded waves in the world. You're welcome to lie out in the tropical sun all day too, but you'd be better off trying that on a weekday when the waters are much emptier.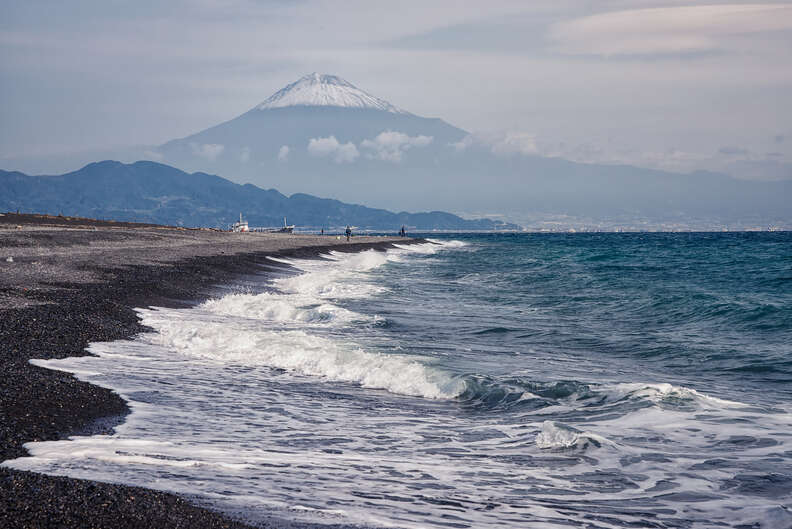 Miho no Matsubara
Shizuoka, Japan
Lined with thousands of ancient, World Heritage-listed pine trees, this scenic, four-mile stretch of black sand offers visitors unrivaled views of Mount Fuji. Formerly a white-sand beach known in local folklore for its skinny-dipping angel, Miho no Matsubara turned black after construction of a nearby train line exposed its volcanic rock sand.
Lovina Beach
Lovina Beach, Bali
This Bali beach with black sand from the cooled lava of nearby Mt. Agung is low key in all the right ways—small waves, small crowds, small towns. Surrounded by seven fishing villages, Lovina is a hotspot for dolphin watching and snorkeling, and offers beautiful views of Java in the distance.
Black Sands Beach
Shelter Cove, California
The beaches along California's lost coast—north of San Francisco and the Mendocino Valley—might not be the palm-tree-and-beautiful-people beaches of your California fantasies. But the stretch of black sand near the resort town of Shelter Cove looks like a cold-weather Caribbean, with 4,000-foot mountains backing the rocky coastline. It's a big topographical change from other northern beaches, making it one of the most unusual stretches of coastline in the state, and certainly the finest black-sand beach on the US mainland.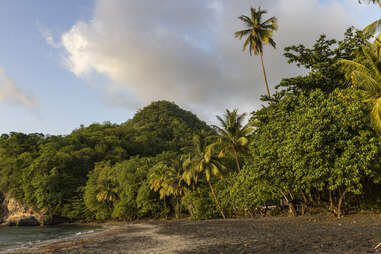 Anse Ceron
Martinique, Caribbean
When the broad white-sand beaches of Martinique get too crowded during high season, visitors in the know trek out to the northwest coast and this charcoal-sand gem. The narrow strip of beach bordered by thick Caribbean jungle is best known for its diving and snorkeling, without much in the way of bathrooms or amenities. It's the perfect spot to relax after a long morning under the water, as even on weekends the dark sands are rarely full of tourists.
Playa Negra
Vieques, Puerto Rico
Depending on when you go, this beach can either look like a sheet of onyx or a marble cake, if white sand from the cliffs that line the beach have run onto the shoreline. Either way, it's a beautiful stroll through a shallow stream bed to get here, where the extra-fine black sand makes it a popular spot for horseback riding. Word to the wise: The thin sand can get everywhere, and is a lot harder to get out than your typical grainy white stuff. Also, it stains.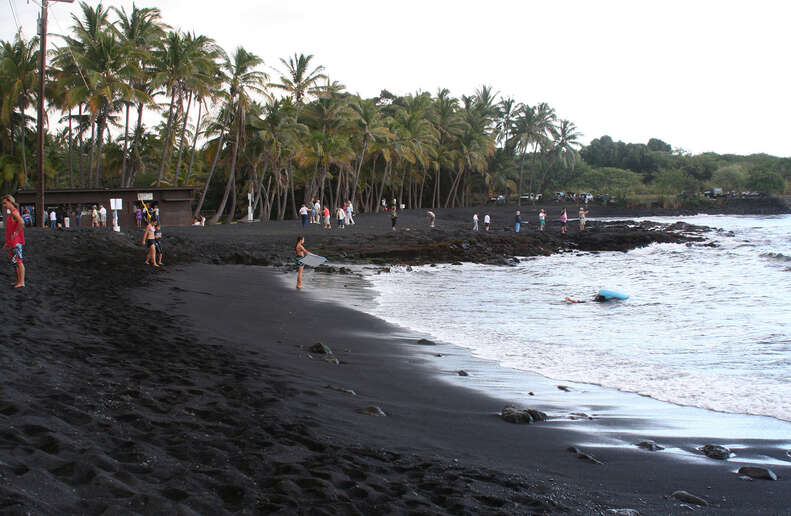 Punalu'u Beach
The Big Island, Hawaii
When the lava sand on this big island beach gets too hot, you have a lot of options to cool yourself off. First, you can go relax under the rows of coconut trees that line the edge of the sand, looking through a sort of tropical gate onto the bay. You can also take a dip in that spring-fed bay, where the cool fresh water on top gives way to the warmer ocean water at your feet. Or take a short walk to Ninole Cove with your mask, fins, and snorkel and get an underwater view at colorful fish. If the sand is cool, you might also find yourself sharing the shoreline with green and hawksbill turtles.
Karekare Beach
Karekare, New Zealand
You may recognize this beach from its starring role in The Piano, which won Anna Paquin an Oscar and earned this beach the title of most famous black-sand beach in the world. For a while. Now it's gone back to having some anonymity, sitting an hour-ish south of Auckland and sometimes forgotten in the shadow of iconic Piha Beach. The surf here is some of the best in New Zealand, catnip for painters and writers as well as filmmakers. The looming cliffs behind the black sand make for an almost-apocalyptic feel, and in a country full of unique scenery this beach still stands out.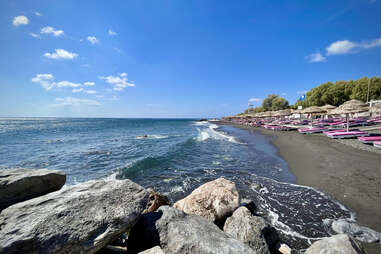 Perissa Beach
Santorini, Greece
Perissa's black-as-night sand sits in stark contrast to the gleaming white houses and bright blue water that've made Santorini a household name among travelers the world over. Sprinkled with shady palapas, the beach is lined with bars/tavernas and offers impressive views of Mount Vouno off in the distance.

Stokksnes Beach
Stokksnes, Iceland
The rocky shore at Iceland's Stokksnes Beach is the perfect spot to soak in the sunset. Sometimes referred to as "Batman Mountain," the towering Vestrahorn provides a dramatic backdrop. Spooky and often cloudy, Stokksnes is not your average day-at-the-beach scene, but it'll certainly leave you awestruck.
Number One Beach
Dominica, Caribbean
Nothing in Dominica comes easy, as even getting to its most scenic beach requires a 15-minute hike through muddy jungle that'll have you jumping into the water to clean off before you even take in the sights. But like the waterfalls and jungle springs you'll find on other hikes, this beach is worth the effort. The volcanic sand sits in front of thick palm trees in front of imposing cliffs. If a beach could ever be intimidating, Number One Beach is it. Like many a gentle giant, once you get over the impending visage, it's actually quite pleasant.
Black Bay
Marigot, Grenada
Probably the most hard-to-find beach on this list, Grenada's lone black-sand beach sits north of St. George in the town of Concord, with an unmarked path across from the sign for Concord Falls. A short hike through the jungle later, you're dropped off on this spectacular stretch of black sand, where nary a visitor will be there to fudge up your award-winning photography. Though there's not much in the way of amenities, it might be the most deserted-island feeling black-sand beach in the Caribbean—a perfect place to unplug and pretend the world is far, far away.
Black Sand Beach
Prince William Sound, Alaska
Tanning's probably not happening on this beach along the Barry Arm fjord. But feel free to roll up your sleeves and kayak out from this black-sand beach, exploring massive glaciers and the towering rock formations that are being exposed as they retreat. After you've worked up a good sweat, enjoy a picnic on the dark sand as you take in the rare experience of dining next to a deep-blue glacier while otters and sea lions play in front of you.
Santo Domingo Beach
Albay, Philippines
Perhaps the most striking thing about this beach isn't the sand itself, but rather the contrast it makes against the deep blue water and bright green trees behind it. The colors here are spectacular even on an overcast day, as the gray skies create a different but equally stunning tableau. It's rarely filled with many people, a welcome change from the masses you'll find across the bay in Boracay and other destinations.