'Mean Girls' tweets get blogger kicked off JetBlue flight
Anyone who's ever watched/been made to watch Mean Girls knows these basic rules: everyone wears pink on Wednesdays; Halloween costumes should be sexy, not scary; and fetch is NEVER gonna happen.
You know who doesn't seem to know the rules, or well, apparently anything about Mean Girls? That would be JetBlue. The airline booted YouTube blogger Matthew Lush from a flight Saturday after he slammed one of its customer service reps in a series of tweets quoting the movie. 
After his credit card was charged for a JetBlue flight that was reportedly not confirmed by email, Lush phoned the airline last Tuesday to contest the bill; angry because they wouldn't refund his cash, he took to Twitter to slam the customer service rep, whose name, coincidentally, is Regina. Yes, like the mean girl in the movie -- you see where this is going. While using funny/nasty Regina quotes from the movie against the defenseless customer service rep, Lush even went so far as to provide her employee ID, lest anyone be confused about which Regina at JetBlue aggrieved him.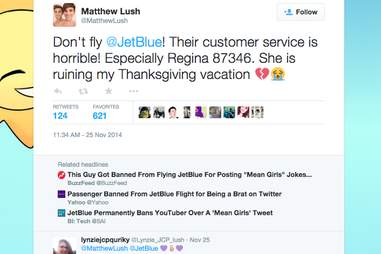 Soon enough, like a rumor about Cady Heron and Aaron Samuels circulating North Shore High School, Lush's thousands of followers were spreading the hashtag #boycottJetBlue around Twitter. [Insert eye roll here].
When Lush turned up for his flight anyway -- 'cause you know, YouTube stars still gotta get places -- JetBlue's response was simply: "You can't sit with us". Oh, no, they did not! Ok, so those weren't their ACTUAL words, but the airline did deny Lush from boarding the plane, citing him as a security threat.
And though Lush said he was banned for life in a self-indulgent, nearly 10-minute video detailing the incident (wah wah wah...), a JetBlue statement confirms he was only kicked off that one particular flight.
Chances are, Lush won't be flying -- or sitting -- with JetBlue anytime soon.

Chloe Pantazi is an editorial assistant on Thrillist's travel team. She's a total Gretchen. Follow her on Instagram and Twitter @ChloePantazi.