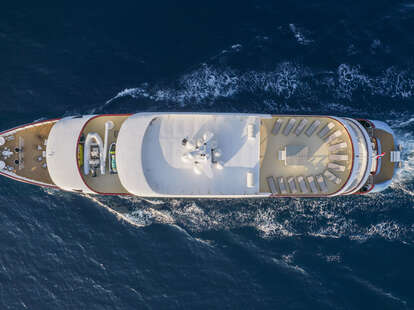 Photo courtesy of Goolets
Photo courtesy of Goolets
Welcome to Thrillist 50, your guide to fun and adventure in 2023. Think of it as your comprehensive roadmap for checking out exciting events and new attractions coming over the next 12 months, going on bucket-list trips, reconnecting with yourself and your community, expanding your mind, and of course, experiencing the flavors we're most excited about this year. There are so many reasons to live like there's no tomorrow. Start here.
Picture yourself on a superyacht and a few scenes might spring to mind: Platters of Champagne proffered post-snorkeling session in a picturesque cove. Teak floors and rails so clean you could do caviar bumps off their gleaming surfaces. Envious onlookers wondering who you are—and how you've secured such a shining vessel.
Absent from your imaginings, perhaps, might be your family. And yet when I recently boarded the Ohana superyacht in Split, Croatia, I did so with my two young kids, ages four and five. My extravagant fantasies quickly transformed into worries about whether my children might pee in the top deck jacuzzi, tip over someone's cocktail, or maybe even tumble overboard while I was distracted by the beauty of the Dalmatian coastline.
It turns out, I had nothing to worry about.
Part of the Goolets charter fleet, the 160-foot-long Ohana—its name means "family" in Hawaiian—might just be the most family-friendly superyacht sailing the seas. And an onboard vacation may also be more affordable than you'd think.
If you can gather together 29 of your closest friends and family members, a multi-generational super yacht vacation becomes surprisingly within reach aboard the Ohana, which charters for between $80,000 and $100,000 a week. If you do the math, that's roughly $3,000 per person, which is cheaper than you'd pay for a week on some behemoth cruise ships in the Caribbean—and you won't have to share the buffet with a few thousand fellow passengers, either.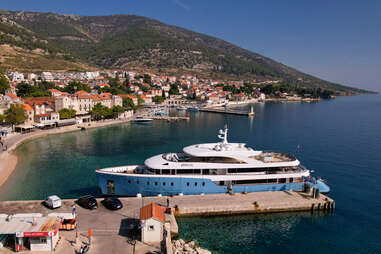 "Boats have always been our family business," says Ohana's captain, Josip Šerka, a shipbuilder's son who hails from the Croatian island of Brač. He has three young children of his own, and his two brothers captain the Croatian yachts YOLO and Melody, also part of the Goolets fleet. These are also luxury yachts to be sure, but not to quite the same degree as the newer Ohana.
Built in 2020, Ohana is currently undergoing extensive renovations to the tune of roughly $800,000 to re-emerge even more appealing for large groups and families in time for the 2023 season, which runs from May through mid-October. And the boat's new look will make her feel particularly purpose-built for togetherness at sea—with plenty of onboard spaces to escape your entourage, too.
In upgrading Ohana, Šerka says he considered the things he'd want for his own family on a charter yacht vacation. "With kids onboard, the most important thing on the ship is safety," he says. "Ohana's railings are high, and we're increasing our crew members from nine last season to 12 people moving forward, so we have more eyes on deck and inside, too."
Ohana's original 18 guest cabins have been reduced to 14 for 2023, and include two cabins with pullout sofas so children too young to sleep in their own cabins can be accompanied by their parents at night. Also new for Ohana's 2023 season, two former cabins below deck have been reconfigured as an onboard cinema and a children's playroom—complete with a rock climbing wall, drawing tables, and video games (an onboard nanny is also available, should parents crave some additional downtime, perhaps for a wine tour excursion or an onboard massage).
Above deck improvements to the ship include a new cocktail bar on the sundeck, also outfitted with a jacuzzi and a new open-air outdoor gym. There will even be an outdoor fireplace on board with seating around it for cozying up under the stars when the ship is in port, or at anchor in picturesque bays.
My family sailed aboard Ohana before her renovations, and the welcoming crew made us feel so comfortable as a family with two young kids. Šerka, for example, let my little ones take the helm of Ohana to try steering with his careful guidance. And when my child was celebrating a birthday onboard, the entire crew gathered around to sing over a cake Šerka had custom-ordered from a favorite island baker.
Whether or not you bring children along, chartering a superyacht for your family vacation allows you to truly choose your own adventure when it comes to where to go and what to do there, so you can really personalize your trip.
"The first thing I say when our charter guests ask me what to do during the week is, 'How do you want to spend your holidays?'" Šerka explains. "Do they want more activities on land, more party time, more culture, swimming, relaxing, or a mix of it all? I can plan the perfect route."
One of his favorite journeys to suggest is the trip from Split to Dubrovnik, ideal for a mix of cruising along the coast and time spent enjoying quiet coves, bays, and towns among Croatia's 1,000-plus islands. The route allows for about four to five hours of navigation per day, and with Ohana's onboard comforts, there's always a lot of joy in the journey, whether you take in passing views from a spot in the six-person jacuzzi or curl up with a book someplace shaded from the sun.
If you choose to make the trip from Split to Dubrovnik, ports of call along the way south include Brač' to see the famous Golden Horn beach, Hvar, and Korčula. Then there's a visit to Vis to see the Blue Grotto, a stop at the verdant island of Mljet to explore its national park, and a day in Dubrovnik's storied old town as a finish. You can even work in a day trip by land to Montenegro's beautiful bay of Kotor from Dubrovnik to finish things off.
And it wouldn't be a superyacht, of course, without water toys—and you'd better believe Ohana is amply equipped. In addition to standard items for floating fun (think SUPs, kayaks, and a jet ski), Ohana also has an electric underwater propulsion device called a SEABOB, a hydrofoil Fliteboard, and—new in 2023—a huge inflatable slide that drops from the sundeck several levels down straight into the Adriatic Sea.
Months after my family trip on the Ohana, my kids still talk about it—the people we met, how they were able to steer the superyacht, the castle we climbed up to in Hvar, and that jacuzzi they promised me they didn't pee in.
And whether it's your first time yachting or another perfect excursion at sea, it's hard to deny how much sense it makes for a truly stress-free family vacation. To me, family travel has never felt sweeter and more relaxing than onboard Ohana.