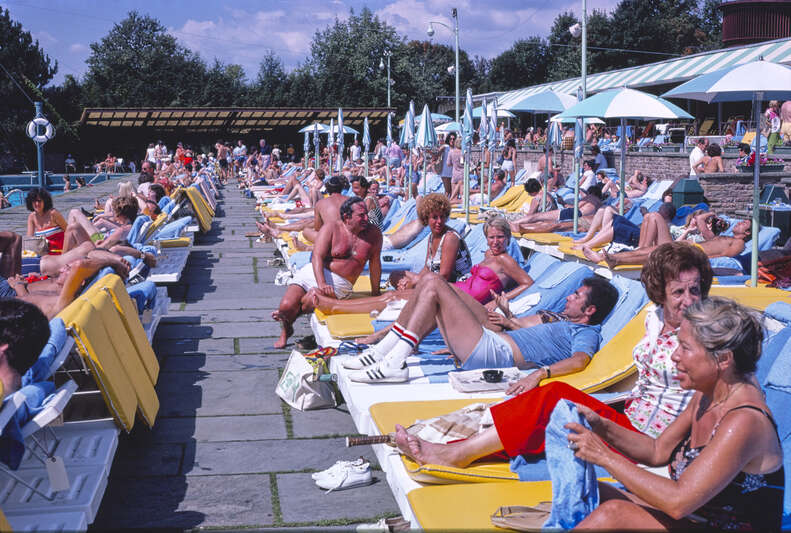 Getting some sun at Grossinger's, one of the first Borscht Belt resorts.

| Universal History Archive/ Universal Images Group/ Getty Images
Getting some sun at Grossinger's, one of the first Borscht Belt resorts.

| Universal History Archive/ Universal Images Group/ Getty Images
Keep the credits rolling at the end of the 2012 documentary Welcome to Kutsher's: The Last Catskills Resort, and you'll be treated to an earful of onstage one-liners courtesy of celebrated comedian Freddie Roman. Kutsher's is in the Borscht Belt—a sprawling collection of bungalows and resorts in upstate New York that defined much of East Coast Jewish vacation life in the mid-20th century, initially, at least, because they were excluded from anywhere else. Soon, though, resort life here grew into a phenomenon. And like many other Borscht Belt comedians, ol' Roman had an affinity for "working blue."
"It all started with Viagra, the little blue pill, which I tell you honestly, I adore," he quips as the credits stream by. "I take one every night. It keeps me from rolling out of bed." (Next: "Do you know that people that shop in Costco for toilet paper pray for diarrhea?")
"Seeing [Roman perform] was really educational," says documentarian Ian Rosenberg, who along with Caroline Laskow, produced and directed Welcome to Kutsher's. "I had an idea of what Borscht Belt schtick comedy was, but then you see someone who's really excellent at it, one of the great Catskills comedians. I've seen that footage so many times and anytime I catch a minute of it, I find him so funny."
Tummlers, as these Catskills entertainers and comedians were called—taken from the Yiddish tumler, meaning "to make a racket"—often performed during meals, which meant they had to come up with fresh material every night. And it had to be good: People were seeing them for free and could easily walk out if they got bored. The resorts became comedy incubators, cooking up a quick-witted, self-deprecating humor that touched on Jewish stereotypes, marital problems, and wordplay, all with a hefty dose of Yiddish. Comedians like Jackie Mason, Jerry Lewis, Rodney Dangerfield, Buddy Hackett, Don Rickles, and Joan Rivers all graduated from this Borscht Belt school of comedy. And its influence went well beyond the stage—as a kid, comedian Jerry Seinfeld remembers sneaking into Catskills nightclubs to catch acts while vacationing with his family.
If you haven't already gathered, these resorts played a major role in what elicits a chuckle today. And with the Borscht Belt Museum in Ellenville, New York set to debut in 2025, you'll soon have a place to see it all first-hand. Until then, the pop-up exhibit Vacationland! Catskills Resort Culture 1900-1980 is currently on display in the space. The show examines the area's comedy boom among other cultural touchstones, and includes a digital version of the Jewish Vacation Guide, a safety-oriented travel map which inspired the historic Green Book for African-American travelers.
Another key aspect of the Borscht Belt's far-reaching legacy? The invention of the all-inclusive resort.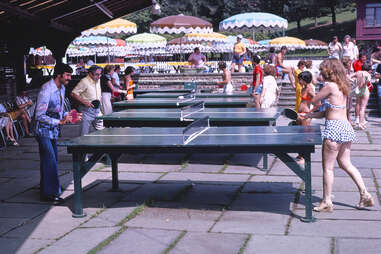 Necessity: the mother of (all-inclusive) invention
It seems like it would have been a conscious marketing decision to create a hotel that encouraged guests to indulge to their hearts' content for one lump sum. But, as it turns out, America's first resorts were just a byproduct of necessity. Like Victorian women gravitating to the healing powers of the sea, residents of New York City have always viewed a trip up to the mountains as a cure-all for everything from health and financial woes to simply escaping the city's cramped quarters. And by the mid-1800s, infrastructure advancements like railroads made accessing rural respite much easier. By 1875, some 200 resorts catering to urban-dwellers who wanted to get away began to populate the Adirondacks, but their desired clientele very specifically did not include Jewish immigrants. Ads for some resorts explicitly stated that no Jews or Hebrews may apply, and most didn't offer kosher meals.
Antisemitism even affected the affluent. German-Jewish philanthropist Baron Maurice de Hirsch, was himself a target of religious discrimination even as he mingled with aristocracy and grew his fortune by building railroads (including what would eventually be known as the Orient Express). In response, in 1891 de Hirsch founded the Jewish Colonization Association and Jewish Agricultural Society, organizations that focused on resettling Russian and Eastern European Jews fleeing violent persecution to countries like Argentina, Brazil, and the US, specifically the Catskills region. The Baron was particularly interested in agriculture as a means forward, in the late 1800s and early 1900s financing thousands of small farms upstate in less popular places like Sullivan and Ulster Counties, the latter of which went so far as to establish their own Jewish Agricultural Society Office.
At the time, Ulster and Sullivan Counties were hotspots for the lumber and tanning industries, and the resulting felled forests created ample room for farming. The problem, however, was that the land was pretty much untenable, and those immigrants that obtained farming grants from the Baron had a miserable time trying to make ends meet. Though it did lend itself to chickens and the occasional milk cow—as well as more than a few city folk who made the trip up to avoid surging tuberculosis cases back home and cosplay farm life for a few days or weeks. Catching on to the trend, more and more area farmers began supplementing their income by adding rooms for guests, turning their properties into kuchalayns, or communal boarding houses.
Before long, bungalow colonies sprung up, as well as full-service hotels that planted a seed for that all-inclusive ethos.
"This was back in the 'teens and '20s," says Andrew Jacobs, a reporter for the New York Times and co-founder of the Borscht Belt Museum. "In the beginning, they would say, 'Stay here, drink all the milk, and eat all the eggs.' I heard that it grew from that—all the milk you can drink and eggs you can eat became all the food you can eat."
The milk and eggs worked, and a thriving tourism industry quickly took shape. Throughout the Catskills, resorts developed explicitly by Jewish investors welcomed Jewish Americans to vacation freely in what was both a voluntary and forced segregation. A Variety editor called Abel Greene dubbed the place "the Borscht Belt" after the popular chilled Eastern European beet soup, a nod to New York's primarily Ashkenazi Jewish population. But if you wanted to be fancy, you could also call it "the Jewish Alps."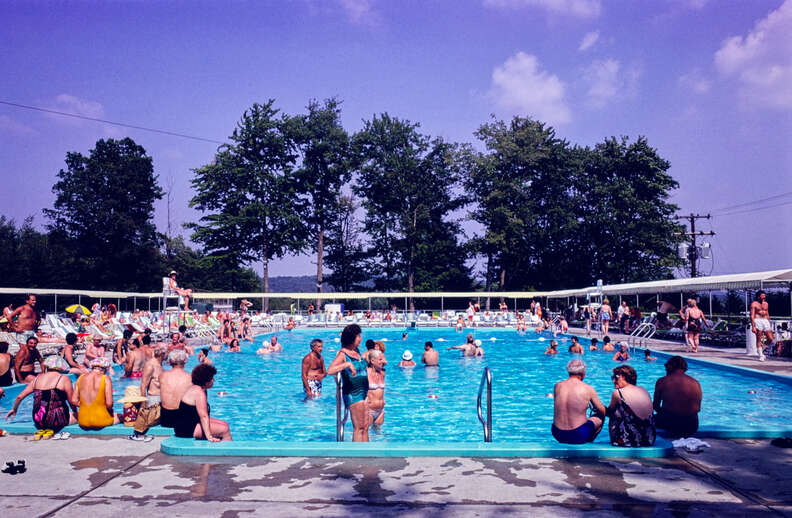 The Borscht Belt comes of age
In their heyday, Borscht Belt resorts balanced extravagance and comfort. They were also somewhat accessible and overwhelmingly abundant, the cruise ships of their day. You didn't need to be rich to be able to enjoy countryside amenities like ballrooms, golf courses, Olympic-sized swimming pools, inexplicable summertime ice skating rinks, boxing rings, and dance classes with Dirty Dancing-style lifts. (While the Borscht Belt inspired the 1987 Patrick Swayze classic, the movie was actually filmed in Virginia at a lodge you can still visit.)
The Borscht Belt presented a chance for middle-class families to bathe in excess, eating, drinking, socializing, soaking up the fresh air, and, for the young people, courting. Mealtimes were always bustling with action and conversation. As dish after dish arrived from the kitchen, guests were encouraged to go wild. Hey, it was all included.
"Even when we visited in 2006 and 2007, we still didn't fully get it," says Welcome to Kutsher's Rosenberg. "When we were sitting down to dinner, we just ordered an appetizer and a main. And the waiter prompted us, 'Just one entree??' We didn't understand we weren't supposed to order a normal-sized portion."
Some 500 resorts, 50,000 bungalow colonies, and 1,000 rooming houses eventually blanketed the region. And, at its peak, it wasn't just for Jewish Americans—the Catskills became a refuge for all the marginalized. In Kershonkson, there was Peg Leg Bates Country Club, opened by Clinton "Peg Leg" Bates, a tap dancer with—you guessed it—a wooden leg. It operated from 1951 into the 1980s, making Bates the first Black resort owner in Ulster County. In nearby Jewett, the 150-acre Casa Susanna served as a getaway destination for gender-nonconforming men and trans women, allowing them a safe place to express their true selves, if only for a weekend. And if you were a guest at Kutsher's in 1954, you may have spotted a towering Wilt Chamberlain working as a bellhop.
"When we did the screening at Lincoln Center for the closing of the New York Jewish Film Festival, one older gentleman stood up in the audience," says Rosenberg. It was comedian and actor Jerry Stiller. "He said 'I want to thank you for this beautiful film. When my wife [Anne Meara] and I were just starting out, we were a mixed [religion] couple, and no one would hire us. Milton Kutsher was one of the only people that would give us a job.'"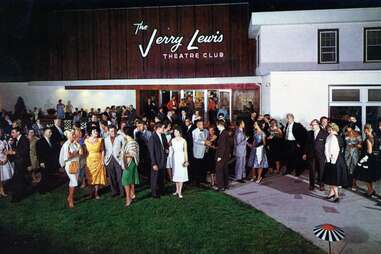 The end of an era
All the elements of time, place, and societal constraints converged to make the Borscht Belt a place where lightning not only struck, but caught fire. But after a while, those reasons started to dissipate.
"It was sort of a natural evolution," says Rosenberg, reflecting on how the region's Eastern Europe agrarian roots gave way to a very American concept. "Suddenly, the idea of vacation became this American dream, even if it was [just] for one weekend or one week. They created this really robust, wonderful world of their own."
The period historians describe as the Golden Age of the Borscht Belt lasted from the 1920s to 1965. It trundled along for a few decades after that, then faced a steep decline in the 1980s when the rapid rise of the suburbs forced country retreats out of fashion and newly affordable airfares to Europe and the Caribbean diverted the crowds. Upstate, railways slowed while cruise ships and similarly all-inclusive resorts flourished around the world. Entertainers went on to showcase their skills elsewhere, performing and writing in Hollywood. Moreover, Jewish Americans were no longer prohibited from vacationing wherever they pleased, with younger generations voicing an increased desire for integration. And so, although it led to its inevitable demise, the story of the Borscht Belt is ultimately one of immigrant success.
As the region declined, largely abandoned Borscht Belt resorts experimented with alternative means of earning an income. Before it closed in 2013, Kutsher's hosted UK-based cult favorite music festival All Tomorrow's Parties, packing the dilapidated property with fans of Iggy Pop, Sonic Youth, and indie filmmaker Jim Jarmusch. Other bungalow villages have been turned into rehab facilities, meditation retreats, and yoga studios. And others still have been reclaimed by the land, circumstances documented in photographer Marissa Scheinfeld's gorgeous 2016 book The Borscht Belt: Revisiting the Remains of America's Jewish Vacationland.
"The growth, flowering, and the exhaustion of places and of things, as well as their subsequent regeneration, provided me with potent opportunities for observation," Scheinfeld writes in the book's introduction. The photographer documents the before-and-after of ice skating rinks and river walks, grassy hillsides with lawn chairs strewn about, bedrooms enveloped in greenery, and once-ornate curtains hanging from branches like limp ghosts. Stages have become skateboard ramps, and everywhere is a paintball field. Thes overgrowth is rather beautiful, showing that in deterioration, there is also renewal—and, perhaps, renewed interest.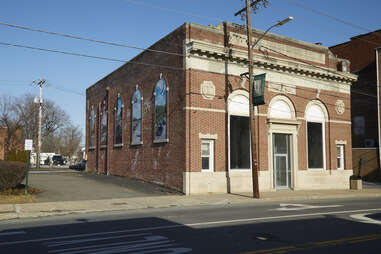 Don't call it a comeback
In season two of Amazon Prime's The Marvelous Mrs. Maisel, the main characters embark on a Catskills vacation, giving modern-day viewers a technicolor idealistic taste of what life in the Borscht Belt was like back then. The lively, stylized scenes also left their mouths watering—a good thing for Rosenberg and Laskow, who saw a resulting uptick in their streams.
"When we made our film, there was a lot of, 'Hmm, why is that interesting?'" says Rosenberg. "But when people saw it, they got that it was a slice of American culture." And after Maisel, the people wanted more.
Filmmakers aren't the only ones benefiting from this 21st century dip into Borscht Belt aesthetics. In 2019, a 1920s-era golf lodge was reimagined as the cozy Shandaken Inn, its 15 rooms each dedicated to an iconic Borscht Belt resort or camp complete with decorative artifacts like books, photos, and ashtrays. A resounding success—especially among New York hipsters who like their weekend getaways tinged with mid-century nostalgia—the hotel is currently undergoing an expansion to add cabins and a spa.
In 2022, the Jewish American Society for Historic Preservation helped launch the Borscht Belt Historical Marker Project, scattering eight interpretation signs throughout the Catskills to educate new visitors and commemorate the region's legacy. An ongoing project, dedications are free to attend and will continue through 2024, with the next one scheduled for Fallsburg's Hotel Row on October 15.
The Borscht Belt Museum's advisory board includes heavy-hitters like Alan Cumming, Fran Drescher, Harvey Fierstein, and Judd Hirsch. Set in Home National Bank's former Ellenville branch, the neo-Georgian building itself holds significance. "Up until the '40s, a lot of banks wouldn't lend money to Jews," says museum co-founder Jacobs. "This bank was one of the first that would, and it was seen as one of the financiers of the Borscht Belt because they supported a lot of these hotel owners." This past summer, the museum threw its first-annual Borscht Belt Fest, with festivities featuring Saturday Night Live and Curb Your Enthusiasm writer—and former Borscht Belt comedy employee—Alan Zweibel, among others.
Part of the project's task relies on linking the region's past to its future, which in 2023 invariably means a little bit of social media pandering. "We're going to lean heavily into the design—you can lounge in some really outlandishly decorated hotel rooms," adds Jacobs. "Part of our role is bringing history to the floor and celebrating that, but also educating."
In this scenario, the Borscht Belt might just live on—not out of necessity, but out of desire.