There's nothing quite like watching the beautiful game in a beautiful place -- especially one pulsing with the energy that only a mass of diehard fútbol (oh yea, we typed it like that) fans can generate.
But just because you're not traveling to Brazil doesn't mean you have to watch the games holed up in your hotel room or the youth hostel lounge. No, if you're trekking about this June, here are eight totally free public venues around the world where thousands of passionate superfans will be catching all the beautiful action.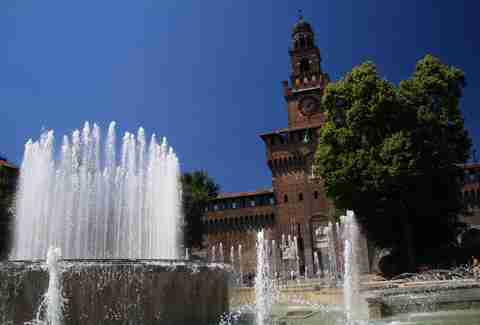 Piazza Castello -- Milan, Italy
Not only do Italians love their soccer, but they get really animated and loud and are a ton of fun to be around when their team is playing (well) -- so you can imagine what it'll be like to watch live in one of Milan's most glorious spots, the Piazza Castello. Also, if you happen to live in (or be visiting) a city with an Italian section, go there for any and all Italy games. Trust us.

Plaza del Castillo -- Pamplona, Spain
In the past, Pamplona locals would gather at the Plaza del Castillo, renowned for its gorgeous architecture, to watch toreros challenge bulls (or the other way around), but this Summer the square's set to be packed with Spanish fans cheering on the Red Fury.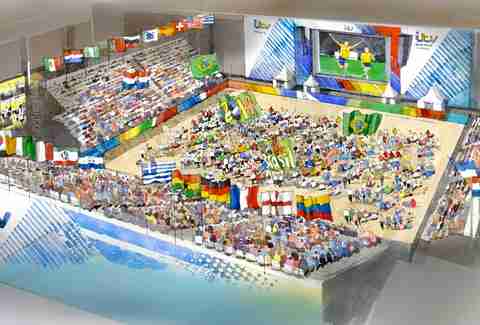 ITV Fever Pitch -- Manchester, UK
Manchester's former Granada Studios (which housed the British television network ITV) at the city's Albert Dock has big plans for this year's World Cup -- they're trucking in 450 tons of sand to create a Brazilian beach. And if sand wasn't enough, they'll also be a Little Copacabana beach bar serving up Summer-y libations and a "High Tempo zone" to put your soccer skills to the test.
While it's free to attend, you'll want to reserve a ticket -- snag yours here.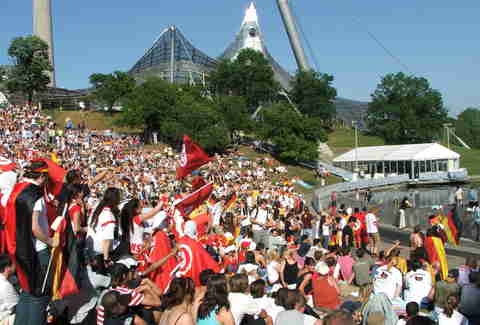 Olympic Park -- Munich, Germany
At Munich's Olympic Park, there'll be hordes of flag-waving Germans cheering against Jurgen Klinsmann on the big screen while sipping brews with names you can't pronounce. For sure, the park will show three games -- Germany's matches against Portugal, Ghana, and the US -- but after that, who knows. Maybe the US knocks Germany out in the last game. Just throwing it out there.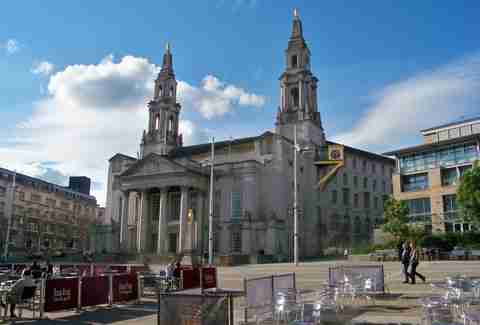 Millennium Square -- Leeds, UK
As with the very serious international singing contest Eurovision, the Brits don't usually get that far in the World Cup; the last time they won was in 1966. But that won't stop them from rushing to Millennium Square in Leeds' city center to sing Football's Coming Home (do they still sing that anymore?) and root for England. A special outdoor arena will screen two of England's matches, against Uruguay (June 19) and Costa Rica (June 24). There're no tickets, but seating is first come first served -- so get there early.

Brandenburg Gate -- Berlin, Germany
Fan Mile at Brandenburg Gate should be swarmed by irrational soccer fans for all three of Germany's games, and there'll even be a street party with live tunes to kick things off on June 16. Head here for more information, and -- if you need a break from Fan Mile -- for a list of surrounding bars/cafes also showing the Cup.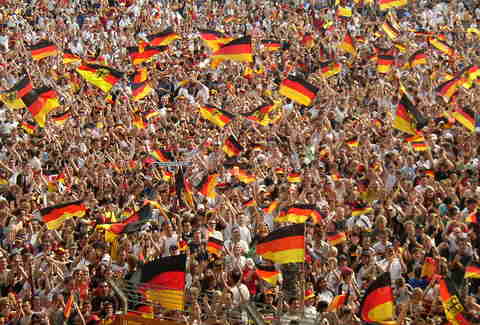 Yep, this how insane things got last time. Maybe, probably, definitely wear your '94 Cobi Jones jersey underneath several other shirts.
The Paley Center for Media -- Los Angeles and New York City
If you happen to be traveling in the US and don't want to watch Dodger/Yankee games alongside all the World Cup action, check out the Paley Center for Media in both NYC and Beverly Hills; they'll be broadcasting a lot of the tournament. Head here for the full match schedule for both the NYC and Beverly Hills locations.
Ipanema Beach -- Rio de Janeiro, Brazil
Ok, so if you did make it to Rio for the World Cup (you lucky dog) but weren't able to get game tickets (that's cool, you're still in Brazil) hit Ipanema Beach to check out the soccer on the big screen and Brazilian babes in bikinis. 
Chloe Pantazi is an editorial assistant on Thrillist's travel team. Greek-Cypriot, and born in London, she usually supports Greece or England in the World Cup, depending on who plays better. Follow her to a Greek victory on Twitter at @ChloePantazi.