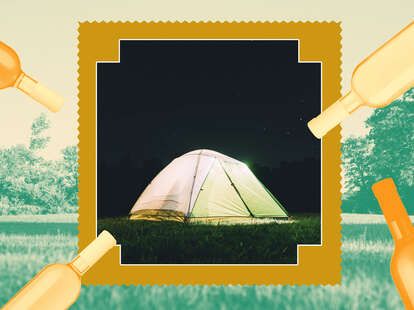 Design by Maitane Romagosa for Thrillist
Design by Maitane Romagosa for Thrillist
Here are some camping hacks for the next time you find yourself with a cooler of melted ice and a beer that needs chilling: Wrap your can in a cold wet t-shirt and prop it up in a breezy area. Or dunk it deep in a nearby river or stream. Or BYB: bury your beer in the shade, tucked all cozy-like in the cool dirt.
Alternatively, we have a boozy camping tip of our own: Stroll over to the taproom of the on-site brewery, and have one of theirs.
As we gear up for summer road trip season—including 2.6 million new RV owners!—and start scrounging for in-demand campsite reservations, we have a secret to share: around this great land there are a number of benevolent breweries and wineries that will let you set up on their property, and partake of their product.
Some require a nominal fee through booking platforms like Hipcamp, Reserve America, and Campspot; others are accessible through memberships like Harvest Hosts ($99 a year, but free, unlimited camping for their over 2,336 listings). And all have booze at the ready. We've rounded up 13 spots for nature-lovers to enjoy their alcohol alfresco.
Bangor, California
As you can probably imagine, there's no shortage of wineries for camping in California. But the sweet set-up at the Hickman Family Vineyard in the Sierra Foothills offers a little bit of everything: park yourself in the vines, near the pond, or go for open grassland. Bocce, cornhole, and tetherball keep you entertained; wine and pizza keep you satiated. The property is also a working farm, so in addition to roaming rabbits and deer encounters, you can say hi to their pigs and horses and even buy some fresh eggs to cook up for breakfast.
Hipcamp; $55; RVs and tents
Roseland, Virginia
The largest brewery in Virginia serves up suds like the fruity Juicy Magic IPA and the imposing bronze-medalist Danzig, a seasonal porter named after a Baltic sea town. Settle in for a beercation at their Basecamp Brewpub, located at the base of the majestic Blue Ridge Mountains near fishing and hiking trails. It's the perfect jumping off point to explore Shenandoah National Park's 200,000+ acres of serene drives, thunderous waterfalls, and panoramic vistas.
Reserve America; $35 to $65; RVs and tents
Lewiston, Idaho
Camp among the fields and sip wine in style on the pergola-covered patio of the Lindsay Creek tasting room. Play bocce on courts scattered with crushed Puget Sound oyster shells, then get out and explore: located at the confluence of the Snake and Clearwater Rivers, this is a prime spot for fishing and rafting adventures, with pristine national forests in almost every direction.
Harvest Hosts; RVs
Muenster, Texas
At 4R you'll not only have access to award-winning wines at their tasting room, but the campsite overlooks the stunning hillside topography of the Red River Valley. (Pro-tip: Visit the tasting room in the afternoon for a spectacular sunset from their deck.) Hiking and mountain biking can be done on property but be aware: you may run into wildlife, including the occasional Rio Grande turkey. Step aside: this is their turf.
Hipcamp; $30; RVs and tents
Rock Stream, New York
After a long day's drive, sometimes the last thing you want to do is deal with the tent. The glamping set-up at Seneca Lake Brewing lets you skip straight to the good stuff: drinking beer by the fire. You get your choice of three tents: two in the secluded woods and one closer to the coveted Tudor-style British pub (name: The Beerocracy), with refreshing views of the namesake lake. All come with queen beds, Adirondack chairs, fire pits, and easy access to the supremely chill Finger Lakes region, which rocks over 100 wineries and billions (probably) of waterfalls.
Tentrr; $145
Little Orleans, Maryland
This Western Maryland craft brewery opened in October of last year but hit the ground running, offering craft beer brewed on site, Maryland wines and Western Maryland Lemonade, and pizza and beer cheese to sop it all up. Set up shop on three acres of land near the Green Ridge State Forest and if you choose the right day, you might be serenaded by live music. Keep the adventure going with these other great camping spots outside of DC.
Hipcamp; $40; RVs and tents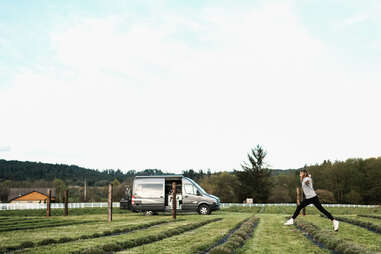 Seymour, Indiana
With groomed grassland for tent camping plus a parking lot for RVs and vans, there's boozy options galore with both a winery and brewery on the property. It's also near a popular fishing spot on the White River, so catch yourself some trout and pair as you see fit. And pack something nice: There will probably be a wedding on property that could use some crashing (don't tell them we said that).
Hipcamp; $35; RVs and tents
Malboro, Vermont
And the award for best views goes to Beer Naked, where you'll set up camp on the top of Hogback Mountain with gorgeous 100-mile views (on a clear day, you can even spot Massachusetts and New Hampshire). Pair the panorama with craft brews, cider, wine, and wood-fired pizza. Note: Despite the name, clothing is required.
Hipcamp; $50; RVs and tents
Fort Pierce, Florida
We would expect nothing less from Florida: Breezy Summer Crush Vineyard hosts live music and food trucks every weekend, plus special events like car shows. Visit the tasting room, take a tour of the facilities, or just sip wines with names like "Marlin Monroe" and "Rated Arrrr" under palm trees. While you're in the area, zip down to Stuart, one of our favorite Florida spots, where you can explore the blissfully undeveloped protected shoreline at the Blowing Rocks Preserve.
Harvest Hosts and Hipcamp; $35; RVs and tents
Pomona, Illinois
For more bang for your wine-tasting buck, this campground is nestled between two purveyors on the Shawnee Wine Trail: Hickory Ridge Vineyard and Pomona Winery. Hop back and forth, or go maximalist and visit all nine. You'll be camping on 37 acres of Ozark forest with oodles of hiking, kayaking, climbing, and horseback riding nearby (assuming you can overcome your wine trail hangover).
Hipcamp; $25; RVs and tents
Ocean Springs, Mississippi
The perfect stopover on your Gulf Coast road trip, the Fort Bayou Brewing Company offers seven spots to park your RV plus a taphouse serving Cajun-inspired dishes. The rest of your time should be spent exploring one of America's most underrated beach towns, catching live music on Government Street, indulging in seriously good seafood, or adventuring out to Ship Island for the ultimate beach day.
Harvest Hosts; RVs
Deming, New Mexico
Fun fact, New Mexico's wine industry is older than California's —dating back to when the state was still Spanish-owned. And now you can set up your rig at the state's largest winery at their location in Deming, with a tasting room and live music every Friday. They'll also pick you up for tours of their nearby winemaking facilities. Other nearby stops on your road trip itinerary should include White Sands National Monument and the natural hot springs at the excellently-named town of Truth or Consequences.
Harvest Hosts; RVs
Boothbay, Maine
Hike along Maine's craggy coastline, take an art walk on Boothbay's growing Sculpture Trail, visit the harbor, or if you must, get some work done, as the RV hookups at this neighborhood brewery come with internet access. Wind down with wood-fired pizza and live music, or challenge some pals to bocce or corn hole.
Campspot; $39 to $59; RVs and cottage rentals