Have you ever wanted to visit the "oldest continuously-occupied, European-established settlement & port in the continental United States" while slammin' beers and high-fiving classy women? Well, thanks to the good people over at Bon Beer Voyage, now you can (well... at least the slammin' beers part). Running Sept. 27th - 29th, you and a bunch of other history-loving, beer-swigging strangers can all meet up in St. Augustine, Florida for their 3rd Annual Beer Safari Weekend. What's a beer safari? Well, for starters...
You'll hit A1A Ale Works & Mile Marker Brewing to kick things off; be prepared to sample some complex craft suds and meet the brewers firsthand. After downing a few, be hilariously historic and recount the significance of the feast day of Augustine of Hippo; he was the hungriest of them all.
Because driving would be ill-advised (and walking's for old people and herdsmen), you'll be whisked away in the finest of historic trolleys and given weekend passes to boot. You could even take a day trip to the Fountain of Youth, which apparently stopped working circa 1575 (90% of Florida's population is over the age of 65).
As if a vacation chock-full of craft beer and trolley rides wasn't enjoyable enough as is, prepare to also tour one of America's top chocolate institutions: Whetstone's Chocolate Factory. Have you contemplated the nuances that differentiate dark, milk, and white chocolate? Whetstone's has, and Whetstone's wants to tell you. Will you listen?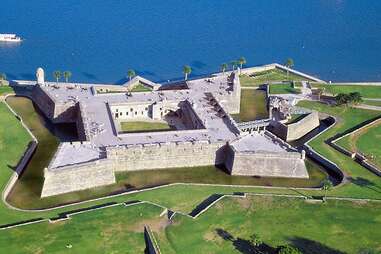 Oh this remarkable piece of masonry? It's the Castillo de San Marcos, and it's the oldest fort in the US. In your haze, be sure to meander 'round and listen to some weirdo dressed in British colonial garb blab about the time some guy got his ear cut off, an event which spawned an all-out war they aptly dubbed The War of Jenkins Ear. How's that for some drunk history?