Ever wonder what your apartment might look like if, instead of tossing your empty PBR cans into the recycle pile, you lined the walls with them? Now imagine you did that using over 35yrs-worth of beer cans, and had a passport loaded with as many stamps... That's exactly what one suds enthusiast -- and longtime collector of brewery memorabilia -- in Pennsylvania did, opening a hotel to display his collection from around the globe.
Recommended Video
You Can Now Get Artisanal Twinkies Delivered to Your Door in NYC
Welcome to the Brewhouse Mountain Eco-Inn in scenic York Haven, Pennsylvania (population: 709). From its rustic and woodsy exterior, you'd have no idea this humble hotel boasts 82,291 more cans than the town has people.
The dude who owns the joint -- nestled on "four acres of mixed hardwood forest in the Conewago Mountains" -- started collecting cans as a teenager in the 1970s. When he's not showing you around the inn's impressive downstairs common room, he runs a landscape design/ construction company. Oh yeah, and a record label!
The inn maintains five private bedrooms -- each featuring cans from a specific country or region -- which can be rented as a whole ($379/nt), or by the room ($75/nt). Behold, the Pacific Room...
Located off the downstairs kitchen, the American Room's US steel tab is the inn's finest.
Even the bathroom's tricked out with beer porn, with an enticing array of "antique bottles, lithos, neons, porcelain signs, and every imaginable type of breweriana from days gone by".
As is the upstairs common room.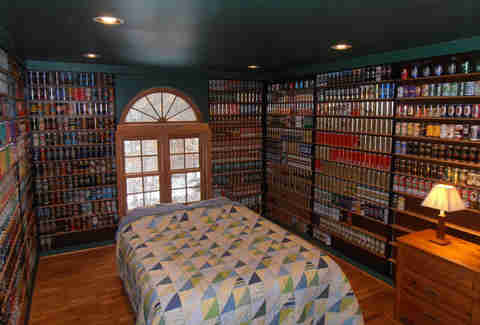 Like your biers from zee Fatherland? Book the German room, pictured up top.
Sliding wall shelves ensure you've got multiple layers of cans to gaze upon whilst falling asleep. And in this room, track lighting illuminates the many rare finds from Africa.
Assuming you're exhausted from saying, "Wow, look at this one!", you can escape all the aluminum by ducking into the noooo, not here too!?!? first-floor library, where you can chill while perusing a book about -- you guessed it -- beer.
Dave Baldwin is Thrillist's senior travel editor and once spent a long, sleepless night in a French ATM booth. Follow his exploits at @ThrillistTravel.
Previous Venue
Next Venue
Venue Description
1. Brewhouse Mountain Eco-Inn
350 Roxberry Road, York Haven, PA 17370
A modest, eccentric hotel in small-town Pennsylvania, Brewhouse Mountain Eco-Inn takes brew love to another level, lining its walls with a total of 82,000 beer cans from around the world. The cans were collected by its beer connoisseur owner, from over 35 years of travel.