Shredding Canada's Towering Powder Highway is Like Skiing Through Time
Revelstoke Mountain Resort

| stockstudioX/E+/Getty Images
Revelstoke Mountain Resort

| stockstudioX/E+/Getty Images
The world's avid skiers and snowboarders likely regard British Columbia's "Powder Highway" -- a jaw-dropping collection of mountain towns, hot springs, and monolithic slopes tucked in a compact section of the Canadian Rockies west of Calgary -- as the globe's crown jewel when it comes to sliding downhill on boards of some sort. From December to late April, it's one of the best places on Earth for powder hounds.
There are endless snoCat and heliskiing opportunities to be had in this mountainous region known as the Kootenay Rockies, as well as eight major ski areas. Each one possesses its own rich history and specialties, all emanate a welcoming, outdoor-loving spirit that would be top tier were they they the only options to hit the slopes. Taken together, they make this a world-class destination.
The two resorts on opposite ends of the route, however, are standouts. One of them happens to be the oldest resort in Western Canada and the other the youngest. And together, they form perfect bookends representing the region's downhill past and its unparalleled future. They offer the best the Powder Highway has to offer. Here's how to make the most out of each.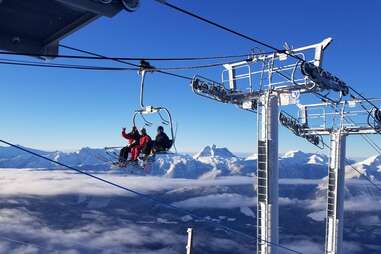 Revelstoke: Huge vertical drops at BC's newest ski destination
To be accurate, the mountains in and around Revelstoke on the northeast side of the highway have been prized by skiers and snowboarders for decades, but until 13 years ago, in order to get to the top of them, you had to either employ your body's own power using some form of uphill-oriented gear or take a snowmobile, SnoCat or helicopter.
Then, in 2007, Revelstoke Mountain Resort was born. The statistics that sets the resort apart is its dizzying, 5,620-foot vertical drop: the longest in North America. What many don't know is that you don't have to plummet off a cliff or be an expert skier to clock in this bounty of vert. From the top of the resort, you can ski the entire way to the base on a four-mile long, gentle groomer. If you have the skills and want to get your adrenaline pumping, the best way to do it is by taking a short hike to the powder-packed, steep chutes of North Bowl and Greely Bowl. There is also a series cruisers for the in-between riders; two that you will never tire of are Denver Dollars off of Ripper Chair and Practically Pro, off of the brand-new Stellar Chair, which serves an entire area of terrain in which you can always find a large swath of slope to call your own. Although Revy boasts more vertical than anywhere else, it's not easy to get lost, as the entire ski area is served by one long gondola and three chairlifts.
On a sunny day, there's no better place to take in the views than at Mackenzie Outpost, the tiny lodge that gets packed with the lunch rush (the chicken and waffle sandwich is worth the wait) and outside of which lies one of the most intimidating runs on the mountain – Kill the Banker. The steep pitch alone will have you trembling, but the prospect of becoming a human snowball directly in view of the gondola, which runs the length of the slope, will make sure only the least self-conscious of shredders try their turns here.
The rental shop at the base area carries top-line skis and boards for every type condition and Mackenzie Common Tavern is where the collective après energy reaches a high note over a Caesar (i.e.: Canadian bloody Mary) or hot mulled wine.
While the resort practically glows with stark newness, the town of Revelstoke still holds an authenticity true to its blue-collar heritage -- the railroad and hydro plant are still its key economic engines -- in the confines of its adorable and friendly downtown, which possesses both a historic charm and a few face lifts in the form of fine dining at Quartermaster Eatery. The pan-American, carnivore-forward restaurant is attached to The Explorer's Society, Revy's first boutique hotel with nine rustic-chic rooms housed in an immaculately renovated 110-year-old building.
You also won't want to miss the chance to find out how much of a ringer you are when it comes to lobbing lumberjack tools (or, be prepared … you might really suck at it) at the newly opened Peak Axe Throwing. Lastly, if you are feeling like you were born with BC ski culture in your blood, you'll need to dive into a plate of creatively prepared poutine at après hot spot Chubby Funsters.
Red Mountain Resort: Old-school thrills and timeless
Just because it's been around since The Great Depression doesn't mean historic charm is the only thing Red has going for it. First of all, after adding 300 acres of intermediate terrain and another chairlift (Topping Creek) this season, Red qualifies among the top 10 largest ski areas in North America. Its four sprawling peaks include 360-degree skiing/riding off of Granite Mountain as well as a $10 SnoCat experience to Mt. Kirkup, from which you can either choose your own playground among the selection of avalanche-controlled, wide open glades or hike out of a gate for backcountry access. Although its lifts are slower than what you'd usually find at an enormous ski resort, you can typically ski onto them without waiting five minutes on even the busiest weekend.
The mountain is speckled with old trappers' cabins built before the first chairlift arrived in 1947, and you can peek inside a couple of them and imagine what the ski days of yore were like for those who strapped onto their wooden boards right outside the door after sleeping on a hard, built-in bunk next to a wooden stove. In Red's main day lodge, you'll find the banged-up lockers once used by miners (now by resort staff) and the top floor occupied by what is arguably the ski world's No. 1 aprés spot, Rafters, built from log rafters of the old mines and constantly abuzz with beer pitcher-swigging merriment. The lodge is also home to a rental shop offering state-of-the-art, brand-new skis and boards from a variety of international and boutique brands. A few steps from the day lodge, the Josie Hotel is a beacon of upscale accommodations and fine dining.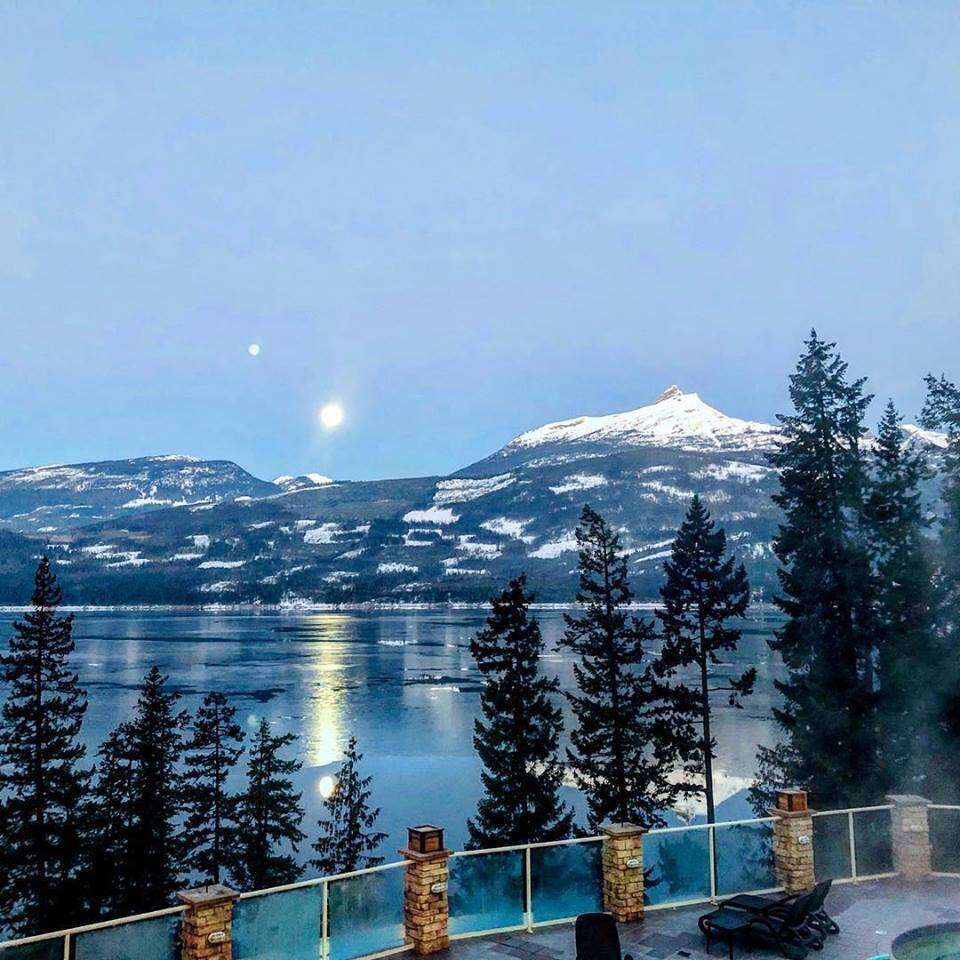 Just down the road from Red Mountain lies the town of Rossland, which, like Revelstoke, is a historic town built off of the treasures of the land (gold and silver, in Rossland's case), but took shape as a picturesque downtown. The town is occupied by old favorites like Idgie's and The Flying Steamshovel, -- where you can sip a fine Caesar and nosh fresh seafood before or after your day on the slopes -- and fresh suds at Rossland Beer Company, which is expanding to accommodate the raucous demand for frothy, award-winning après libations.
As you're traveling between Red and Revelstoke (a four-ish-hour journey that includes a scenic ferry crossing), you'll absolutely want to stop somewhere for a soak in one of the countless natural hot springs along the Powder Highway. Top among these are the healing Lithia waters of the Halcyon Hot Springs, situated on the banks of Arrow Lakes and home to a few cozy lodge rooms as well as gourmet pub fare at the in-house Kingfisher restaurant, which also boasts amazing lake views and an impressive list of rare and tasty local wines.