Universal Pictures + Maitane Romagosa for Thrillist
Universal Pictures + Maitane Romagosa for Thrillist
Everyone — bears, twinks, circuit gays, overeducated queers, families, tourists, and townies — gathers outside of Spiritus Pizza. Seated on benches, or plopped down on the tiny raised brick patio, or strewn across Commercial Street, the main drag of the town where Spiritus (and a majority of the other businesses and attractions) lays. Its sanguine painted front is hard to miss. That the brainchild of Paul Schneider and his business partner, birthed in 1971, would become such an essential space for community in Provincetown, the little gay and queer enclave that shines at the tip of Cade Cod, MA, feels at once surprising and inevitable. Family-run since its opening, with daughter Sophie Yingling now at the helm, it appears to represent the town's ethos as a place for, as Yingling told me, "weirdos, misfits, and interesting people that all kind of came together and decided that they were going to do whatever it was that they're good at."
As much as Provincetown can operate as a revered place for sexual tourism, it has a versatility that appears to be embodied by Spiritus, evidenced by its function as a hub for everyone to gather to socialize or cruise, both day and night. (Due to Massachusetts liquor laws, alcohol can only be served in the state from the hours of 8am and 2am, making Spiritus one of the few places open after 2.)
That homing beacon for the alienated and the othered, and the complex reality of how it's changed over the years, pulsates through Provincetown on screen as well in Bros, the new gay romantic comedy directed by Nicholas Stoller and co-written and starring Billy Eichner. For Eichner's protagonist Bobby, podcaster and chief curator of the soon-to-be open LGBTQ+ History Museum in New York City, the significance of the seaside town, which goes from 3,000 people in the off season to 60,000 at summer's height, seems implicitly rooted deep within the character's sense of self, a familiar place where self-actualization feels markedly different — maybe better? — than it would anywhere else.
"Provincetown is maybe my favorite place on earth," Eichner said in an interview published by the Cape Cod Times. "It's as far out on Cape Cod as you can get. Being able to film in Provincetown added so much style to the classical romantic story. The town has a rich, gay history but is beautiful, sexy, and fun." Paradoxically, the town is constantly changing and yet remaining ever the same, rooted in and changed by history — not unlike the film.
Provincetown appears about halfway through the film, necessitated by Bobby groveling at the feet of a television mogul Lawrence Grape (Bowen Yang) for a hefty chunk of donation money to help fund the LGBTQ+ History Museum. It also happens to be Pride Weekend. He brings along his boyfriend, Aaron (Luke Macfarlane), and they stay at a place in P-Town's West End, which is full of cottages and beach-front homes that are either owned by or rented out by some of the proudest people to ever tell you they donated to the DNC. Even early in this brief but significant sequence in the film, history runs through Bros' vision of the place. Their West End rental's host, Louis (played by Harvey Fierstein), solidifies this point: "I've been comin' up to P-Town since 1976," he says with his unmistakable whimsical growl. We see an old picture, denim jacket draped on someone with devil may care attitude, and another with Louis and his friends. Bobby asks if they come to town as well, and his host replies soberingly, "By 1996, four of the seven of them were gone. I got this place in 1999 when I realized, miraculously, I was gonna survive."
Provincetown has transformed itself several times, from its home to the Wampanoags & Nauset tribes in 3rd and 2nd Centuries BCE, to the landing spot for the Mayflower Pilgrims, to the Portuguese community that immigrated in the 1860s and remains there today. Also critical to P-Town's DNA is its history as an artist colony, where playwrights like Tennessee Williams and Eugene O'Neill; writers like Norman Mailer, Michael Cunningham, Tony Kushner, and Mary Oliver; and artists like printmaker Blanche Lazelll and abstract expressionist Hans Hoffman, have come to call it home. It was this community of creative people that planted the seed for Provincetown evolving into a space for the queer community, developing at a rapid pace beginning in the 1960s. In the 1980s and 1990s, in the midst of the AIDS pandemic, Provincetown took on the role of caregiver and safe haven, as one of the few places LGBTQ people could take refuge and seek treatment. The Provincetown AIDS Support Group (now the AIDS Support Group of Cape Cod), founded by Rose and Crown guest house owner Preston Babbit and Alice Foley in 1983, became the area's place for community for those living with and affected by HIV/AIDS in a time when safe and non-judgmental places for such people were scarce. Acceptance and inclusivity are woven into the fabric of Provincetown, or at least its mythology.
Los Angeles-based co-star, Bros producer, and comedian Guy Branum is a relatively recent P-Town convert, having visited in 2021 before the film started shooting. "It all seems very annoying to go to, to travel for 10 hours, from a place with sunny 72 degree weather to a place with rainy 60 degree weather," Branum told me over the phone. "And then, when the magic was unfolding, I [had] that moment of, 'We have one that's just for us. We have an adorable little New England beach town that is just for us where, you know, sex is happening everywhere.'"
In Bros, after Aaron has helped Bobby successfully endear himself to the millionaire and convinced him to donate $5 million, the two celebrate by going around town: stopping for a slice at Spiritus, walking by the A-House, running from one candy store to another right across the street, and finally relaxing on the beach by the shore. In P-Town, you're always a few minutes (sometimes less) from everything: the beach, a shop, food. And on the beach, Bobby finally begins to seriously open up to Aaron, talking about the ways in which people or spaces have told him to be less gay, less loud, less himself. He's bathed in the late afternoon sunlight, putting a rest to the endless cycle of making a case for himself. Because in Provincetown, you don't really have to.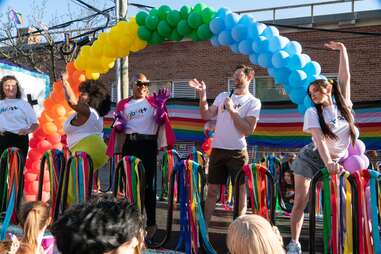 When the Bros crew contacted the Provincetown Tourist Office in June 2021, Yingling was one of the first vendors considered for the film. "They approached me completely cold," Yingling said. "They just came one day, and they were looking for the manager. When they started talking about, what kind of film this was going to be and how important it is for Hollywood to have films like this, I was really excited to work with them."
The film is touted to be the first gay romantic comedy backed by a major studio, Universal, with an openly LGBTQ cast, and which is getting a wide theatrical release, and is suffused with an blinding awareness of that. Casting Bobby as a curator of an LGBTQ+ history museum, the first of its kind, explicitly aligns itself with its own impression of where it will fit into (queer, film) history, and how it wants to shape and be shaped by it, as well.
There's an irony here though: While it, in its brief literal screen time (about 10ish minutes), illustrates the place as a goofy gay time, it's the scene with Bowen Yang's wealthy producer that gestures towards the more complicated reality of Provincetown, beyond its reputation as a haven. When introducing Yang's character, he argues with a neighbor about a bush and where it falls on the border between their properties, as if to imply the petty bourgeois turf wars have leaked into gay culture. It's a clever joke, and generously reads as an amusing critique of the kind of people that have come to dominate the area. ("Beige dentists," a friend once quipped to me to describe who often bought property in town.)
Bros, regardless of quality, is a film that inserts itself into and asserts itself as history and utopian in a way, like the town it features. And those qualities don't not exist there: P-Town was, for this writer, truly a home when I needed it at a critical point in my life. I spent two summers working and living in town, and it's one of my favorite places on earth. You can as easily get lost in the bustling crowd of tourists as you can find a quiet spot to have a sandwich while watching the sunset. Its adaptability for different kinds of queerness made it easy and comfortable for me to find friends, from people who stopped by for a weekend to other people hustling through the summer. On Fridays at 11, I'd go to a packed Grotto Bar and lose my voice at Scream Along with Billy, where musicians Billy Hough, Sue Goldberg, and their friends tear through a stripped-down version of an album, from Fleetwood Mac's Rumors to Prince's Purple Rain. It taught me about the kind of queer person I wanted to be and what I wanted out of community. But, like the state of many queer destinations, its accessibility has changed dramatically over time.
In Welcome to Provincetown, a podcast by Mitra Kaboli, the host trails several characters who make the living there, across gender, age, and race, seeing just what it takes to make it there. But with housing markets skyrocketing (average cost of a home is $876,000, up around $100,000 from Boston), amplified by wealthy residents buying houses that are used only during the summer and abandoned the rest of the year, being able to experience that utopia for young queer people themselves is becoming increasingly difficult, not helped by the fact that it caters heavily towards white cis gay men. (The demographic often skews somewhat older than, say, Fire Island.) But Kristen Becker, an important character on the podcast, is doing what she can to make it available to the young people who might need it most with her relocation program, Summer of Sass, which helps young people with housing and finding a job.
I went back to Provincetown a few weeks ago and got to show some of my closest New York friends the place that made me. It had changed and it didn't, as always. Even in brief, that contradiction is evident in the film, the large house of an industry tycoon down the road from a cute pizza place. As stores come in and out or manage to stay open year after year, and the crowd goes up and down Commercial Street like a river whose direction changes whenever Tea Dance, the famous outdoor dance party, is, Provincetown is always in conversation with itself, thinking about how it can continue to serve queer people, wondering what it will become next.
Kyle Turner is a queer writer based in Brooklyn, NY. His writing has been featured in W Magazine, The Village Voice, GQ, Slate, NPR, and the New York Times. He is relieved to know that he is not a golem.