Spend the night in France's bubble hotel
Picasso. The Louvre. Johann Sebastian Bach. Europe might be renowned for its arts and architecture, but it's also the mother continent of really weird places to sleep. When it comes to unorthodox accommodations, the Europeans have the market cornered; from sleeping in a sewage pipe or ice hotel, to bedding down in beer barrel, treehouse, and now -- at Southern France's Attrap'Reves Hotel -- a giant bubble.

10 miles north of Marseille in Southern France lies the Attrap'Reves Hotel chain of mini villages with eco-friendly, fully furnished bubble rooms. Made from recyclable materials, the rooms are scattered -- six per site -- throughout the area, to provide guests with varied surroundings and levels of privacy.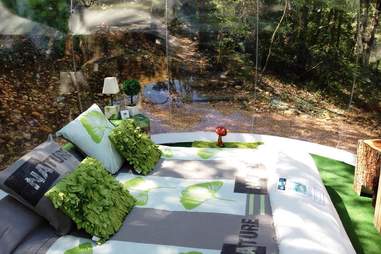 There are five different styles of bubble to choose from, with the Zen option being the most popular. Each room has a diameter of about 13-feet and comes equipped with a rigid floor, king-sized bed, and a telescope for some late-night stargazing -- from your bed!
In case you're wondering how you're suppose to breathe in these giant hamster balls, there's a silent filtration system that recycles the air.
You also may be wondering where you're suppose to, um, relieve yourself. Naturally, the plants behind your bubble. Kidding. Private toilets and showers are housed in a separate wooden (as in, not transparent) cabin nearby. There's also a main building with food, common areas, and...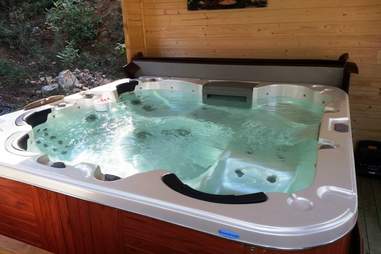 And finally, if you don't want to feel like a total lab rat, some bubbles are semi-opaque for added privacy.
Rates start at $150/nt (€109) for a two-person bubble, and locations include Allauch, La Boulladisse, Puget Ville, Montagnac, and Saint Maime.