How to Fly on the World's Cheapest Airlines Without Getting Screwed Over
Whether you love flying for dirt cheap or would frankly rather walk from Phoenix to LA, you have to admit budget airlines are the most disruptive force to hit air travel since deregulation. Low-cost carriers like Spirit and JetBlue and Frontier are huge in the States; the likes of Norwegian, Ryanair, and easyJet fly you around Europe at bus-ticket prices.
Sexy, eye-popping prices like $99 flights to Italy and $9 flights to Jacksonville (who cares, it's NINE DOLLARS) have introduced an entirely new market to the skies, and given literally everyone in the world greater mobility. And the pay-only-what-you-need model makes sense too. If you're 5'2", you might not mind a cheaper middle seat in the back as much as, say, Kevin Durant. If you enjoy the subtle nuance of an airport Cinnabon, no need to shell out for a flight with meals when crossing the Atlantic. The à la carte system works so well, even legacy carriers have caught on.
But, as with practically anything in life, there's always a snag. Extra fees, quirky flight routes, and a more helter-skelter culture can throw off even the sharpest travelers. Navigating those can make the difference between a great cheap vacation and a miserable time in the sky. We chatted with our crack team of travel writers who've taken discount airlines from Bangor to Bangkok, and they dished on their best tips for flying the frugal skies.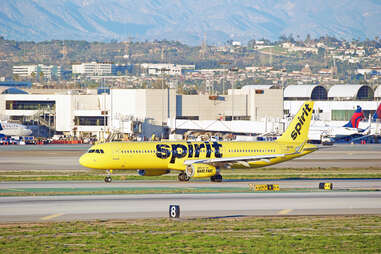 Don't get suckered by a sticker price
The $39 flight on Spirit might look good compared to a $100 flight on American, but assume that Spirit will charge extra for anything and everything short of the air you breathe. Need a bigger seat? Checking a bag? Bringing a pet? Want to choose your seat? Tack those extra fees onto that sexy base price, then make your decision. Having a handy chart of an airline's respective fees lets you calculate quickly when comparison shopping.
Sign up for newsletters to get first dibs on super-cheap flights
Nobody loves email spam, but for airlines like Frontier, signing up for the email newsletter often gets you early access to fare sales. I once scored a $54 roundtrip ticket from NYC to Miami, just because I saw the email and booked right away. Also, budget airlines are not always available on popular money-saving search engines like Skyscanner, so regularly checking the actual sites is often the best way to find deals.
Beware the unrealistic layover turnaround times
Budget airlines love to overestimate their punctuality. So if they offer you a tiny-tight window for a connecting flight, give it a hard look. On a recent trip between Montreal and Berlin, one flight was delayed, leaving everyone on the plane with a connecting flight twiddling their thumbs in the airport for almost a full day. A too-good-to-be-true turnaround time is often exactly that.
Booking international flights in local currency is sometimes cheaper
When flying international, it's sometimes cheaper to book in local currency if you have a travel credit card that doesn't charge fees on international transactions. In your search settings on the airline's website, you can change the country from the United States, or alter the .url extension -- for example .com/it for Italy -- or choose to see prices in euros rather than USD. A simple Google search to convert EUR to USD will show you whether the price is cheaper or not.
Don't wait to book your return flight
During high season, budget airlines price flights to popular vacation destinations (Greece, Croatia, etc.) attractively low so they can squeeze you on the way back (a 10-euro flight deal to Sofia, for example, might have a 150-euro return). Wait until the very last minute and you'll usually be paying for it. A friend got especially burned when, after a 40-euro flight to Athens, Ryanair decided to cancel a slew of flights to accommodate staffers with vacation time. A return flight that usually clocks in around 150 euro jumped to 350 just a few days before departure.
Know when the upgrade is worth it
A super-cheap flight isn't worth it if you deplane feeling like garbage. When you're selecting add-ons, have an honest conversation with yourself about what's going to make your vacation suck. On longer-haul flights, for example, shell out to pick a seat in advance and reserve room in your budget for a carry-on, if needed. If it's a crowded route at a popular time of day, maybe buy priority boarding to ensure your bag gets in the overhead bin. For a flight less than three hours, maybe save your cash. It's simply easier to put up with a middle seat in the back of the plane on a short dash.
And know when to splurge for first class
You know who never flies budget airlines? True ballers. You know who thus gets to feel like a baller on a budget? Maybe you, sport! When flying Norwegian, for instance, weigh their PremiumFlex option, the cheapskate's version of first class. The seats are comfy, the food's delicious, the amenities are plush. Even that upgrade to Flex comes with free meals, fast-track boarding, and two checked bags. Especially if you're going to be buying a lot of a la carte services anyway, consider the package upgrade.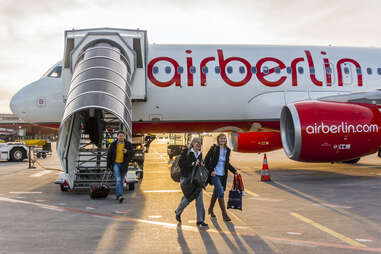 Research the size of the airplane (and your legroom)
Especially when flying international, do your homework on how much space you'll have so you know what you're getting yourself into. (AirBerlin showed me exactly how sadistic Germans are when I flew them, since I didn't know they had almost no leg room and didn't buy a bigger seat.) The industry term of art is "pitch" -- basically, the front-to-back floor space a seat occupies, and the source to vet those is SeatGuru. For instance, some short-haul Spirit configurations shrink their pitch to just 28 inches. If you're more than 5-foot-zero, you're going to feel that pinch.
Factor in your trek to the airport
Particularly in Europe, budget airlines such as Ryanair and easyJet mostly run out of secondary, smaller airports like Paris' Orly or Berlin's Schönefeld. Getting from those airports to the city centers may be slower and more expensive, so factor the extra cost and extra headache into that cheaper ticket.
Assume nothing is free, so show up prepared
Anything you could qualify as a "good" or a "service" has a value, right? Well, be prepared to pay up for pretty much every last one of them. Want to get your boarding pass printed at the Spirit counter? That'll be $10. (Or free at the kiosk.) Want to talk to a Spirit rep when you book? That'll be $35. (To encourage you to book online.) The bottle of water or can of ginger ale you get for free on Delta will run you $3 on a Spirit flight.
If you want to fly dirt-cheap, just prep. Pay for any bags you're going to check as you book, not at the airport. Bring an empty water bottle to fill in the airport bathroom. Eat before you fly, and bring snacks along. Basically, just act like a grown-up in charge of your own groceries and you'll do great.
Get there really, ridiculously early -- even if you're already checked in
Again, international budget airlines often run out of smaller, shittier airports prone to long lines and chaotic service. Sometimes gates aren't announced until as little as 10 or 15 minutes before closing. EasyJet, especially, is known for being incredibly strict about gate closing times -- I learned this the hard way in Berlin, despite arriving two hours early, when the security line was completely backed up and the staff kept insisting I had enough time. I ran to the gate and it had already closed, and although the plane was still sitting there, the staff wouldn't dare open that door.
Don't check bags
Now's your chance to travel light. Checking bags is expensive, and should your bag be lost, customer service will be less than agreeable. Sizing standards for carry-on baggage vary among North American, European, and other continental carriers, so get yourself a small, sturdy bag. Your roller might be denied in the cabin, and if that happens, they'll hit you with another fee -- Spirit charges 100 smackers to check at the gate.
Try the shoe-bag packing trick
The Pack Light philosophy leaves little space for extra shoes, which, if you're a runner or hiker, can prove tricky. The secret: Tie the extra shoes by the laces to your personal item. That way they don't fall prey to baggage size restrictions, and you'll look like a fitness-minded retro-hobo.
Actually, just wear as much of your luggage as possible
A $30 excess-baggage fee will put a damper on your $8 Ryanair ticket. Sometimes it's worth putting on a few extra sweaters and leggings under your jeans to keep bags light -- and now you won't have to worry about getting a blanket, which they'd 100% charge you for.
Be prepared to be much more patient
You're allowed to get upset if an expensive airline has major delays or if you paid for extra leg room and didn't get it, but the motto for every discount airline is "go with the flow." Sixty bucks to fly cross-country is a pact with the devil and you know it. So just do your best to chill, man.
If you have a problem, take to social media
Tweet at them. Spirit's actually an OK airline, in the grand scheme. Take the time they canceled my flight because of a pilot strike. They booked me on a flight leaving the next day and gave me $50 for my troubles. Not exactly a ransom, but it was something. Neglectfully I let the voucher expire, so I tweeted at Spirit (which was once, but is no longer, an autopilot account) and turned on the charm. "I love you guys, you're the best, you've always been so helpful, much more helpful than @AmericanAir. What can you do for me about this voucher?" And they gave me a new one. And on Spirit, I mean, hey, $50, that's like a round-trip flight to Miami for one tweet.
Sign up here for our daily Thrillist email and subscribe here for our YouTube channel to get your fix of the best in food/drink/fun.
Contributed by Matt Meltzer, Sammy Nickalls, Daniel Cole, Jackie Bryant, Barbara Woolsey, Alison Ramirez, Elona Karafin, Michelle Rae Uy