Pilgrimage to the REAL Budweiser Brewery. No, it's not in St. Louis...
You'd better sit down, because we're about to lay some truth on you. You know that Budweiser Brewery tour you took last time you were in St. Louis? Well... how to put this gently? It wasn't real. Not the Clydesdales, ice cold Buds, and light playful hangover -- those were all too real -- but the brewery itself... It's not the real Budweiser. Now stand back up and follow us while we explain where you must travel to go to the actual Budweiser Brewery.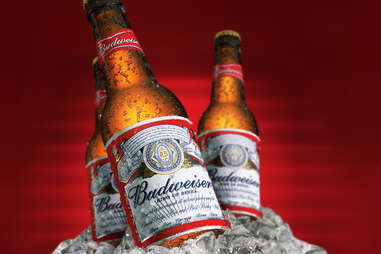 Let's start with the beer. This is the Budweiser you always thought was the real thing.
This is how they repackage that very same Budweiser to sell it in Europe. But why?!
Welp, that'd be because of this. The other Budweiser.
It comes from a little town in the Czech Republic called Budweis where, in 1795, they developed a lager beer distinct to the city, and in a stroke of insane creativity they called it Budweiser, meaning "of or from Budweis" in German.
About a century later the brewery that originally crafted it, Budweiser Bier Bürgerbräu, began exporting it to the US, and it didn't take long for two dudes named Anheuser & Busch to notice, dropping their own all-American Budweiser in 1876.
Now here's where it gets really complicated. This is the Budweiser Budvar Brewery (which you can totally take a tour of). It's been brewing Budweiser since 1895, which's actually 19yrs after Anheuser Busch first marketed the name.
The reason these dudes are more authentically Budweiser, according to them (and most peeps), is that they're actually making Budweiser in Budweis, which's kinda the whole point.
Head down there, and you can take a real brewery tour (note: photo not up to date). There may not be Clydesdales, but you can still drink beer straight from the tank in their cellars, as well as watch a "humorous 3d film about the uniqueness of Budweiser beer". Real subtle, guys.
You'll also see a preserved "medieval brewery" within the brewery itself that's still cranking out original buds, and you can also see this dude wear a beret and somehow not get tossed in a mash tun.
The final stop is the Budvar Beer Restaurant, which is probably the original name for a "bar", too.