Presented By
For an Unforgettable Tokyo Day Trip, Just Hop on the Bullet Train
Zoom from ancient mountains to neon cities, and back to Tokyo by dinner.
Presented By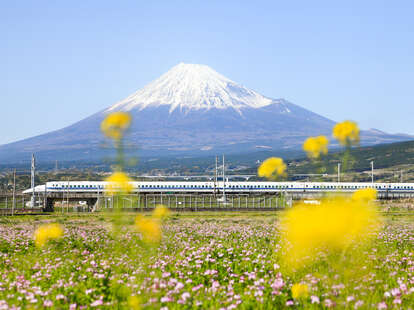 Mount Fuji, Japan

| SHOSEI/Aflo/Getty Images
Mount Fuji, Japan

| SHOSEI/Aflo/Getty Images
Note: The US State Department has issued a Level 3 travel advisory to reconsider travel to Japan. For more information on the current travel restrictions to Japan, click here. For now, use this guide as inspiration to satisfy your wanderlust safely from home.
Japan's bullet trains -- known as shinkansen -- offer an unmissable and unforgettable way to see the country: Traveling at 330mph, these trains rocket through rice feels and Mt. Fuji foothills, transforming once-distant locations into viable day trips from the heart of Tokyo. Imagine hopping on a train in NYC -- beer and lunch in hand -- and arriving in Chicago in two hours. Now imagine that Chicago is a 14th century city rich in samurai history, or a sacred mountain covered in dense forest land and waterfalls.
Our top shinkansen day trip destinations include the great outdoors, an alternative to crowded Kyoto, and some of the most coveted bites in the world. And each gives travelers a chance to sample different facets of Japanese culture a short ride from Tokyo -- whether you're exploring for a day or an extended stay.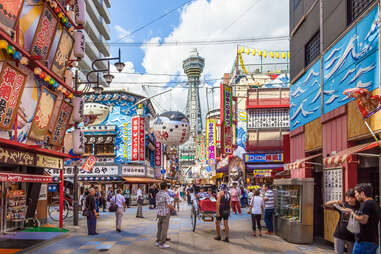 Osaka
"The kitchen of Japan" is a charmingly gruff dive into Japanese bustle
Why you're there: Nicknamed "the kitchen of Japan," Osaka embraces the tradition of "eating your way to bankruptcy." It's a little rowdier and less buttoned-down than other parts of polished Japan, but that's part of the charm in this buzzing, late-night metropolis.
Getting there: From Tokyo, catch the Tokaido shinkansen line and travel 2.5 hours to Shin-Osaka station (grab a seat on the right-hand side of the train for a great view of Fuji). Shin-Osaka is just outside the center of Osaka, so when you arrive, jump on the metro and head to your first destination.
What to do: Grab a coffee and stroll around Osaka Castle, whose grounds are especially beautiful in spring and autumn. The Nishinomaru Gardens have over 600 cherry trees and a tea house where you can sip matcha and take in the view. Then, hop over to Shittenoji temple to ascend the five-story pagoda of one of Japan's oldest monuments.
Nearby, Shinsekai is Osaka's warmly gruff vision of the future, modeled half on Paris and half on New York. Charmingly worn and retro, it's a joy to explore the alleyways packed with artists, coffee shops, and stand-up restaurants. Indulge in kushikatsu for lunch: the district's signature (and lesser-known) fried skewers are served with piles of fresh cabbage and a sweet dipping sauce.
Head back toward the center, stopping off at the unusual Lione-esque Namba Yasaka shrine. If you like to cook, do not skip Doguyasuji street: it's the go-to shopping spot for chefs and home cooks, where you can score everything from traditional knives to takoyaki machines. Round off the day at Dotonbori, the city's buzzing entertainment district and riverside restaurant hub. Strike a pose with the iconic Glico Man -- the most famous of the brightly lit signs lining the river. Hozenji yokocho and the nearby temple make an unexpected detour, or just continue the feeding frenzy at Kuromon market.
The final train to Tokyo leaves at around 9.30pm, but if you can, stay to explore Dotonbori at night and crash in a capsule hotel -- they were invented in Osaka, after all -- before catching the first bullet train back in the morning.
Must eat and drink: The most famous dish in one of the world's most famous food cities is takoyaki: small balls of batter stuffed with squid and topped with a sweet dark sauce and mayonnaise, then sprinkled with fish flakes and seaweed. Hit up any of the many stalls with a decent queue at Dotonbori to give it a try.
The weightier counterpart is a tongue-twister and stomach-filler okonomiyaki. Meaning "what you like, grilled," it's a cabbage pancake with myriad options. If you're around Dotonbori, head to Mizuno for a Michelin-mentioned version or to Ichiaki to grill your own with a cold beer and a view of the river.
Along with kushikatsu, the local staples can get a bit heavy, so if you need something lighter, the city is also the secret inventor of kitsune-udon: Topped, the noodles sit in a simple broth and are a nod to foxes -- kitsune -- which are considered to be the messengers of the God… and who love fried tofu.
Traveling may be on pause, but that doesn't mean your dreaming and planning has to be. With The Marriott Bonvoy Boundless™ Card, earn 6X Points at 7,000+ hotels participating in Marriott Bonvoy™ and 2X Points on all other purchases, including future flights. For the journey ahead, carry a card that's here for you now.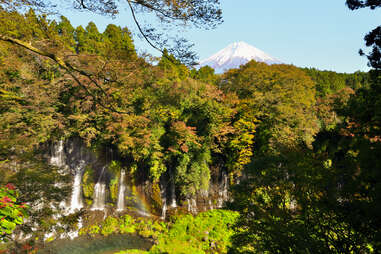 Fujinomiya
A spiritual journey amid the forests and falls of Mt. Fuji
Why you're there: Shizuoka prefecture is a step into nature: With the famous Mt. Fuji in the background, you can sightsee while you hike, bike, and reset your soul. Perched on the southwestern slopes of the iconic mountain, the city of Fujinomiya is a starting point for hikers, but there's plenty to see even if you're not planning a trip to the clouds. Mesmerizing waterfalls, shrines, and stunning views of Fuji are all on the menu, along with some great local delicacies.
Getting there: One of the shortest and most affordable bullet-train options from the capital, Shin-Fuji station is just over an hour from Tokyo on the Tokaido Line. Once you've arrived, hop on a Fujikyuko bus to Fujinomiy: It takes half an hour and costs a few hundred yen.
What to do: A mere 15-minute walk from Fujinomiya station will get you to Fujisan Sengen Shrine, the region's most honored site. Dedicated to the prevention of volcanic eruptions, it is over 1,000 years old and surrounded by hundreds of cherry trees. With plenty of festivals throughout the year, try to time your visit to coincide and watch as lanterns, food stalls, and locals fill the grounds.
Then get to exploring. Start with Shiraito Falls: an easy half-hour bus ride away, the nearly 500-foot-wide waterfalls have an unusual silk-like appearance and are considered among the most beautiful in Japan. Meanwhile, the local 4-mile Legend of Yoritomo walking route explores the area's historical sites -- including samurai legacies -- via riverside strolls.
If you want to head further out, bus or bike to Tanuki Lake and the Asagiri Highlands. There are plenty of easy walking trails, but be sure to get up-to-date maps and bus schedules from the tourist office, as routes and times can change throughout the year. For those wanting to avoid buses altogether, a six-hour stretch of the Tokai Nature Trail will take you from Fujinomiya to Tanuki Lake with suspension bridges, waterfalls, and incredible views along the way.
If you're really looking for outdoor adventures, you can experience the mountain's raw power by whitewater rafting along the Fuji River, one of the three fastest rivers in Japan. Mt. Fuji Ecotours even has packages combining seasonal food and cycle tours as well as a town-walking food tour.
What to eat and drink: Yakisoba is taken to new heights as a local specialty in Fujinomiya. The city's unique take on the simple dish of fried noodles has helped promote it as a town of innovative cuisine. Across from Fujisan Sengen Shrine is Omiya Yokocho, an open-air food court with stalls selling yakisoba (approved by the local yakisoba society, no less) and other local treats like rainbow trout and milk ramen. The water is sourced straight from Mt. Fuji Spring, and it is as fresh as it gets. Be sure to try local green tea (Shizuoka is famous for it) and tofu made using fresh river water.
Kanazawa
A 14th-century city with 21st-century style
Why you're there: With geisha, fish markets, and contemporary art, Kanazawa offers up a less hectic trip through time than its hugely popular cousin, Kyoto. Famed for the beautiful Kenrokuen Garden and made Insta-famous by the gold-leaf ice cream, the city retains its ancient traditions while embracing modernity. Its compact size is far more manageable than Kyoto for a day trip, too -- so while you may have to swap out that city's golden pavilion for a golden dessert, you'll still get that ancient-Japan experience.
Getting there: Take a seat on the Hokuriku Shinkansen line and you'll be in Kanazawa in two and a half hours. The direct bullet train route was only completed in 2014, so it's seeing a real surge in popularity thanks to the easy access.
What to do: Decide if you're exploring the city by bike or bus: the former costs ¥200 for a day of unlimited rides while the latter costs ¥500 for a loop-bus day pass. Then, head to Higashi Chayagai: the wide streets are lined with preserved tea houses, some converted and some, like Shima Ochaya, dedicated to teaching visitors about the lives of geisha. A short stroll from the famous gold-leaf soft-serve of Hakuichi is the compact Yasue Gold-leaf Museum, which offers insight into the unusual fortunes of the city. Opt for the alternative tea districts of Kazuemachi or Nishi Chayagai if you're after a quieter experience.
Seafood lovers should head to Omicho Market for lunch: the famous fish market is a mix of Tokyo's Tsukiji and Kyoto's Nishiki, with street food options and sit-in restaurants to choose from. Walk it off in the ornate castle grounds, then visit one of Japan's most heralded gardens, Kenrokuen, meaning "the six sublimities." Once part of the castle grounds, it is highly seasonal, with plum and cherry groves, ponds, and streams as well as bridges perfect for kimono shots, if you happen to be exploring in one.
In contrast, the 21st Century Contemporary Art Museum will catch your eye with striking outdoor sculptures and innovative design. Housed in the creation of famed architect duo SANAA, the award-winning museum is partially free to explore, with permanent exhibits including the immersive Swimming Pool of Leandro Erlich along with other interactive displays.
For history-lovers, there are countless museums nearby focusing on samurai life, local traditions, and Ishikawa's ancient history. The moat-lined Nagamachi District is the center of the city's samurai past, with the earthen walls and paved streets transporting you back in time. The Nomura Clan Samurai House is a popular spot, but check out the nearby Shinise Kinenkan and the Kanazawa Ashigaru Museums too: they offer insights into the merchant and foot soldier's sides of the story.
What to eat and drink: Kanazawa's food scene is bountiful, with traditional dishes and DIY sushi available in equal measure. Kaga Ryori is the regional cuisine, with a duck hotpot known as jibuni being a particular Kanazawa favorite. The silky, warming dish is a winter specialty, but you can try it year-round at spots like Gyohan or Yoshihisa, as well as small cafes in Kenrokuen.
If you're into your seafood, the go-to in Kanazawa's market is a simple kaisendon: a rice bowl topped with a mountain of fresh seafood. A crowd-pleaser that can't go without a mention is COIL: a DIY take on hosomaki sushi complete self-service tea ceremony. Round off the night with a local beer at one of the many craft-beer bars.
Lily Crossley-Baxter is a Tokyo-based writer and world-traveler who finds equal joy in cycling around her neighborhood as she does exploring the depths of Borneo's jungles. Bylines include the BBC, The Independent, and The Daily Beast. Follow her delicate balance of mis/adventures @lostandfoundlily.