Church Street in Burlington, Vermont

| The Church Street Marketplace
Church Street in Burlington, Vermont

| The Church Street Marketplace
Vermont's Biggest City Is A Must-Visit For Great Food, Beer, and Mountain Air
Eat heartily, hit the slopes, and fall in love with the Green Mountain State.
Editor's note: We know COVID-19 is impacting travel plans right now. For a little inspiration, we'll continue to share stories from our favorite places around the world. Be sure to check the latest CDC guidelines as well as local travel restrictions and protocols if you decide to head out.
Vermont is precisely as you'd picture it: a real-life Norman Rockwell painting. And amid the red barns, green mountains, farmers' markets, and ski resorts resides a close-knit community of entrepreneurs, artists, brew makers, and stewards of the land. Vermonters genuinely want to help each other out—"locals for locals" could be the state's tagline. And when you visit, you feel like one of us.
For your first foray into the state, make it Burlington. One of our all-time favorite small cities to spend a weekend, the Queen City is, ironically, Vermont's largest at just 43,000 residents. A supremely chill college town that lures beer and food lovers far and wide, it's also the perfect basecamp for outdoor enthusiasts to embark on a Vermont adventure, even if it's just strolling the dreamy shores of Lake Champlain. Here's everything to hit on your way through town.
Go ham on farm-to-table dining
Farm-to-table isn't just a movement in Vermont; it's a way of life. The vast majority of Burlington's restaurants incorporate as many local ingredients as possible into their menus. For the paragon of upscale-yet-rustic Vermont dining, reserve a table at Hen of the Wood. Here's the full lowdown on the best restaurants in Burlington.
Get snacky at the Burlington Farmers Market
From May to October, the Farmers Market showcases the copious fruits of our farmer's labors, and if you know anything about Vermont, it's that its residents take their produce and handmade wares very, very seriously. Mix and mingle with the locals over a maple latte or while devouring a cinnamon-sugar croissant from Barrio Bakery, both of which are essential experiences.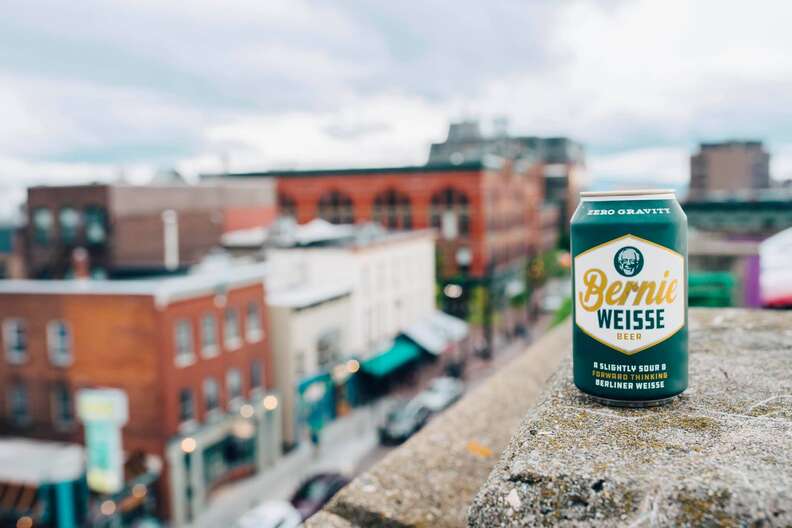 Drink beer—lots and lot of beer
Vermont just happens to boast the largest number of craft breweries per capita in the US, punching way above its weight in both quality and quantity. Beer haven Burlington and neighboring Stowe (birthplace of the aforementioned Heady Topper) are home to some absolute bangers. Here's our sudsy guide to Burlington's best breweries and brewpubs.
Taste some of that sweet sweet Vermont maple syrup
Have you noticed every third food item you encounter is maple flavored? That's Vermont for you. Springtime, when the sap is flowing, is the perfect time to visit Burlington's sugar houses to learn how they make the stuff. You can sample the cheeses, sausages, organic jams, and, duh, maple syrup at Dakin Farm, or a quick drive down to Shelburne Farm is worth it for a long walk around their idyllic lakefront property before you plunder their shop.

Oh, and don't forget the ice cream
Ben & Jerry's got its start in the late '70s in a renovated gas station in downtown Burlington. It's still there, so stop by for some Cherry Garcia why dontcha. But these days it's the creemee—or soft-serve—that really junes up the locals. The quest for the best maple creemee in town is real: Try Burlington Bay Cafe on the waterfront, or take a road trip out to Morse Farm in Montpelier, where the maple syrup made in their sugarhouse magically finds its way into their creemees and milkshakes.
Get your bearings downtown on Church Street
Stretching four blocks between Main St. and Pearl, Church Street Marketplace is a pedestrian-only shopping district densely packed with local boutiques, open-air cafes, college bars, and historic small town feels. An essential stop in Burlington will be Farmhouse Tap & Grill for a can of Heady Topper, a legendary double IPA that's one of the most sought-after beers in America. It's basically a crime to leave Vermont without trying it.
Try and fail and try again to find Burlington's secret speakeasy
If you can find the hidden door to Lincolns, located somewhere off Church Street (hint: starting at Bangkok Bistro wouldn't be the worst idea), bring some cash. Everything is $5, hence the name.

Get fancy with the best craft cocktails in town
Seek out Emily Morton, Vermont's 2019 Bartender of the Year. You could easily walk right by her post at Deli126—Burlington's other best speakeasy—located on the first floor of an office building. Once inside you'll discover a cozy cocktail lounge with red velvet couches and a jazz club in the rear.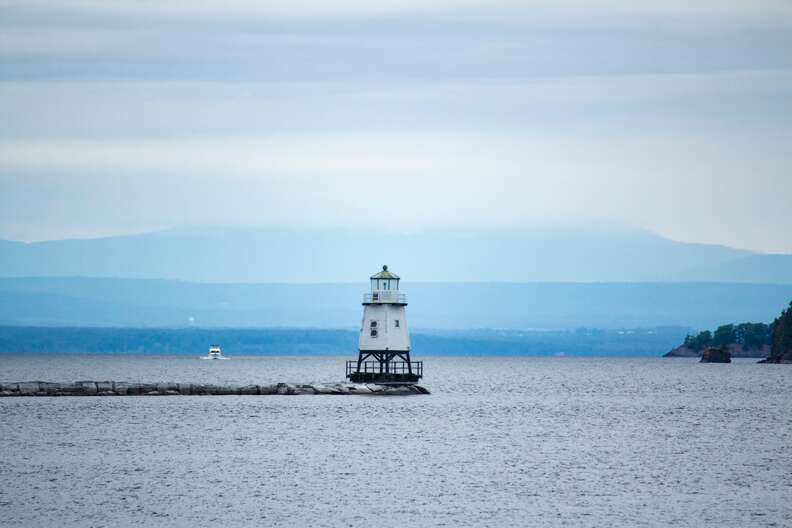 Check out the waterfront
Head towards the water for a quick bite at the Skinny Pancake, a local creperie specializing in the savory and sweet (think Vermont rhubarb jam with a chocolate hazelnut spread). Then stroll over to ECHO, an interactive science center dedicated to all things Lake Champlain. Once there, you'll likely hear about the legend of Champ, Burlington's own version of the Loch Ness monster.

Work your legs with a lakefront bike ride
With the weather on your side, you can bike the 14-mile Island Line Trail all the way up to Colchester and out onto the causeway. This section of the trail is four miles long and only 10 feet wide, jutting out directly into the middle of the lake. It will also connect you to the Champlain Islands via bike ferry if you feel like extending the adventure. And if you prefer to be in the water, the Community Sailing Center rents small sailboats, paddleboards, kayaks, and canoes by the hour.
Ski your heart out
The best time to visit Burlington is… pretty much any time (one exception might be April, aka Mud Season). But it particularly shines in the winter, when twinkling holiday lights blanket Church Street and Vermont's picturesque peaks shimmer with fresh powder. Snowboarders and skiers have access to six ski resorts all within an hour's drive of downtown Burlington.

See some art in town
Check out the Amy E. Tarrant art gallery, which hosts multiple rotating art exhibitions throughout the year. And Vermont Artists can be found showcasing their work at Burlington City Arts, an old firehouse turned gallery on Church Street with three floors of contemporary art.

Spend an hour, or three, at the Soda Plant
Perhaps the best place to experience Burlington's creative side is at the Soda Plant. Once a ginger ale-bottling facility, today it's been revamped as a 50,000 square-foot base camp for local makers. Nowhere else will you find cider brewers, wine makers, coffee roasters, kimchi fermenters, photographers, jewelers, artists, yogis, and designers under one roof. Here's a deeper look at this one-stop shop for a blast of pure Vermont.
And as for live entertainment...
Nectars, a late-night institution, is THE place to see live music in Burlington, but definitely check the calendar at The Higher Ground too. The landmark Flynn Theater, a 1,400 seat art deco auditorium downtown, hosts traveling Broadway productions, national acts, and the city-wide Burlington Discover Jazz Festival every year. And in the old armory building on Lower Main Street, the Vermont Comedy Club always serves up a good laugh. (Note that most of Burlington's live entertainment venues are temporarily on hold due to the pandemic.)
Explore the Green Mountain State
Now that you've gotten to know Burlington, it's time to tackle the rest of the state. There are 4.5 million acres of lush forest encompassing 67 mountain peeks, thousands of miles of hiking trails, and seemingly endless waterfalls to discover. Tiny villages, ski towns, general stores, and dozens of covered bridges await. Hit the road and experience a place that is everything you imagined it to be, yet somehow so much more. Here's our primer on some of Vermont's most gorgeous sights.
Sign up here for our daily Thrillist email and subscribe here for our YouTube channel to get your fix of the best in food/drink/fun.