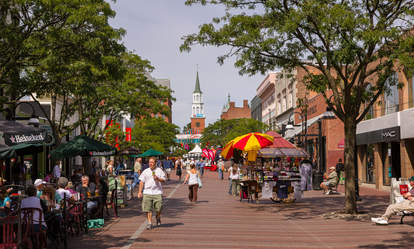 Vermont's Biggest City Is A Must-Visit Destination For Food, Beer, and Mountain Air
If you're an outsider, you probably associate Bernie Sanders, Phish, Ben & Jerry's, maple syrup, and great skiing with Vermont. That's cool. You might have even heard that we have one tiny town that has produced 11 winter Olympians -- a little bit of an anomaly, sure, but we are full of anomalies. For one, we just got a Target. Our first, and probably our last, because most major chain stores like Williams Sonoma and Pottery Barn fail here. Vermonters would rather shop local and support the little guys. 
That's a major part of what makes a trip to the Green Mountain State so spectacularly unique: Surrounded by vast forests of the Northeastern wilderness, nearly everything here is something you can only experience in Vermont. It's perhaps the most singular state in the union.
Vermont is precisely as you'd picture it, a real-life Norman Rockwell painting with plenty of quintessential New England towns dotting the map. And amid the red barns, lush green mountains, farmer's markets, and ski resorts, a community of doers resides here. We are innovators, entrepreneurs, artists, restaurateurs, brew makers, farmers, and stewards of the land. But what really differentiates Vermont from other states is that we are a community that genuinely wants to help each other out. You see it among neighbors, amid business sectors, and even sometimes across party lines. "Locals for Locals" could be Vermont's tagline. And when you visit, you feel like one of us.
When planning a trip to the state, Burlington is generally your destination. The Queen City is Vermont's largest and most populous metro area. At 43,000 residents, it would be considered a small town in many states, but by Vermont metrics, it's a metropolis. It's also a buzzing cultural hub, a destination for beer and food lovers far and wide and a basecamp for outdoor enthusiasts: a place where you can set down stakes and choose your own Vermont adventure, even if said adventure involves eating and drinking while strolling the shores of Lake Champlain, the massive waterway that lends a dreamy quality to Burlington's already entrancing aesthetic.
This laid back college town, home to both the University of Vermont and Champlain College which are both located in Burlington, has plenty of brewpubs, cozy coffee houses, and local businesses which attract visitors from all over the world. It never ceases to amaze me how often small, somewhat isolated Burlington lands the "the best places to…" lists. But it's true. In fact, the State of Vermont thinks you will love it here so much they are willing to pay you $10,000 to relocate to the 14th state. A quick trip to the city makes that all the more enticing. Here's what to know before you go. 
Shelburne Farms

| Stephen Straub
The best time to visit Burlington is… pretty much any time
There is no best time to visit Burlington. Each of the four seasons is uniquely beautiful. It's more a matter of knowing the narrow windows of time to avoid. Feel free to skip Vermont's so-called fifth and sixth seasons: Mud Season in April is rather messy after the snow melts, and Stick Season in November is not nearly as colorful as when the leaves are peaking in early October.
 
Winter means it is time to get out and play. Skiers and snowboarders have access to six ski resorts within an hour's drive of downtown Burlington. Springtime, when the sap is flowing, is the perfect time to visit the sugar houses to learn how they make maple syrup. Spring also means Burlington's outdoor farmer's market opens and is filled with fresh produce from local farms. In the summer months, hikers and bikers take to the trails, while boaters head to the lake to soak up the warm weather. Downtown is alive with festivals such as Discover Jazz Fest, the Vermont Brewers Festival, and the Festival of Fools. This unique event features the best buskers from around the world. In the fall, the foliage is the main attraction. And leaf peepers everywhere flock to Vermont to see the forests glowing vibrant red, orange, and yellow.
What to do while hanging out in Burlington
Start your visit downtown on the Church Street Marketplace. Devoid of most well-known retailers, this four-block, pedestrian-only shopping street is lined with local boutiques, open-air cafes, bars, and restaurants. In the summer months, stroll through the Burlington Farmers Market, which occupies City Hall Park: It showcases the copious fruits of our farmer's labors, and if you know anything about Vermont, it's that its residents take their produce and handmade wares very, very seriously. It is a place to mix and mingle with the locals over a maple latte or while devouring a cinnamon-sugar croissant from Barrio Bakery, both of which are essential experiences. 
Talk a walk down to the waterfront to grab a quick bite at the Skinny Pancake, a local creperie specializing in sweet -- think Vermont strawberry/rhubarb jam with chocolate/hazelnut spread -- and savory. (Get the Garfield, packed with sausage, ricotta, mozz, and marinara to answer the question of what would happen if a calzone and a crepe merged.) Work off the crepes with a stroll over to ECHO, an interactive science center dedicated to all things Lake Champlain. Once there, you'll likely hear about the legend of Champ, Burlington's own version of a Loch Ness monster. 
Outdoorsy folks can rent a bike and follow the 14-mile Island Trail along the waterfront. Take it all the way up to Colchester and out onto the causeway. This section of the rail trail is four miles long and only 10 feet wide, jutting out directly into the middle of the lake. It will connect you to the Champlain Islands via bike ferry if you feel like riding that far. If you prefer to be in the water, in the summer months the Community Sailing Center rents small sailboats, paddleboards, kayaks, and canoes by the hour. 
Burlington's food scene is epitome of farm-to-table dining
No matter where you choose to eat, you will find most Burlington restaurants have a food philosophy that incorporates as many local products as possible into their menus. Farm-to-table isn't just a movement in Vermont; it is a way of life. 
Reserve a table at Hen of the Wood, one of the best culinary destinations in town. Chef/owner Eric Warnstedt, a seven-time semifinalist for the James Beard Foundation's Best Chef Northeast, has made a strong commitment to the local food doctrine. It is evident on their daily changing menu, which showcases plenty of meats, cheeses, and vegetables from local farms, offering the kind rustic yet upscale dining experience you can only get in Vermont. Go early and grab a seat at the cozy bar, or by the fireplace, for $1 oysters, which are served daily from 4-5pm. 
Another local favorite is El Cortijo Taqueria, which is housed in a former classic 1950's diner. They have the best farm-to-table tacos around but only six booths. Don't be put off by the wait; use the time to sample their extensive tequila list while plotting out a taco flight that should absolutely include fresh shrimp with corn salsa along; roasted mushrooms topped with mole and spiced sunflower seeds; and tangy chimichurri drizzled atop beef shoulder.  
Located in the artsy Old North End (or the ONE, as the locals know it) you'll find Butch & Babe's, which serve midwestern style Americana dishes with a Vermont twist. You can't go wrong with the pile of maple bacon-kissed Cowboy Sprouts; a jazzed-up take on the Chicago dog; or the house favorite Hot Dog Mac + Cheese Pancakes, which has to be seen to be believed. For breakfast, try freshly roasted coffee and maple scones at the vegan-friendly August First or Monarch and the Milkweed for bagels, pastries, or CBD-infused sweets.
 
Oh, and don't forget ice cream. During the late 1970s, Ben & Jerry's Vermont's Ice Cream baby was born to childhood friends in a renovated gas station in downtown Burlington. Since then, they continue to be the gold standard in innovative hard ice cream flavors like Cherry Garcia and Phish Food. However, it is the creemee -- the moniker given to soft-serve by locals -- that wins the heart of ice-cream lovers everywhere. The quest for the best maple creemee in town is real. Try Burlington Bay Cafe on the waterfront, or take a road trip down to Morse Farm in Montpelier, where the maple syrup made in their sugarhouse finds its way into their creemees and milkshakes.
Burlington is one of America's best beer towns
Vermont has the largest number of craft breweries per capita in the US, punching way above its weight in both quality and quantity. By the Vermont Brewers Association's last count, there are 56 operating breweries and brewpubs in the state, and Burlington and neighboring Stowe are home to some absolute bangers. 
Although our claim to fame began with Magic Hat and their famous #9 not quite pale ale, the Alchemist's 'Heady Topper has become so popular that at one point, following the Heady Spotter was the only way to find it. The beer still has a 4 four-pack purchasing limit today, and is widely considered to be the gold standard of the New England IPA and one of the most influential breweries in America. But it's far from the only game in town. In fact, Burlington is a mainstay in the conversation about the best beer towns in America, and it's not just because of Heady. 
Opened in 1988, Vermont Pub & Brewery is the oldest brewpub in Burlington. It is still a great place to grab a burger and pint. Foam Brewers pours the full spectrum of IPAs and  barrel-aged one offs on the waterfront, garnering national praise as one of the best of the new crop of Vermont brewers, while Zero Gravity is showing no sign of slowing down, outgrowing its original space in iconic pizza joint American Flatbread to brew its signature European-influenced wares in its own space. 
Looking for variety? The Growler Garage has 22 beers on tap, many of which are local favorites, while the Farmhouse Tap & Grill's 30+ taps put it as Thrillist's pick for the best beer bar in Vermont. If you are going to imbibe in some of Vermont's finest, consider leaving the driving to City Brew Tours so you can sample as many as you'd like at the area's best taprooms. 
Recently, Vermont has also been dipping its toes into making small-batch spirits. Stop by Mad River Distillers tasting room in downtown Burlington for a flight that includes their apple brandy,  single malt whiskey, and unique Maple Cask rum. If you can find Lincolns, a secretive speakeasy located somewhere off Church Street, bring cash. Beers on tap, wine, and cocktails are just $5. And for the best-curated craft cocktails in the city Emily Morton, Vermont's Bartender of the Year: You could easily walk right by her post at Deli 126, with its nondescript storefront located on the first floor of an office building. Once you're inside though you'll discover a cozy cocktail lounge with red velvet couches and a jazz club in the rear.
Burlington is overflowing with art and music
As the cultural center of Vermont, Burlington was bound to have its fingers in arts and entertainment. But as with food and beer, the city absolutely punches above its weight. 
The Flynn Theater, a landmark space in downtown Burlington has attracted nationally recognized performers to its stage for over 80 years. This 1,400 seat art deco auditorium has hosted major traveling Broadway productions and well-known musical artists and entertainers from all over the world. Check out the Amy E. Tarrant art gallery next door, which hosts multiple rotating art exhibitions throughout the year. Vermont Artists can be found showcasing their work at Burlington City Arts, an old firehouse on the Church Street Marketplace with three floors of contemporary art in their gallery spaces. 
In the South End Arts district, ArtsRiot is a live music venue, as well as a restaurant and bar. They also host Vermont's best food trucks in their parking lot every Friday night in the summer. It's a scene with an artsy Burlington vibe where you can sample some of Vermont's finest food and drink.
Nectars, a late-night institution, is the place to see live music in Burlington. (Both Phish and Grace Potter have graced their stage.) The Higher Ground is Burlington's premier music club, having hosted acts like The Black Crowes, Portugal. the Man, Jimmy Eat World, Lauv, and Vermont's own Noah Kahan and  99 Neighbors in their ballroom.
The Vermont Comedy Club, which opened its door in 2015 in the old armory building on Lower Main Street, has shows five nights a week. Check the calendar to see who is playing because who can't use a good laugh these days.
Not bad for a town of just over 40,000. That $10,000 incentive might not even be necessary to get you thinking about moving here. All it really takes is a weekend.
Dana Freeman is a contributor for Thrillist.