10 Regional Burner Parties That Are Better Than Burning Man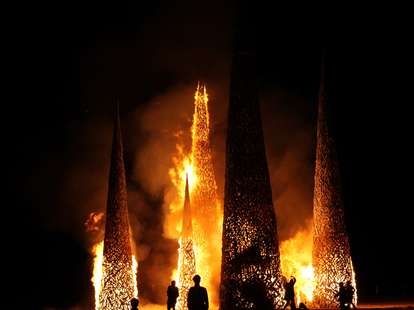 Can't afford tickets to Burning Man this year ($390?!?! WTF?)? Can't stand the dust... or the crowd? "Radical inclusion" is the very first principle Burning Man abides by, and that principle, wonderful as it is, has led the event to swell over the years from a few dozen people to a few hundred to, in the past few years, well over 60,000 people -- including the likes of Susan Sarandon and Mark Zuckerberg.
Fortunately, Burning Man is far from the only (and probably not even the best) party that burners throw across the country and the world every year. Burners host many "regional" Burning Man events, where far fewer people gather to embrace the 10 Burning Man principles, totally set stuff on fire, and do all the other things that attracted people to the middle of a Nevada desert in the first place. Here are 10 regional burns to put on your calendar:
Where: Odessa, Delaware
When: Memorial Day weekend and Columbus Day weekend
How many people: 1,200
What started as a beach barbecue on the Maryland shore, thrown by 20 people who'd been to the original Burning Man, has grown into the official Mid-Atlantic regional event. Now moved to a property in Delaware owned by the Vietnam Veterans Motorcycle Club, there's a covered pavilion, a large stage, tons of portable bathrooms, and generally a little more civilization than most other burns offer.
Where: Rockdale, Texas
When: Memorial Day
How many people: 3,000
Each Memorial Day weekend the oldest regional burn establishes the "City of Pyropolis" on the sprawling campgrounds of the Apache Pass River Theatre an hour or so northeast of Austin, giving a few thousand people an early chance to get their burn on. The event hews closely to the core principles, like no buying or selling anything, no freeriding, no trace left behind, etc., so it makes sense that the theme of this year's event is "No."
Where: The Negev Desert, Israel
When: Mid-June
How many people: 6,800
This event is all about building community, both figuratively and literally in the middle of the desert, which has helped it become one of the world's largest regionals in just two short years. The desert setting, combined with all the usual themed camps and flammable art, makes Midburn probably the closest thing to going back in time to the early years of Burning Man. All without having to go anywhere near Reno.
Where: Castejon de Monegros, Northern Spain
When: Early July
How many People: 2,000
Yes, it's in the middle of the summer. Yes, it's in the desert. But there's one thing separating this burn in the rugged mountains of Northern Spain from the original event: except for a few fire twirlers' batons, nothing here gets set on fire -- the area is at too great a risk of wildfires.
Where: Mills River, North Carolina
When: July
How many people: 2,300
Posted up on a patch of land outside Asheville in the Blue Mountains, Transformus promises a "camping experience like no other," and given that most burns aren't held somewhere with hiking trails, two lakes suitable for swimming, and shady spots to lounge away the summer, it's probably right.
Where: Matong State Forest, New South Wales, Australia
When: Late September - early October
How many people: 5,000
A new-ish burn in "Red Earth City" (as opposed to Burning Man's Black Rock City) in a lush state forest on the traditional lands of the Wiradjuri people (with their permission, of course), BS doesn't BS about... well, anything, really. Seriously, they encourage people to stay on site during the festival by charging people to leave.
Where: LaFayette, Georgia
When: First weekend in October
How many people: 3,400
Held on a farm about 100 miles northwest of Atlanta, Alchemy is celebrating its 10th year, so naturally the theme this year is "Decadence" (get it?!) -- albeit without running water or electricity. But whatever, people seem to like what the organizers are doing because it's quickly grown into the largest burn in the US.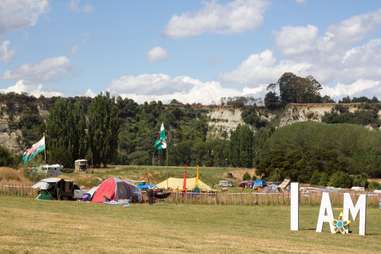 Where: Hunterville, New Zealand
When: Late January
How many people: 1,000
Promising "no central stages or headline acts, no queues and very few crowds, just a series of surprises," this very DIY festival was started by a dude living in Reno who stumbled on Burning Man while camping back in 1994, then decided to host his own version 10 years later after moving back home to new Zealand. Today the event's held on his private farm, and centers around a mini-village where people can host workshops, put on performances, and even buy ice, which is the only thing for sale at the entire festival.
Where: Masontown, West Virginia
When: Mid-February
How many people: 400
Boasting considerably less nudity than the original Burning Man, in part because naked people have to stay in a designated area, but mostly because it is frickin' cold, this winter party has nonetheless been "creating unique ways to share our warmth" since 2008. Its decision to sell firewood sounds like a good start.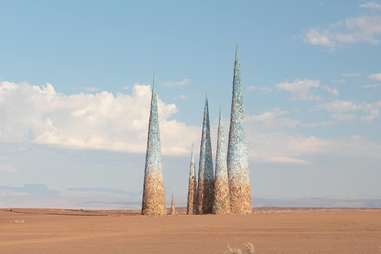 Where: Near the Tankwa Karoo National Park, South Africa
When: Late April
How many people: Around 9,000
For over a decade the largest burn in the world (besides the original in the Black Rock Desert, obviously) has been held on a dry patch of private farm in South Africa called Stonehenge. AfrikaBurn is strewn with the usual themed campsites and flammable artwork for four days every spring. And if that's not enough, it's right next to a national park so you can check out everything from meerkats to honey badgers on the way home.
Sign up here for our daily Thrillist email, and get your fix of the best in food/drink/fun.
Bradley Foster is a former Thrillist editor whose burning desire to attend one of the many regional burns in his native Northwest is matched only by his desire to shower every day.