Waiting for the bus sucks. You're subject to inclement weather. The shelters are like magnets for garbage and bodily waste. And your payoff is... ridingon a public bus.
But it's a whole other story in Krumbach, Austria, where passengers wait in some of the most stylish kiosks ever to pave the public transportation route.

Sure, London has impossibly perfect benches on its streets, but this humble Austrian town of just 1,000 residents has taken transport utility to a new height of aesthetics. The local cultural institution, kultur krumbach, commissioned seven internationally acclaimed architects -- Rintala Eggertsson Architects from Norway; Ensamble Studio from Spain; Sou Fujimoto from Japan; Wang Shu from China; Smiljan Radic from Chile; Alexander Brodsky from Russia; and Architecten de Vylder Vinck Taillieu from Belgium -- to design a bus stop, in return for a free vacation in the quaint European region.
The offer piqued the architects' interests enough that each entered a design, and their unique bus stops have become a reality, with all seven now put to use. Working with the architects, 200 local builders and designers began constructing the stops last Summer.
Each is a sight to behold; from a mega camera and a spiky structure made out of rods to a metallic tent, the bus stops look more like avant-garde sculptures meant for a gallery than a place where people pee, spray graffiti, or unashamedly affix wads of gum.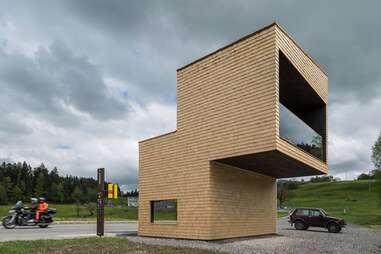 Carved from earthy materials, including wood, glass and metal, the bus stops cleverly follow a rural motif -- a bit like this balancing barn in England. And as the director of the Voralberg Architecture Institute Verena Konrad said in a statement cited by CityLab, the town's new street architecture promotes a "successful connection of infrastructure and mobility for the rural area".
Take a look at more images of the impressive structures below.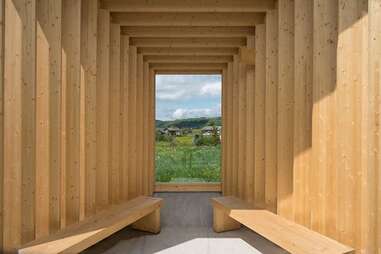 Chloe Pantazi is an editorial assistant on Thrillist's travel team. After seeing these bus stops, she finds the ones in New York utterly boring and now has a better excuse to avoid the bus. Follow her on Twitter at @ChloePantazi.