10 simple tips to travel like a business pro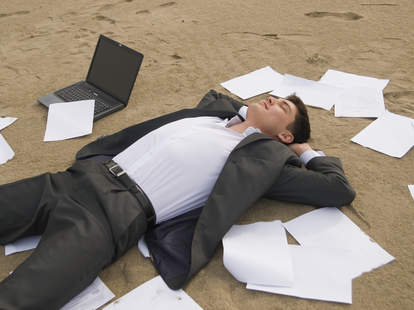 Because your lasting impressions of Hawaii shouldn't be of the carpets in Conference Room A, we tapped business travel expert and author Chris McGinnis, director of TravelSkills, for advice on how to take advantage of your next work trip. Here are his top 10 tips:
1. How to score a cheap deal
In big business travel cities like New York, Chicago, or San Francisco, rates tumble on weekends when road warriors go home. Find these deals using last-minute apps like Hotel Tonight, which offer an upscale collection of hotels at downscale, last-minute prices.
2. How to pick a good hotel location
Of course, everyone wants to stay near their meetings. If you're trying to save money, though, stay just outside of the city center, especially if there's a good rail or subway system to bring you right into town.
3. How to find "real" experiences or food
Ask cab drivers, hotel clerks, and housekeepers where they like to eat or hang out, rather than ask them to make a suggestion based on what they think you, a visiting business traveler, may like. Failing that, ask for something specific: "Which restaurant around here has the best pie?" or "Where's the nearest Irish Pub?" instead of the vague, "Where's a good place to eat?" 
4. How to win over a client (if money's no object)
It's better to meet with a client on their turf -- they'll be more comfortable in a familiar surrounding. Ask them what their favorite local restaurant is and make it clear that, regardless of the location or distance, you're happy to meet there.
5. How to win over a client (if money is an object)
Do something out of the ordinary. Instead of a typical business meal, go to museum if you're in a big city. You can conduct your business while also talking a little Van Gogh. It's all about being memorable.
6. How to get upgraded
To get the best hotel room, ask for something specific, like a room away from the elevators or on a lower floor. By asking the clerk to get involved in the room selection, you'll usually get a better one, or at least one that wasn't chosen by the hotel reservations system.
7. How to squeeze pleasure out of your business trip
If your conference is in an exciting destination, extend over the weekend. You'll also score a cheaper airfare if you stay over a Saturday night, which your boss will no doubt appreciate.
8. How to (discreetly) ditch a sucky colleague
"One of my best college buddies lives here and is going through a painful divorce and wants to go out and talk. Do you mind if we part ways tonight?" That's all you have to say.
9. How to fit in with foreign coworkers
In Japan or Korea, visiting business associates should always join in whatever extracurricular activities the host is planning, even if it seems a bit over the top. What's appropriate depends on a variety of factors, mainly the business etiquette of the country you are in.
10. How to avoid a business trip all together
If your company can afford it, offer to pay to have your client visit you and set up a special trip for them.
Chloe Pantazi is an editorial assistant on Thrillist's travel team. On vacation, she works really hard... at getting an even tan. Follow her on Twitter at @ChloePantazi.