Let's retire the acronym YOLO, can we? It's so wrung-out that it makes even a 12-year-old sound like an unironic middle-school principal. But it keeps popping up because its underlying sentiment -- carpe diem, essentially -- works so often, especially when you travel. This is how I found myself deep in an artists utopia tucked within a medieval ghost town in the mountains of northern Italy.
Getting there is a reminder that you only die once, too. A jaw-tightening grind of the gears and the familiar smell of burned clutch told us we were not on the Autostrada anymore. Maybe the Fiat wasn't the best car for a climb straight up the Alps but, hi, it's Italy. You're driving a Fiat even if you do end up dropping your transmission somewhere on a dusty mountain road where no one but goats can help you. #YOLO, yo.
We were navigating hairpin turns and a steep grade higher and higher into the mountains just outside of Sanremo, Italy, on the coast about an hour's drive from Nice, France. The destination? Bussana Vecchia. Why? Because when someone tells you there's an artists collective utopia built out of an abandoned medieval mountaintop village, you don't ask questions. You go. And if you ever care to stay in a pay-what-you-want hippie hostel, I recommend you follow in our footsteps.
Recommended Video
Debatable: It's Fine To Recline Your Seat On a Plane
An earthquake created a ghost town
Bussana's recent history begins with the 1887 earthquake that shook the stony village to the ground. Survivors lived in ramshackle homes until they abandoned the village; Sanremo condemned it as uninhabitable. There the town lay, dormant for 60 years, until artists moved in and began to rebuild, claiming it as their creative oasis. In the '70s the sewer system was reconnected to an aqueduct, and electricity followed. Eventually the government reopened it as a semi-viable place to live. Today it has grown into a village of scattered nests -- a haven for the peculiar and an enclave for the odd.
I was traveling with my friend Susan, a kindred spirit from the Netherlands whom I had the good fortune to meet while we were both traveling in Ecuador in 2015. I had to be in Europe for a friend's wedding and a few other writing assignments, so she joined me for a leg when I had a few days to kill while getting myself from Nice down to Rome. And yes, I realize that everything I just said makes me sound like a twerp, but now you're riding shotgun on Italian mountain roads, so just hang in there.
Once our Fiat crested the final hill, we rolled it into park on the side of a cliff road, overlooking the valley and Mediterranean Sea. We walked through the stone arched entrance into the village, a cobblestoned labyrinth of streets and alleys on the way up to the castle. Along the roads were small galleries and studios showcasing the works of the resident artists, many of whom live perched above in renovated residences tucked among the rubble.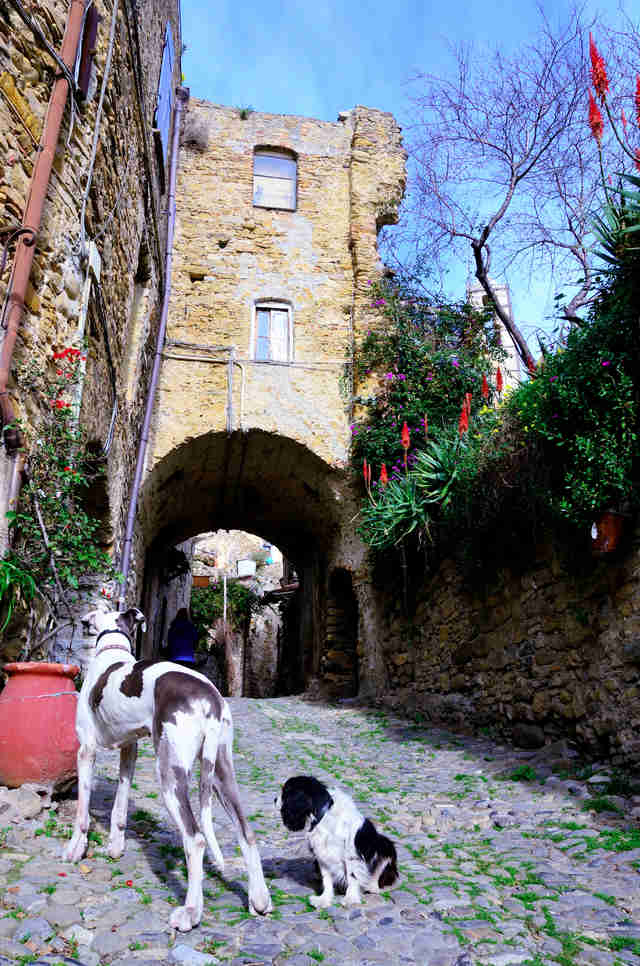 A hippie house of mismatched found objects
There isn't much to do in Bussana except wander. Getting lost is impossible -- after six or seven turns you end up right back where you started. We found a small church with a caved-in roof that sat on a bluff overlooking the valley, and nearby, a tall metal sign that formed an arch, with the words La Barca (The Boat), written in cursive.
In the yard behind the sign was a crumbling pickup truck festooned with flowers, knickknacks hanging from trees and an assortment of mismatched lawn art. The work of a Burning Man creative genius? Or straight-up trash collected by your quirky grandma who lives in the middle of Bumblefuck, Idaho? Tough call. A pig rooting around in the dust and a duck waddling by helped to classify the situation.
We climbed some stone steps to the main floor of the house, an open-air patio strewn with memorabilia and miscellanea that suggested Neal Cassady's brain had exploded into a house. Japanese lanterns dangled like heavy fruit from the trees. A long, weather-worn picnic table ran the length of the patio. Trees were wrapped with twine, tucked into which were dolls, sandals, and posters. License plates, dart boards, tiki torches, globes, jewelry, troll dolls -- the only thing missing was a live baby ostrich running around underfoot. Except that there was 100% a live baby ostrich running around underfoot.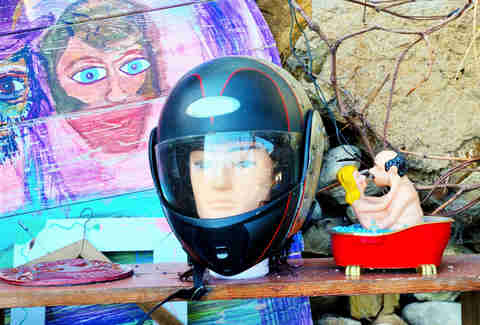 A simple, "What in the actual fuck?" would have sufficed. But in the moment where we were seemed entirely business as usual. Because why wouldn't there be a DIY version of Pee-wee's Playhouse at the top of a mountain in Italy?
The rules are about as lax as they come
It was then that we met Ronald, a Dutch expat with shoulder-length hair, and the proprietor of La Barca. He muttered a gruff hello and stuck out his hand to us as we wandered (read: trespassed) aimlessly through the space. He rummaged in a white fridge, produced plates of Italian meat and cheese, and filled three glasses with dark purple contents from a plastic jug. I don't make it a habit of drinking purple liquids handed to me from strangers. But for Ronald, I made an exception, and was rewarded by a gentle buzz.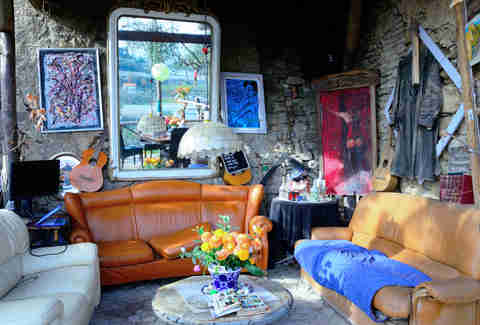 We drank what ended up being delicious homemade wine as he told us his story: La Barca is an entirely free commune where everything belongs to the people. The fridge is always stocked, a bed is always available. No need to call, no need to reserve, no need for money. Just show up and find a spot to curl up in, for as long as you like.
Ronald makes his way by running the errands he needs down in Sanremo, but also by past guests, whom he genuinely refers to as his friends, who periodically return to bring him the things he needs, like food, shampoo, paper towels, or whatever else they feel like bringing. A small donation tin hangs from a nearby tree by the exit, as well. Although, I'm not sure how lucrative one tiny coffee can can be when it's hanging from a tree in a village with a population of probably 9.
With his blessing that his house was open to all, we wandered through to see what other kind of absolute ridiculousness we could find. Through a blacklight-lit den, draped in Christmas lights, with posters of Jim Morrison and Mick Jagger, up tiny wooden staircases to a room with bunk beds. The faint sound of a Rolling Stones record wafted its way up throughout the house. Creepy AF? Maybe. But undeniably cool.
Through a small archway we emerged on a rickety terrace where only a bare, grimy mattress sat. Cups of homemade wine in hand, we took a seat on the mattress and gazed out at the Mediterranean Sea below. In an abandoned medieval city, sitting on a naked (highly questionable) mattress in a small utopia sipping homemade wine as a baby ostrich roamed the grounds below. No hashtag could explain it.
Sign up here for our daily Thrillist email and subscribe here for our YouTube channel to get your fix of the best in food/drink/fun.