Haunted islands. Mountain villages. Everything in Italy seems to be for sale these days, and on the cheap.
Joining the list are 20 aging villas in the picturesque, 12th-Century Sicilian village of Gangi, each of which is being sold for a mere $1.37. Seriously, an Italian villa for less than a scoop of gelato. 
A stone's throw from Mount Etna in the Madonie Mountains, Gangi's population has been on the decline for years (it's currently around 7,000 residents), and the council is hoping to revitalize the medieval town by drawing in new residents. "The people of Gangi want to attract foreigners because they want to bring in new life", Marie Wester, a Swedish property adviser who lives in Italy, told The Telegraph. 
Of course, there's always a catch: Buyers are expected to pay fees upward of $61,678 to cover renovation and legal costs, as well as agree to actually renovate the property. No bulldozing allowed. "The houses need new roofs and floors", Wester added, and buyers would need to "put in electricity, water and sewerage, and re-plaster them." She estimates a total repair bill of around $47,000 (or €35,000).
Recommended Video
You and a Dozen Friends Can Rent This Towering Beachfront Mansion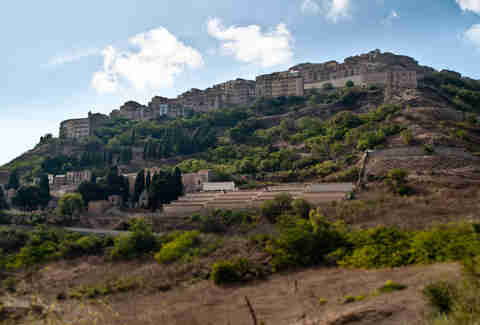 Now, we know what you're thinking. This deal sounds amazing, but isn't Gangi part of the Corleone region, famed for its Mafia connections and mentioned in The Godfather?
The short answer: Yes. Long answer's still yes, but Webster notes without any irony, "the Mafia exists, of course, but they're interested in multi-million construction projects, not restorations like this." Oh, good. "Some people think that if you come here you'll see them walking down the street with guns", she adds, " But it's not like that." Also, great to hear.
As if that was going to stop you, anyway. In fact, neither the added fees nor the location have kept a number of Americans, Swedes, Brits, and Russians from expressing interest in the properties. An Italian man living in Abu Dhabi purchased two villas last week. And can you blame him?
After all, even with the additional costs, the villas are still a fraction of the price of normal home. Which, if you ask us, sounds like an offer you can't refuse.

Chloe Pantazi is an editorial assistant on Thrillist's travel team. Yes, that's a British accent. No, she doesn't watch Doctor Who. Follow her on Twitter at @ChloePantazi.