Spend seven days in the desert riding on a camel...on purpose!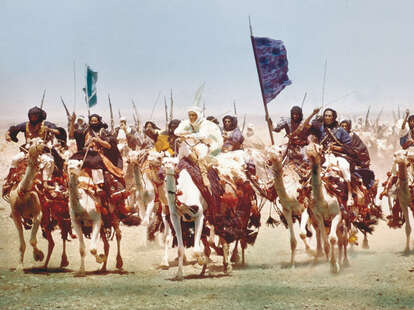 Stop! Go watch Lawrence of Arabia. Done? Cool. Now let's talk about how you can be just like Peter O'Toole (minus the Aryan good looks and devilish English accent) by heading to India and taking a rustic, week-long camel safari into the depths of the desert and back, all thanks to The Adventure Travel Agency in Jaisalmer.
You'll start in India's "Golden City", Jaisalmer. It's in the northwest corner near the Pakistan border, but you won't be there for long, as the desert's calling.
By day you'll either be walking beside, or riding upon, one of these beasts.
When you're not riding, there'll be stops at remote villages to see how ladies really do love axe.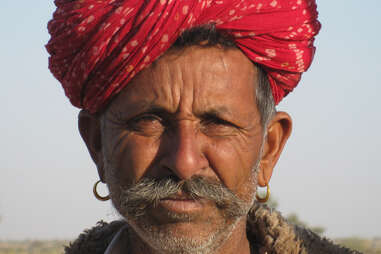 ... and fellows with neat mustaches.
Note: villagers might even pose for your photos.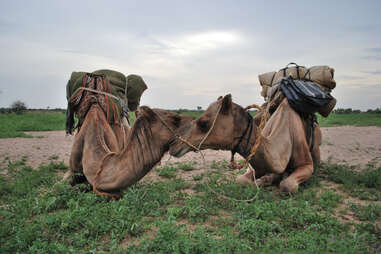 'Round about noon-ish, the desert gets downright sweltering, so you'll hunker down in a shady oasis for lunch while the camels canoodle.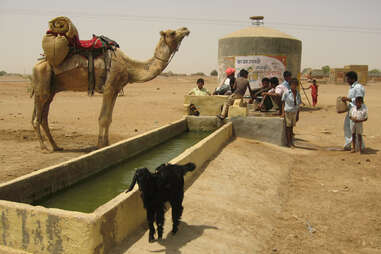 Camels don't drink often, but when they do, they drink a ton! Also, look at that creepy little goat... you'll probably see one like that.
Breakfast, lunch, and dinner are included in your rate, but after a day full of desert, will you even be hungry for actual meals?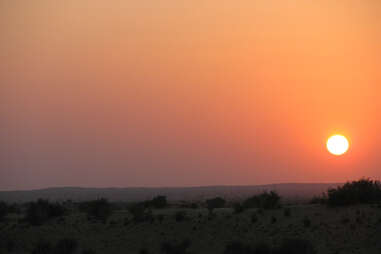 The weather almost never changes, so a view like this is what awaits you most sundowns.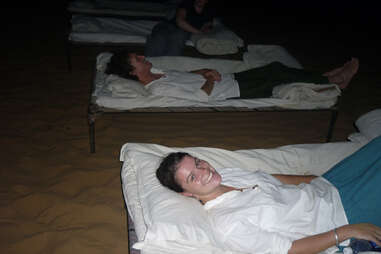 And you better REALLY love that view, because when they say you sleep under the stars during a camel safari... they mean it. You literally put your army-style cots into the dune, unroll your bed, and get ready to dream of room service, jacuzzi tubs, and criminally expensive minibars.
So, what are you waiting for? Your camel safari awaits, and it promises to make you feel like an O'Toole.