Although camping is considered a cheap-and-cheerful accommodation option, sleeping under the stars can be shockingly pricey when you factor in the cost of a tent, sleeping pads and bags, a camp stove, portable chairs, a cooler—The list could continue. It takes time and a few trips to build out your kit. Until then, you can rent.
Renting camping equipment is a good way to get outside without spending a fortune, but it's also handy when you fly to a destination to camp and don't want to deal with packing your own gear, or if you want to test drive an item before buying it.
But how exactly can you borrow everything you need? Whether you're planning a laid-back family car camping adventure or a multi-day backpacking expedition in the mountains, here are all the places where you can rent some gear—and a little bit of guidance on being a good borrower.
National retailers
Perhaps the most widely known and trusted brand that rents out camping gear is REI. The outdoor retail giant rents out the works, from bikes to bear canisters, at select locations throughout the US. In terms of camping gear, you get your pick of one- to six-person tents, accessories (cooking essentials, chairs, lanterns, etc.), and even entire backpacking kits that come with the backpack included. REI's rental rates range from $4 to $163 per night, depending on the gear's value.
Public Lands, a spinoff of Dick's Sporting Goods, also has a rental program based out of its seven retail locations around the country. And Outdoors Geek, though it has just one brick-and-mortar retail store (located in Denver), claims to have the largest supply of camping and backpacking rental gear in the US—all available online and deliverable to anywhere in the country.
Local outfitters
To support a small business, check out San Francisco's Last Minute Gear. It ships everything from tents to headlamps nationally, even offering to deliver throughout the Bay Area by bike courier (Have you ever heard of anything more San Francisco?). To get an idea of pricing, you can rent a Mountain Hardwear backpacking tent worth about $500 for a week for just $50. Your money will automatically go into a rent-to-buy program in case you rent so many times that you would have been better off buying. If you're seeking out an even cheaper option, Last Minute runs a community borrowing program, but it's only available in stores. SF-based renters can also check out Sports Basement, which offers delivery via DoorDash.
Luckily for those based outside of San Francisco, there are other locally owned businesses with rental offerings all over the country. These include LowerGear (out of Tempe, Arizona), Gear for Adventure (Buffalo, New York), Rocktown Adventures (Rockford, Illinois), Basecamp Outdoor Gear (Las Vegas, Nevada), Mountain High Outfitters (across the South), Eastern Mountains Sports (across the Northeast), and RightOnTrek (operating a self-service gear rental vending machine in Columbia Falls, Montana). But that's really only the start, so be sure to research outfitters in your area to find others near you.
Online rental marketplaces
Outside of the retail space, there are now a bounty of companies exclusively in the business of renting. Kit Lender, a Shark Tank success, is a reputable one offering full and partial kits for car camping and backpacking for up to 12 people (cooking needs, tents, chairs, backpacks, and sleeping bags included). Individual items are available as well. Kit Lender charges a per-day rate, starting at $2 for a cooking set or an inflatable pillow and going up to $500+ for a 12-person setup. Shipping is usually free.
Kits are to Kit Lender as pods are to Xscape Pod. Following a similar model, the latter will pack tents, sleeping bags and pads, camp chairs, headlamps and lanterns, a first aid kit, a fire starter, and more into a duffel bag or cooler and deliver it to you anywhere in the contiguous US. Pods are available for both car camping and backpacking, for one to eight people. Or you can rent items à la carte.
Libraries and libraries of things
Check out a drill, a book, and a tent at the same time with just your library card. Libraries of things are lifesavers when it comes to borrowing household tools, electronics, and recreational equipment, including—yep—outdoor gear. Inventory varies by library, so you'll need to check the catalog of your local library of things to see what's available.
Libraries of things are often operated by traditional libraries, but keep in mind that this isn't always the case. An example: Cincinnati, Ohio's Queen City Thingery. Run by the environmental education organization Imago, this "thingery" has hiking packs, stoves, tents, sleeping bags, and a hammock available for a small fee (no more than $13).
College students should also check their school libraries and campus recreation organizations for borrowing opportunities.
Community gear sharing
Neighbors are good for more than just cups of sugar or some local gossip. People in your area can list camping equipment and accessories for loan on sites like FriendWithA, GeerGarage, and Quiptu. You'll pay a set amount per day and connect with a neighbor through the site to coordinate pickup.
Another source, Loanables, will connect you with an individual or company located anywhere in the States. For example, you can borrow a satellite phone for your off-grid camping trip for $5 a day from a random person in Utah and they'll ship it to you.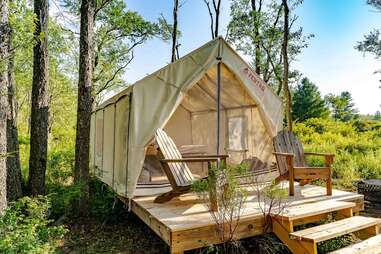 Campsites with gear included
If you've ever reached your campsite and desperately wished the tent would assemble itself, then you might like Tentrr, a peer-to-peer rental platform kind of like Airbnb but just for camping. Tentrr campsites from Texas to Maine mostly come with safari-style tents already set up (There are some exceptions that require campers to bring their own equipment, but they're all clearly marked on the website).
If this kind of don't-lift-a-finger campsite setup appeals to you, but you already have a campsite in mind, there are even companies that will lug the gear out to you, set it up, and tear it down. Don't believe it? Google Zion Camping Rental and get to planning a trip to southwest Utah.
What to expect when renting camping gear
Many gear rental platforms will require a security deposit for high-value items. Sometimes, they'll also require a damage waiver—Think of it as insurance. Unlike security deposits, damage waivers are not returned after the rental goes back.
To make sure you're not blamed for any existing damage, note the condition of every item before using it, and take photos of anything that's not in perfect condition. If you can, be sure to test the gear with the owner or a company representative before taking it home—and at the very least, test it out before your trip. This way, you can be sure you know how to use it and nothing's missing.
Finally, make every effort to return gear in the same condition it was received. Camping trips can get pretty gnarly, so be sure to clean and dry your rental gear properly to prevent it from molding in storage. And if you accidentally break something (it happens!), just do the owner a solid and let them know. Honesty is the best policy in the world of gear rental.