Canada Goose Highlights the Work of Indigenous Artists with New Collection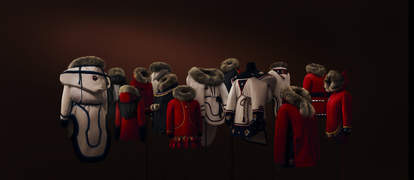 Love 'em or hate 'em, you probably have an opinion about Canadian luxury clothing manufacturer Canada Goose. The company's now given folks something new on which to weigh in: One-of-a-kind traditional parkas created by Inuit designers and commissioned by Canada Goose. Project Atigi -- currently on display in a number of Canada Goose stores in New York City, Paris and others -- features the work of 14 seamstresses from nine communities spread across four of Canada's 10 provinces -- Nunavut, Northwest Territories, Quebec, and Newfoundland and Labrador.
"I'm feeling pretty honored to take part in this, especially because it's something that's going to be put out to different parts of the world," Kristy King, a seamstress from Arviat, Nunavut, told CBC News.
"Atigi" is the word for "parka" in Inuktitut, one of the primary Inuit languages spoken in Canada, and this project could be a positive step toward the long-overdue acknowledgment of indigenous contributions to the travel and outdoors spheres. For example, "anorak" -- both the word and the jacket design itself -- comes from native Greenlanders, but you won't usually hear it attributed as such.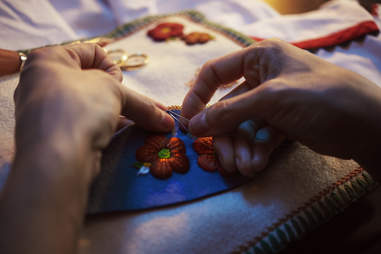 A one-of-a-kind parka commissioned for the new Project Atigi.

| Canada Goose
Indigenous artists and designers are frequently targeted by non-Indigenous people who profit off their work, whether by ripping off traditional designs or by proclaiming their own knock-offs to be the creation of indigenous designers. So the increased representation and the fact that 14 Inuit designers were properly paid for their work would seem to be a net positive, but it remains to be seen how much impact the project will ultimately have.
None of the 14 parkas will be re-created -- the originals start at $5,000 apiece and go up from there. The proceeds are intended to benefit Canadian indigenous rights group Inuit Tapiriit Kanatami, but it's not clear yet exactly how or when. A representative for Canada Goose told CBC News that the designers might be commissioned again to create more than (incredibly intricate) one-off items, but there are no concrete plans around that yet either.
Canada Goose is a brand not without controversy, mainly for its use of down feathers and coyote fur in its products, resources that the company says are ethically sourced. Its flagship stores are frequently the sites of protests; but whether or not you consider the $1,000 jackets problematic, their popularity endures -- so much so that they have knock-offs of their own, plus people have been stealing them -- for the simple reason that they are really, really warm.
"We are the only global Canadian luxury brand and for us to be collaborating with the Inuit—the original parka makers—is really powerful," Canada Goose president and CEO Dani Reiss told Fashion Magazine. "To be able to use our global platform to showcase their products and craftsmanship, which they've had for generations, is really important. Hopefully it's just the beginning and we can create opportunities for these women."
Kastalia Medrano is Thrillist's Travel Writer. You can send her travel tips at kmedrano@thrillist.com, and Venmo tips at @kastaliamedrano.