This Groundbreaking New Museum Holds the Largest Collection of Inuit Art
The Qaumajuq, which opened last week, aims to reconcile Canada's colonial past.
Look at that rippling exterior.

| Photo by Lindsay Reid
Look at that rippling exterior.

| Photo by Lindsay Reid
There's one piece you can't help but notice in Canada's new Qaumajuq (KOW-ma-yourk) museum, which opened as an extension of the Winnipeg Art Gallery (WAG) last week. It's a glistening space suit sewn from spotted sealskin; futuristic helmet on top, traditional hunting gear below. It is spectacular, even in pictures, created by Iqaluit artist Jesse Tungilik as a childhood throwback to the hunting clothes his mom made from caribou hide. The bulky ensemble, worn in the hostile environs of northern Canadian, made Tungilik feel like an astronaut on unfamiliar planets. It's a longing he later translated to the piece, Tungilik told the CBC, hoping to convey to Inuit people that they were not limited in their life choices; they could, as it were, reach for the stars.
The $52.4 million Qaumajuq is groundbreaking for its scope, housing the world's largest collection of contemporary art by Inuit (indigenous peoples of northern Canada, as well as parts of Greenland and Alaska) with 14,000 works—most previously in storage—representing more than 2,000 artists. In addition, 7,400 pieces in the museum are on long-term loan from the Government of Nunavut, the newest, largest, and most northernmost territory in Canada, given to the Inuit in 1999 for self-government.
The building itself, in downtown Winnipeg, is an impressive sight: The white-granite façade ripples, mimicking snowdrift landscapes seen by Los Angeles-based designer Michael Maltzan on a trip to Nunavut. At night, it's lit up like the northern lights, with dancing imagery projected on the undulating exterior accompanied by a soundtrack in a 20-minute loop.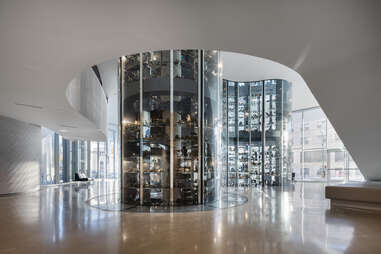 A major focal point of the 40,000-square-foot space is the Visible Vault, a sleek three-story glass display showcasing 5,000 stone carvings that traverse 34 indigenous communities: lazy walruses, vessels, bears, birds, and hunters placed like precious jewels across 500 shelves. Visitors can watch conservators and curators working within the vault, which is also visible from outside through a street-level glass window. The museum also boasts a clay studio and kiln room, and two exterior studios for stone carving and ice sculpting where Indigenous artists will work—plus classrooms, a theater space, and a digital media studio.
And rather than just be a place where non-Inuit come to be educated, the museum aims to be a place of dialogue and connection for Canada's indigenous community—a place for them to tell their own stories. Admission is free for all Indigenous Peoples and input was sought from a range of Indigenous advisers, including Inuit birthright organizations, and an Indigenous Language Keeper Circle who also helped bestow the name. Qaumajuq is Inuktitut for "it is bright, it is lit".
The history of Inuit relations in Canada is fraught. In its virtual opening, WAG director and CEO Stephen Borys said the spirit of Qaumajuq is to "acknowledge [Canada's] colonial past and move forward in the spirit of reconciliation and collaboration." For a start, the WAG acknowledges that it was built on the ancestral lands of the Anishinaabe, Ininiwak, Anishininiwak, Dakota, and Dene peoples, and on the homeland of the Métis Nation. The new space was developed in accordance with the 2015 recommendations of Canada's Truth and Reconciliation Commission, convened to address historical injustices to Indigenous peoples.
As a result of the museum's colonial past, the provenance of some of their permanent works might also be suspect; a policy is in place that, if a work is found to be acquired through unethical means, the museum will work towards its repatriation.