Hit the Icefields Parkway.

| benedek/E+/Getty Images
Hit the Icefields Parkway.

| benedek/E+/Getty Images
Tour Glacial Lakes & Mountain Peaks on This Canadian Rockies Road Adventure
Canada's Wild West is equal parts natural splendor and oddball adventure.
Travelers, start your engines: You are now entering The [Scenic] Route, a rip-roaring exploration of the world's most incredible international road trips, from lush Rwandan jungles and ancient Peruvian mountains to seaside Irish villages, dreamy Japanese forests, and twisty Romanian hillsides. For more reasons to hit the pavement—plus tips, interviews, and a custom road-ready playlist—cruise over to the rest of our coverage here.
My parents were professional photographers, and not coincidentally, I grew up in the shadow of the most gorgeous mountains in the Northern Hemisphere: the Canadian Rockies. Come summer each year, work would take them up into the highlands, and as a kid, I'd tag along, hauling gear and loading film. Over time, the scenery made me the world's most spoiled pack mule.
Spanning some 3,000 miles between Alaska and New Mexico, the Rocky Mountain chain began forming 80 million years ago. Their youth (relative to mountains, of course) shows in their sharper edges and rough faces, which contrast beautifully with the curves of the glacial lakes they hold. These can take on downright surreal colors thanks to "rock flour," the microscopic bits of ground-up mountain that slide off a glacier when it melts.
The Canadian Rockies are a region you'll want to drive through over and over again, basking in its vast glory at your own pace. The scenery is gob-smacking any time of year, with summer the ideal time for swimming and fishing while winter calls for soaking in hot springs and zipping down the mountainside on a pair of skis. Enticed to plan a road trip? Here's the best route, peppered with the most beautiful views around.
Where are the Canadian Rockies?
In Canada, the Rocky Mountains begin in northern British Columbia and form almost half the province's border with Alberta. They provide the backdrop for a number of national and provincial parks, including Banff National Park, Jasper National Park, and Kananaskis Country.
On the road, you'll hit the Icefields Parkway, one of the most scenic drives in the world. Stretching from Banff to Jasper, this 140-mile highway packs the best of the Rockies into one epic road trip. On its path, you'll encounter ancient glaciers, surreal hikes with unobscured mountain views, and wildlife like deer, moose, elk, bighorn sheep, and mountain goats.
How to get around
British Columbia shares a border with three states—Washington, Idaho, and Montana—so if you plan on getting there by land, choose from several entry points, like Blaine, Washington; Eastport, Idaho; or Roosville, Montana. You'll need a valid form of ID, which can be a passport, passport card, enhanced driver's license, or NEXUS card (a program set up for pre-approved, low-risk travelers that need expedited customs processing between the US and Canada).
If you're planning to fly in, the closest international airports are located in Calgary, Alberta's largest city, or Edmonton, its capital. To rent a car once you land, you'll need your driver's license (if your license is not in English or French, you'll require an International Driving Permit). When picking up your car, you might also need to show your passport and return airline ticket. And as soon as you've got your ride, it's time to map out your game plan.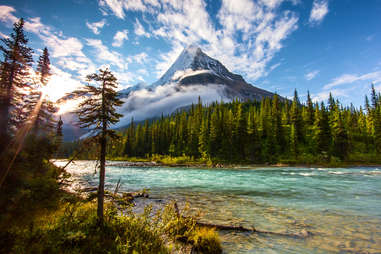 Explore the north country from Mount Robson to Horseshoe Lake
Start your trip off with a bang by checking out British Columbia's impressive Mount Robson. You came to the Rockies for some big-ass mountains, and Mount Robson is the biggest, climbing almost 13,000 feet into the sky. The British Columbia provincial park that surrounds the mountain spans 868 square miles and has plenty of trails for some real alone time with nature—just you and the mountain goats, caribou, and 182 species of birds. An annual ultra-marathon in the area attracts the truly determined and the outright masochistic, while a gift shop selling ice cream caters to the rest of us throughout the summer. From here, you'll continue south to the town of Jasper, Alberta, home to Jasper National Park.
Once in Jasper, make a beeline for the water. Located beside the Fairmont Jasper Park Lodge—Jasper's answer to the posh Banff Springs—Lac Beauvert produces dazzling emerald colors on any sunny summer day. If you care to stretch your legs, a 2.4-mile loop encircles the lake and should take just an hour to complete on foot. Otherwise, there's kayaking, canoeing, and stand-up paddleboarding on the lake itself.
Don't let anyone tell you that awesome views of the Rockies require huge hiking expeditions. Your next stop, Old Fort Point, is a five-minute drive from Jasper, and its incredible view of the Athabasca River greets you about a third of the way up. When I lived in Jasper, I used to run up to the summit after work each day, and then flirt with knocking out all my front teeth by tripping on the way down. The face of the summit was always covered in elk droppings, so keep an eye out for those gentle beasts.
From Jasper, you'll take the Icefields Parkway to Horseshoe Lake. Stationed 18 miles south of Jasper, this pristine body of water is no longer a secret, especially on hot days when it gets packed with brave swimmers (the water is always chilly!), scuba divers, and fishermen reeling in rainbow trout, largemouth bass, and channel catfish. But it's still totally worth it, especially if you've got the cajones to jump off cliffs as high as 80 feet into the deep, crisp water. And if that's your thing, for heaven's sake, be careful—Parks Canada has to rescue two or three people a year, and one guy recently shattered his pelvis doing it. But, you know, YOLO.
Cruise the Icefields Parkway down to Abraham Lake
Point your car south and you'll next encounter Athabasca Falls about 20 miles from Jasper. The eponymous Athabasca River might not sit at a high elevation, but it's nonetheless responsible for the most powerful waterfall in the Canadian Rockies. In the winter, the water turns into majestic ice crystals straight out of Frozen. Do yourself a favor and stay on the right side of the viewing fence—the mist makes the stones slippery and people have drowned trying to get an ideal photo. On a trip in my youth, my dad hopped over the barrier to get a better photo and I about lost my mind.
Down the way, Sunwapta, named after the Stoney word for "turbulent river," is Athabasca Falls' main rival and it's as dramatic as its name suggests. Actually a pair of waterfalls separated by a short hike, Sunwapta is just off the Icefields Parkway and well worth the detour. Its power peaks in the spring, when glacial runoff is at its height. In winter, the access road is closed, but you can still snowshoe or hike in to marvel at the cascading ice formations.
Those afraid of heights should probably skip this next one. For the rest of us, the Glacier Skywalk is a horizontal ark that juts out over the edge of the Sunwapta Valley, 918 feet in the air. Built in 2014, the Icefields Parkway attraction has glass floors, so if you can handle looking down, you'll get unreal views of the valley—and maybe also your lunch—down below. As a heads up, this one closes for winter and most of spring due to weather, so plan your visit between the months of May and October.
A short 15-minute jaunt off the beaten path gets to you Athabasca Glacier We always hear about melting glaciers, but have you ever actually seen one up close? Do it while you still can, as the four-mile Athabasca Glacier is steadily thawing; over the last 125 years, it's lost half its volume and retreated more than a mile. While it's too dangerous to hike into the glacier on your own, some tours offer excursions through its ice caves and crevasses.
Later, take a slight detour onto the David Thompson Highway, reaching Abraham Lake on the North Saskatchewan River. Though it looks a lot like the other glacial lakes in the Rocky Mountains—i.e. turquoise waters filled with rock flour—it's entirely man-made. Created in 1972 alongside the construction of Bighorn Dam, this artificial lake paradoxically makes way for a striking natural phenomenon: Decaying plants on the lake bed release methane gas, which creates bubbles that rise up and become frozen in place. The result? A whimsically polka-dotted spectacle you'll have to see to believe.
Wind your way south to Kootenay National Park
For another day of adventure, get an early start and hit the Icefield Parkway before veering off on a slight detour to Yoho National Park. While it doesn't get as much publicity as Banff or Jasper, Yoho is just as great. Emerald Lake (yes, it's as vibrant as it sounds), the largest of the park's 61 lakes, has an easy three-mile trail around the water. The half-day Lake McArthur Hike is another good way to get oriented, with serene views of the Rocky Mountains framing the sapphire blue water. It takes between three and five hours round-trip to complete, every minute of which is totally worth it.
From the park, you'll make your way over to Lake Louise (you know, that Instagram stunner). Going to the Rockies and skipping Lake Louise is like going to Manhattan and not visiting Central Park. It's crowded, but there's a reason it's crowded. An extensive network of hiking trails around the lake offers an easy escape from the tour groups. If you have a few hours, a hike to the Lake Agnes Tea House, originally built in 1901, is a great way to savor everything the area has to offer. And in the winter, the mountains around the lake become a skiing and snowboarding paradise with over 4,200 trails.
Just 8.7 miles from the hamlet of Lake Louise along the Moraine Lake road, the Valley of the Ten Peaks provides the backdrop you came to the Rockies to see. Aside from jagged snow-dusted mountain caps, Moraine Lake itself has water so mind-bogglingly turquoise you'll swear you're in the Little Mermaid, especially when it peaks in late June. There are hikes aplenty around Moraine Lake, and if you want to get out on the water, you can rent a canoe and paddle to your heart's content.
While in the area, you'll also want to hit Sentinel Pass, a seven-mile hike from Moraine Lake that takes about five to six hours round-trip. Larch trees lurk on every mountainside in the Rockies, and while they blend in with the evergreens for most of the year, in the fall, their needles turn a brilliant gold. In Larch Valley, they reach a captivating concentration. Come nightfall, set up camp out at Kootenay National Park, stashed some 25 minutes down the road from Lake Louise, where you'll spend the majority of the next day adventuring through the wilderness and/or relaxing in some hot springs.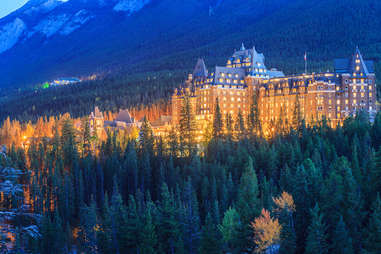 Take your time meandering over to Canmore
Are you a bath person? Yes? Now, imagine spending the day luxuriating in soul-warming water under breathtaking snowy mountains. Kootenay National Park over the border in British Columbia sports several hot springs, housed in everything from classy chalets to humble public facilities. On the low-cost end, Parks Canada operates Radium Hot Springs, an odorless, sunken pool naturally stocked with soothing minerals like sulfate, calcium, bicarbonate, silica, and magnesium. Entry fees and locker access will set you back just a couple bucks. And if a manicured pool fed by natural springs sounds more like your thing, Ainsworth Hot Springs more than satisfies.
A few miles out, Fairmont Banff Springs Hotel, part of the string of Canadian hotels that includes Ottawa's Château Laurier and Quebec City's Château Frontenac, is easily the most opulent building in the region. Built in 1888 and modeled after a Scottish Baronial castle, it offers beautifully appointed guest rooms, a full spa, and its very own golf course. Even if you don't have the funds to stay the night here, it's worth popping in for the spectacle alone.
Once you're all soaked out, make your way out to Canmore. The so-called Three Sisters are the calling card of this cozy town, which beckons from just outside Banff National Park. (Its most famous hometown hero? Mike, by a long shot.) The peaks, whose names—Big Sister, Middle Sister, and Little Sister—refer to an ancient Stoney story, are also called "Faith," "Hope," and "Charity," by some (though not by anyone who has tried to climb them without adequate preparation). Big Sister's summit stands nearly 10,000 feet in the air and can be reached in a day if you're an experienced enough hiker.
Rather kick back for an evening of mountain-free bliss? Post up at one of the area's creature comfort-filled hotels or lodges, with options ranging from the rustic boutique Lamphouse Hotel to the four-star design-forward Malcolm Hotel. And if you're looking for a delicious way to wind down before bed, leave the keys at home and board the Mountain City Brew Bus for a hop-on, hop-off tour of the town's top suds purveyors.
Get your big city fix on the way to Wayne
Next up is a 65-mile drive along the Trans Atlantic Highway to the city of Calgary, where mountains get replaced by skyscrapers. A city borne out of the Canadian West, Calgary is also known as "Cowtown," thanks to the famous Calgary Stampede that takes over every July. To learn more about the region's rich Indigenous history, check out the Glenbow Museum, which places a specific focus on Indigenous artifacts from the northwestern Plains. Later, ascend the Siksikaitsitapi Medicine Wheel at Nose Hill Park for sweeping views of the city and an immersion into the historic traditions of the Blackfoot People.
A 90-minute drive northeast will bring you to Drumheller, otherwise known as the "Dinosaur Capital of the World." It's a town famous for its prehistoric topography, fossil-lined hiking trails, abandoned coal mines, and breathtaking stone hoodoos. The Royal Tyrrell Museum is a must-see, home to a massive collection of dinosaur fossils. For a bit of hiking, trek through the Hoodoos Trail, where you'll encounter trippy sandstone pillars, or take a short drive west of Drumheller to Horseshoe Canyon to walk amongst striped hills and prairie lands. (Note: While it's currently closed for the season, the park will reopen in summer 2023.) On your way out, wave goodbye to Tyra, the town's 86-foot-tall T-Rex mascot.
Not far from Drumheller is the ghost town of Wayne, a relic of the Wild West days currently populated by less than 30 people. A thriving mining settlement back in the early 1900s, today Wayne lays claim to just one economic draw: Last Chance Saloon, located within the Rosedeer Hotel. The spooky watering hole carries the town's dark Coal Boom-era history within its walls (literally—you can't miss the framed bullet holes). In the 1920s, so many fights broke out that it was nicknamed "the Bucket of Blood," and many believe the spirits of bygone coal workers remain. These days, it makes for a lovely stop for a burger and Mason jar of beer.
Beam yourself up—er, over—to Vulcan
From Wayne, you'll pass through the Siksika Indian Reserve on your way towards Iniskim Umaapi Medicine Wheel, sometimes referred to as "Canada's Stonehenge." One of the oldest religious monuments in the world, it was built over 4,500 years ago by ancestors of the Blackfoot Nation to promote sacred healing. Located on a 3,000-foot elevated hill, the site consists of a central cairn encircled by 28 stone spokes. Pay your respects while marveling at the idyllic prairie lands that surround the Bow River.
Channel your inner Star Trek fan as you later head off to Vulcan, a town that famously shares its name withs Spock's old stomping grounds. In reality, Vulcan was actually named by a Roman mythology-obsessed surveyor for the Canadian Pacific Railway in 1913, but pilgrimaging modern-day Trekkies have since immortalized it as a temple to all things sci-fi. And the town has capitalized on that coincidence with attractions like Vulcan Tourism & Trek Station, a Star Trek-themed visitors center ornamented with a replica of the Starship Enterprise. And if you happen to be around in June, you'll be able to catch Spock Days, a Trekkie convention that brings out hundreds of fans from around the world each year.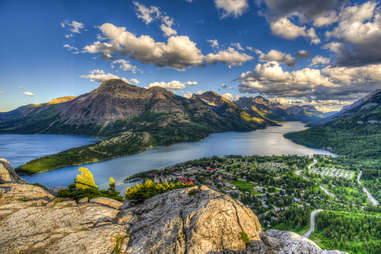 Treat yourself to a festive final night's rest in Waterton Park
A stop into Fort Macleod, located 65 miles south of Vulcan, kicks off your final day of road-tripping the Canadian Rockies. For visiting Alberta school children, the town is synonymous with the Fort Museum of the North West Mounted Police and First Nations Interpretive Centre—a worth destination, indeed—but you might know it better as the cinematic backdrop to such blockbusters as Brokeback Mountain, Interstellar, Ghostbusters: Afterlife, and, most recently, The Last of Us. Take some time to wander the charmingly old-fashioned Main Street, and you might find yourself smack-dab in the middle of a zombie attack rampaging downtown Austin, Texas.
Off-screen, Fort Macleod also boasts the Empress Theater, a first class opera house that's been around since 1912 and continues to host live concerts, nightly movies, and film festivals. Don't leave without visiting the Head-Smashed-In Buffalo Jump, a stunning natural precipice and UNESCO World Heritage Site that gets its name from a historic Blackfoot hunting technique of driving the massive animals off the edge.
Close out the day by coasting down to Waterton Lakes National Park. Nestled near the US border, the breathtaking site is contiguous with Montana's Glacier National Park. It offers all of the beauty of that National Park, plus its famous cousins Banff and Jasper, but with a fraction of the crowds. Best of all, its namesake lake is anchored by the opulent Prince of Wales Hotel, where a plush room, Roaring '20s-esque decor, and hearty meal at the Royal Stewart Dining Room awaits. But before checking in, work up an appetite at nearby Bear's Hump. The short hike is still steep enough to offer commanding views of the valley and Mount Cleveland, reminding you that while your road trip might be coming to an end, there's always more out there to explore.