You Can Stay at an Edible Candy Cane House for $128 and Augustus Gloop Is Screaming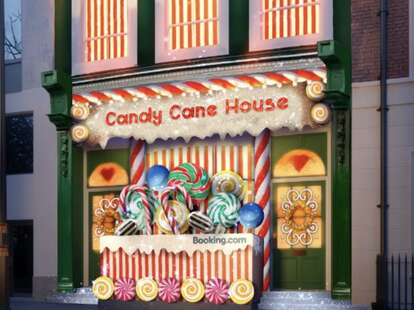 During the holidays it is your right to eat your loved ones out of house and home. Bowl of festive mints on the coffee table? Yours to pocket. Their refrigerator assemblage of half-eaten pies from holiday parties? Basically the guest's legal property. The only thing you can't really chomp on in someone's home are the wreaths and tree ornaments -- until this year, because an edible "Candy Cane House" will soon be available on Booking.com.
Now you and one other guest can stay at this edible home in Soho Square, London for just $128 a night. The house is only available on Wednesday, December 18 and Thursday, December 19, but we can't imagine your teeth would survive much longer. While you can't eat the walls, you won't be in any way deprived during the experience: candy-style treats and bubbly will greet you at the door, and from that point forward you'll be surrounded by sweets on all sides. While in the "Ginger-Breadroom" you can make sweet love in a fairytale forest laden with chocolate pine cones.
A "coco kitchen" would be unnecessary in an edible establishment if not for its chocolate-style cheeseboard but, alas, your dairy dreams await you on a Carmel-colored kitchen island.
And the lactose intolerant will be happy to hear that a bathroom sparkles around the corner, covered in glitter and eco-friendly snow. Do your best to resist licking the bowl.
The Candy Cane House will be open for December 18 bookings on Monday, December 9, at 10am GMT, and open for December 19 bookings at 10am on Friday, December 13. 'Tis the season to be a great big greedy nincompoop, y'all.
h/tInsider
Sign up here for our daily Thrillist email and subscribe here for our YouTube channel to get your fix of the best in food/drink/fun.