How to Elevate Your Road Trip Game with Car Camping
Trade hotels and logistics for spontaneous adventures under the open sky.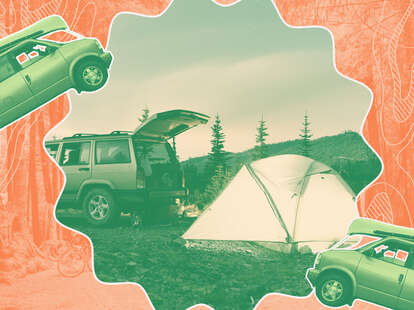 Image by Maitane Romagosa for Thrillist
Summer is finally here, and with coronavirus restrictions lowered across the country, it's time to stick your head out of a fast-moving car and char the heck out of some marshmallows over an open fire.
Unfortunately, millions of other people have the same brilliant idea. Like last summer, campgrounds across the US are filling up quick. Rental cars are more expensive than plane tickets, and finding a classic RV for anything less than a fortune is an absolute feat.
But before you start lamenting the death of the spontaneous road trip, look in the driveway. With a little ingenuity and preparation, your car could become your all-in-one campsite, bedroom, and chariot to some truly epic outdoor adventures.
Erika Moncada has been living in and out of her 2000 Honda Odyssey minivan, inherited from her father after he tragically passed away from Covid-19 last year. A nurse who was feeling burnt out in New York, Moncada took refuge on the open road. "I was just like, 'you know what, I'm going to build this [van] out and I'm going to drive it back to Colorado and I'm going to quit my job and... just pay homage to my dad, and take him with me everywhere.'"
Judging by her Instagram, this was the right call. As a serious climber, Moncada has traveled all over the Southwest, scaling massive cliff faces like Annunaki in Utah (see her featured by National Geographic Adventure), all while camping on a budget out of her minivan.
"I don't think I'm doing anything completely out of this world, but you just don't see it as much as a Hispanic woman," says Moncada. "I get messages all the time from friends or people I haven't even met, just saying that I inspire them. Like, 'oh my gosh, I want to do that.' I'm like, 'you can 100% do that.'"
Indeed, you can (well, maybe not the rock climbing part, but definitely the car camping adventures part!). Here's what you need to know about car or van camping in the great outdoors.
Rent a van and try it out before going all in
For those who want to take this whole car camping thing for a test drive, without investing in a ton of gear, there are plenty of outfitters for rentals. One option is Los Angeles-based Texino, which builds, sells, and rents vans on the Mercedes platform. They come fully equipped with kitchens, camping gear, chairs, linens, towels, and more.
"What we really think about is how do we make [van camping] an incredibly easy, seamless experience—where you can jump in this thing and go, and you don't need to worry," says founder Nick Devane.
One advantage to having a bigger van is that there's a bathroom (but Devane says most people actually prefer to stop at restaurants, gas stations, or campgrounds anyways). There's no shame in renting a nicer rig—at the end of the day, it's all about experiencing Mother Nature, which can be straight up life-changing, Devane says.
"I think one of the advantages of car camping over a hotel, [is that] hotels are so similar no matter where you are, right? Whereas if you're camping in the Olympic Peninsula, or Mount Hood, or Banff, you're having a very differentiated engagement with the world around you. I think that's really powerful."
Transform your vehicle into an adventure machine
Contrary to what you see on Instagram, you don't need a tricked-out sprinter van or fancy Airstream to go car camping. When in doubt, less is more, and it's okay to learn and adapt to your needs as you go. "You can't just go from living a regular lifestyle like an apartment, a home, and then go straight to the bougie sprinter," Moncada says. "You've got to work your way up."
Any vehicle will do—but pickup trucks, SUVs, and minivans are ideal if you want to lay down flat with a bed in the back. If you're spending the night outside, you'll need the usual camping gear like a tent, sleeping bag, chairs—all things you can buy from Costco or Walmart or even rent from REI.
For her minivan, Moncada had a friend build her a wooden platform bed for the trunk. She squashed together two donated IKEA foam toppers to make a DIY mattress. "Oh my gosh, I sleep so much better in my van than in my bed in my apartment," she says.
To keep things organized, Moncada secures a Thule storage container on the roof to store all her climbing gear. Depending on your willingness to disconnect from the world, you'll want something to charge your phone and electronics. A quick and highly useful item is a solar battery that can charge on the dash while you're driving. If you plan to be on the road for a long time, throw in a power inverter and/or a Wi-Fi booster.
Unless this is some sort of fast food themed road trip (which we would fully support), you'll need a cooler, stove, biodegradable soap, cutlery, and a quality pan. Cooking has been a big adjustment for Moncada, who says it's tough to keep fresh healthy foods from going bad. Her go-to meal is canned chicken with veggies and rice, fried up in a single pan and bathed in a spicy Asian-style sauce. "It's perfect, it's easy, it's really filling, and there's protein."
Plan ahead (but not too much!)
The benefit of car camping is that you aren't beholden to hotel check-ins and check-outs, added Airbnb fees, or even the hassles of reserving a campsite. You can essentially go where the wind blows you.
"Pick one or two things and just drive there," says Moncada. She recalls hearing about a secret driving route near Moab that took her through a ghost town and into mind-blowing canyons. "I remember making that drive… and thinking, 'holy crap, this has been here my whole life and I didn't know,'" she said. "I was literally on the verge of tears because of just how beautiful it was."
Plan too little, though, and you might run into some problems. Moncada hoped to visit Devils Tower National Monument, only to find it closed to climbers in June, for cultural reasons. "Don't just show up like, 'okay I'm here now, I'm gonna do whatever I want,'" Moncada advises. "Make sure you're doing everything properly and respecting everything [you] need to respect."
Some helpful road trip apps for planning your route include the National Park Service's app, which allows you to book campsites (some are presumably still left); Hipcamp, which is like the Airbnb of camping; and user-generated apps like iOverlander and FreeRoam, which let you search for free places to park in the wilderness, and even in some cities where overnight parking rules aren't enforced.
Find a safe place to park for the night
There is an incredible thing called the Bureau of Land Management, which takes care of vast swaths of the US—and you can camp on its land for up to 14 days in a month, for free. Great, right!?
Don't expect any amenities like toilets, fire pits, or showers. This is called dispersed camping, or "wild camping." Make sure you adhere to any signs that say whether you can or can't park, and don't you dare even think about starting a fire unless you're 100% sure it's permitted.
If you get caught wild camping illegally, you do risk a fine. But the more you do it, the more you'll understand what's kosher and what isn't. "Once you figure out the rules of 'how can I make it look like I'm not camping here' and find a place where you're not going to get disturbed," says Devane, "you start to realize that you can do that in a lot of places—as long as you're low impact and not making a big scene."
Sleeping in her vehicle wasn't so easy for Moncada at first. "Being a woman by yourself and just parking anywhere, it's like this crazy paranoia," she says. "I didn't think I would be that scared."
To protect herself at night, Moncada puts reflector boards on all her windows and locks up the van. She tries to park in groups with her climbing friends, and does her best to make her van look stealthy—without any stickers or signs that could indicate someone is sleeping in there. "I want to make my van look like the ultimate mom-mobile," she said.
Remember, you don't need to plan a trip to Alaska or down through Baja straight away; you can start slow. And don't let the beautiful #vanlife couples discourage you if your trip looks a little more makeshift than theirs. At the end of the day, it's all about taking that first step, and doing what works for you and your budget.
"If I really think I want to do this full time for a long time, and I want extreme comfort and this is going to be for years to come, then maybe I'll invest in a bigger van. But until then, I'm perfectly fine with my minivan," Moncada says. "I love it. It's the best."
Joel Balsam is a freelance journalist and travel guidebook writer whose work can be found in National Geographic Travel, Time, The Guardian, Lonely Planet, and Travel + Leisure. Follow him @joelbalsam.