A hotel with rooms made... from cars?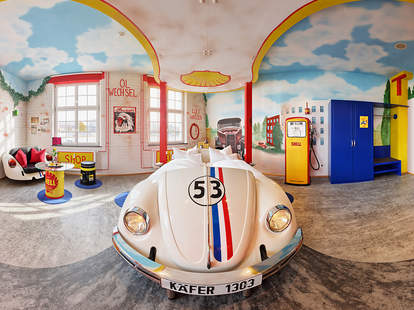 It's no surprise that there are plenty of spare parts around to furnish the 10 ride-themed rooms of the 4-star V8 Hotel, given that it's located smack-dab in the land of the Autobahn (Stuttgart, Germany). But aside from a flatbed, what else do these room have to offer? Take a look:
The "Drive-In Cinema" room is tricked out w/ a large flat screen directly in front of a permanently parked red Cadillac Coupe DeVille bed, which still has room for your gear.
Despite your frat house memories, the tools surrounding you in the "Garage" room are the kind only a mechanic would use: hydraulic ramp girders, wrenches, and like, other car stuff.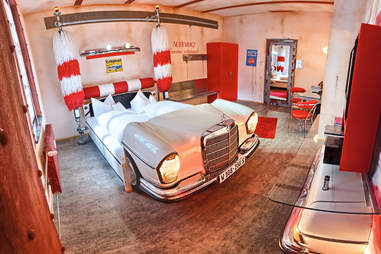 There's a sweet vintage Merc w/ giant brush pipes as a headrest in the "Car Wash" suite.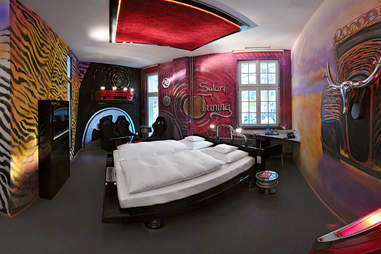 The "Tuning" room looks like Xzibit exploded in it: chrome, spoilers, exhaust pipes, and animal print wallpaper.
In the "Route 66" room, you'll camp out underneath a tent canopy, sleep next to motorcycles, and get all dreamy staring at pictures of James Dean.
The "Nostalgia" (read: "Scrap Yard") room is full of patina, fake old car parts, and a comfortable bed, where you can rest easy, relax, and work on your German (if it's a little rusty).