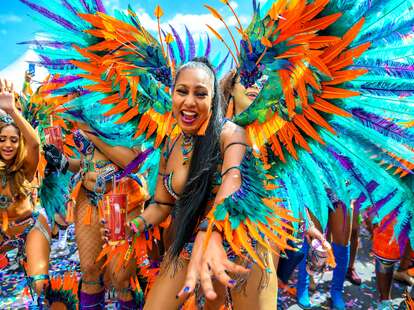 Photo by Keegan Callender. "Mas" in Tribe the band designed by Solange Govia.
Photo by Keegan Callender. "Mas" in Tribe the band designed by Solange Govia.
Ask any Trini what their favorite time of year is, and the answer is unanimous: Carnival season. That's when the Trinidadian capital of Port of Spain comes alive with the sound of music trucks blazing the latest soca tracks, thousands of costumed revelers, and larger-than-life Moko Jumbies (stilt walkers) gallivanting through the streets. After a two-year pandemic hiatus, the nation that's given the world calypso, the steel pan, and musical greats like Machel Montano, is primed and ready for the return of its national treasure, often called the "Greatest Show on Earth." If you're planning on attending the event, you'll want to make the most of every minute—and as a Trini with 15 Carnivals under my belt, I have a lot of advice to share.
But first, some history…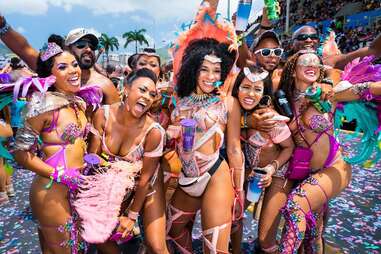 More so than Mardi Gras (although the pre-Lenten festivals have common themes), Trinidad Carnival is a way of life, a time of spiritual reconnection to my country's vibrant and complex history. It's a season that ignites and unites the entire nation (including sister island Tobago) for a month of revelry, insomnia and bacchanal. But to understand why thousands of locals and visitors partake in the festivities, let me take you back to Carnival's revolutionary beginnings.
In the 1700s, when the French colonized the islands, they brought with them their tradition of exuberant masquerade balls, which were bourgeois expressions of status and power. They'd dress up in elaborate costumes and eat lavish meals, but enslaved Africans were forbidden to participate. Instead, the workers created their own version of the celebration, wearing makeshift disguises, and using drums, sticks, fire, and whistles to communicate with each other. This vibrant showcase of resistance is now re-lived all over Trinidad each year. Participants chip (dance) down the road on J'ouvert morning (the pre-dawn jam before Carnival begins), covered in mud, paint, powder or cocoa, just as the originators of this sacred tradition once marched down those same streets.
This year, Carnival officially runs from February 20 to 21, though it's possible to attend events all month long. Here's what you need to know before it begins.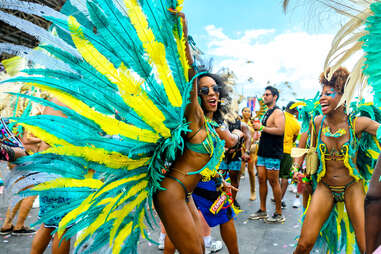 Pace yourself—It's a marathon, not a sprint
In the modern iteration of Carnival, there's no shortage of events to attend. With a seemingly endless array of fetes (parties) that celebrate Trinidadian culture and history—plus national competitions like Panorama, Dimanche Gras, and the Carnival King and Queen costume contest—you'll need to pace yourself in order to power through until the festivities' grand finale on Carnival Tuesday. Expect a real test of endurance as you wake up early, go to bed late, and spend most waking hours partying.
If you have any question about what to prioritize, make sure you attend J'ouvert morning (Carnival Monday), a no-holds-barred, come-as-you-are affair. You won't wear a costume, but try to wear something that's okay to get dirty; participants typically smear themselves with mud or body paint.
You'll also want to go to Tuesday's Mas, which is the climax of Carnival week, in which costumed bands parade through the streets. Unlike some spectator-only carnivals in other parts of the world, Trinidad welcomes all to the party, and there's a band for every budget. To play mas (that's a masquerade), register with your band of choice and pick up your matching costume upon arrival; you'll hit the road with your band and dance the day away with thousands of adorned and feathered revelers. Just be sure to keep your eyes on the prize: Finding the endurance to survive until the last lap.
Get into soca music
Think of soca music like a jolt to your senses that leaves you both whiplashed and hungry for more. Derived from its forefather, calypso, it's the rhythm of Carnival, and each year artists pass the torch Olympic-style in a procession of fresh releases. If this is your first Carnival, download a TeamSoca or DJ JEL mix to get familiar with the latest hits before you get to Port of Spain. You'll want to arrive pumped, familiar, and ready to jam.
Check out the eats on Ariapita Avenue
Bussin a lime—or hanging out—on Ariapita Avenue is a must for those who want to refuel after a day of dancing. A flurry of food vendors fill the Ave at night, and revelers should have cash handy to indulge in Trinidad's most famous and flavorful street snacks. Be sure to order doubles (fried flatbreads filled with curried chickpeas) and bake and shark (pocket bread filled with fried shark or fish), both of which you can customize to your liking. If you find yourself nursing a Carnival hangover, I can also recommend a hot cup of corn soup, which after much "research," I've found to be the perfect cure.
Dress comfortably and bring an emergency kit
You're going to be on your feet a lot, so comfort is key when you're deciding what to wear. Choose sandals or sneakers with cushy, supportive soles, and be thoughtful about every element of your outfits. Carnival "feterans" often pack outfits and accessories, organized and ready to go, in individual Ziploc bags—a huge help when your alarm for the next fete goes off at 3 am.
You should always pack some emergency basics, such as sunscreen and baby wipes, and make sure you have water handy. You'll also want a waterproof phone case for wet fetes, and vex money (emergency cash) will come in handy if you lose your crew and need to make your own way home.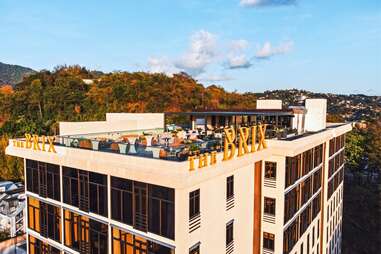 Where to stay and how to get around
The point of your visit may not be to spend time in the hotel, but you'll definitely want a comfortable place to get some rest and dress up in your Carnival best. In most cases, it's ideal to book ahead before everything sells out. I've stayed at The Brix Autograph Collection hotel in the past and really enjoyed it, and both the Hilton and Hyatt should be just fine for a Carnival stay. Airbnbs are also a great option; just be sure to book at least six months in advance if you want something good.
When it comes time to leave your hotel, getting around Port of Spain during Carnival can prove tricky for first-timers. If you rent a car, download Waze to help you navigate. However, you don't have to rent a car if you don't want to—and you probably don't want to, with all the sleepless nights and drinking. Ride share services aren't reliable in Trinidad, so you'll want to catch Maxi Taxis (color-coded mini buses that operate on fixed routes) to take you from fete to fete instead.
Feel the energy
There's an awakening energy that greets your spirit when you participate in your first Mas. I remember playing with the band Tribe during my first experience, turning onto the dragway before crossing the stage. Pausing to marvel at the sea of color, and the total bliss on people's faces, I thought to myself, "This is what pure joy and euphoria feels like." For those few short moments, all that mattered was the music, my friends, and the road ahead. It was perfect.
Enjoy every moment of your first Carnival experience; I hope to see you on de road again soon.