Saturday morning cartoons from the '80s and '90s were evil, pure and simple. Not only did they serve as blatant toy advertisements (we're looking at you, Ring Raiders), but the sweet aircraft they often featured were so impressive that they made run-of-the-mill commercial airliners look embarrassingly boring. Who wants to fly in a jet that can't transform into a robot?
From the X-Men's super-powered X-Jet to Miss Frizzle's even-more-super-powered Magic School Bus, each of these 10 aerial wonders is a reminder of how much cooler flying was (or seemed) when we were kids.
Recommended Video
Eat Among the Fishies at the World's First Underwater Restaurant
10. Ranger Plane - Chip 'n Dale Rescue Rangers
Built from a bleach bottle, a balloon, and two impossibly small plungers, this ramshackle contraption served as the Rescue Rangers' primary crime-fighting vehicle. Dale never really got to fly the thing, though, probably because Chip's a glory hog -- then again, given Dale's gin-blossom-red nose and general dim-wittedness, this might've been for the best.
9. Thunderquack - Darkwing Duck
Fresh off a cushy private pilot gig for the obscenely wealthy Scrooge McDuck, Launchpad McQuack took a crimefighting turn as Darkwing Duck's sidekick. Their Thunderquack jet might not have any weapons to speak of, but the dramatic effect of having a giant, disembodied duck head come bearing down on you is probably pretty intimidating.
8. The Magic School Bus - The Magic School Bus
It might not've been an airplane per se, but Miss Frizzle's enchanted scholastic conveyance could switch from a bus to a plane instantly, as well as a submarine, a rocket ship, and basically anything else The Frizz could think up. On top of that, the thing had a face and was essentially sentient; take that, Herbie the Love Bug!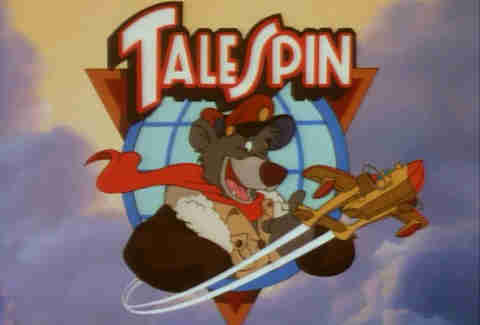 7. Sea Duck - TaleSpin
Having returned Mowgli to his home at the end of The Jungle Book, Baloo the Bear decided to pursue his true passion: air freight delivery. Evidently the "Bare Necessities" just didn't cut it anymore. His new line of work frequently brought him in contact with vicious air pirates, but nothing that his custom yellow seaplane couldn't handle. Bonus points for having an orphaned bear cub on the payroll who somehow flew around on a flat metal croissant in every episode.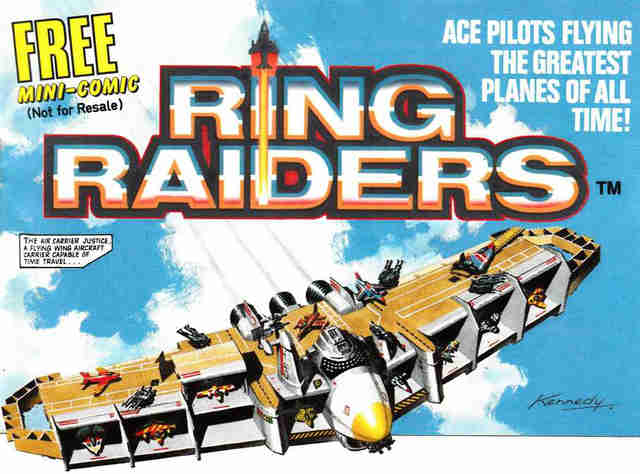 6. Air Carrier Justice - Ring Raiders
Long before the Avengers had their Helicarrier, the Ring Raiders were flying sorties from Air Carrier Justice, a mobile command center/flying aircraft carrier/time machine. Yes, it's also a time machine, collecting the greatest pilots and planes throughout history to fight in an air battle for the ages. It's basically what would happen if you asked a six-year-old to come up with "the coolest plane ever," and then turned his scribbles into a cartoon.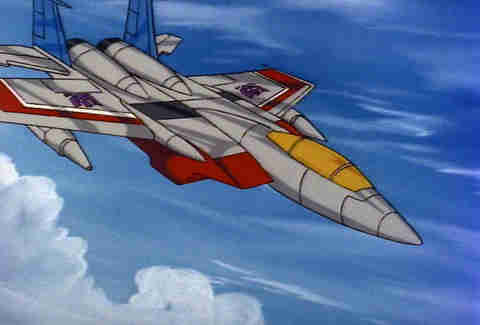 5. Starscream - Transformers
Sure, Starscream was a major a-hole, but he's also a poster child for the fact that the Decepticons got all the slick airborne transformations while the Autobots were left to drive around on boring old wheels. Seriously, given the choice between turning into an F-15 fighter jet and a Peterbilt Dump Truck, who picks the latter?
4. Turbokat - SWAT Kats: The Radical Squadron
Everything about this show screamed ridiculousness: two cats (or Kats) named Jake Clawson and Chance Furlong fight crime by donning sweet flight suits and hopping in a souped-up fighter jet featuring tons of outlandish-yet-somehow-non-lethal weaponry. Toss in a sick intro sequence with a sweet guitar riff, and this was basically your favorite show.
3. X Jet - X-Men
Also known as the Blackbird (for obvious reasons), the X-Men's primary mode of transportation took the already-cool SR-71 stealth jet and made it even cooler, adding room for passengers and vertical take-off technology.
Granted, you don't really wanna fly in a plane piloted by a dude with one eye who might accidentally blast a laser-hole through the cockpit, but it's worth the risk for a chance to sit next to Jean Grey/Storm/Rogue/(Insert sexy X-Man of choice).
2. The Batwing - Batman: The Animated Series
Batman's got a ton of gadgets stashed in his fanny pack, and a badass car to boot, but when his animated adventures needed to go airborne, he fired up the sleekest jet in Gotham and laid down the law in spades. Dude's arguably got the baddest plane in the entire DC universe, not that it's saying much -- his closest competition's Wonder Woman, and really, who wants a jet that's invisible all the time?
1. VF-1S Strike Valkyrie - Robotech
Take the incredible plane/robot transformative powers of Starscream, subtract the evil bits, then add in room for a human pilot, and you've got the iconic mech suits of '80s Robotech. Not only do you have the choice to fight as a jet or a robot, you also get a weird middle-ground option that's 50% plane, 50% robot, and 100% teeth-kicking awesomeness.

Gianni Jaccoma is an editorial assistant for Thrillist Travel, and he'd like very much to be friends with Launchpad McQuack. Follow him to Duckburg on Twitter @gjaccoma.