Because the best place to wake up after a long night of drinking tequila is of course a beautiful villa. Mexico's Casa Noble Tequila rents out four elegant homesteads -- nestled smack in the middle of their historic working distillery. Take a look at the place where you can sleep, then drink while watching people toil very hard to make said drinks.
Located on a sunny desert landscape 45min south of Guadalajara in the town of… wait for it… Tequila (!!), the Casa Noble hacienda dates back to the 1770s and is surrounded by 3,000 acres of agave plants and 150yr-old mango trees.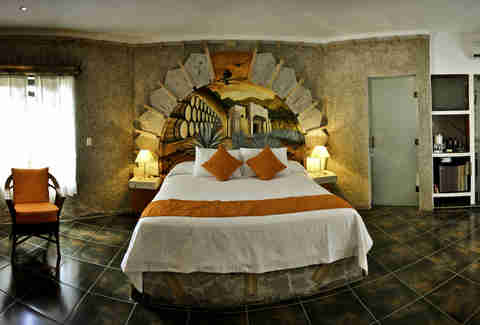 Each themed villa's decorated by a local artist and rocks a private terrace, spa bathroom, and mini-bar fully stocked with… gin, of course. Just kidding! It's vodka. Hahahahaha!!! No wait, it's tequila. Sorry.
The "Mayahuel" room's "devoted to the goddess of the agave" and, true to its theme, features a wall covered with actual baby agave plants.
As you'll no doubt want to get educated on how they make the tequila, private distillery tours run both day and night. And if you want to impress your guide by answering all the questions correctly, write this down: Casa Noble is thrice-distilled organic tequila, aged exclusively in white French oak barrels from Limosin for either 364 days (Reposado) or five years (Añejo).
And because "doing" is better than "watching", except when you're talking about getting punched in the face by Butterbean, they'll even let you take a severely sharp coa to some blue agave plants, all of which are grown 10-14 years before being harvested. Another fun fact: the hearts are steam-cooked for 36hrs in a traditional stone oven.
Finally, score even more knowledge at the on-site museum before tasting the fruits of your/ their labor with seasonal cocktails at either the property's terrace bar or formal restaurant that adjoins the Villas. Ahhh, tequila.
Whet your thirst? Find out more on their site.